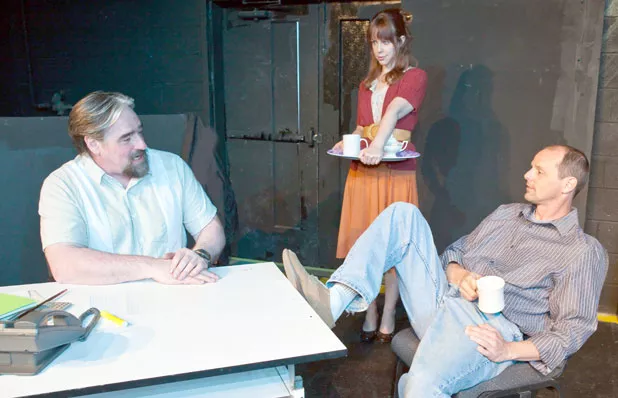 Broadway's most colorful recent scandal, "Sushi-gate," unfolded when Jeremy Piven abruptly withdrew from David Mamet's Speed-the-Plow, claiming mercury poisoning. Weybridge's Melissa Lourie, artistic director of the Middlebury Actors Workshop, took in the revival just after the wasabi hit the fan. Ironically, the play skewers ego, power and relationships in Hollywood.
Says Lourie, "I made a point of seeing it partly because I knew that it had two strong male leading roles" — perfect for Middlebury's Harry McEnerny and Shoreham's Steve Small. The seasoned duo has been with MAW since its inception nine years ago. "I was looking for a vehicle for those two," Lourie recalls. "They love working with each other, and so their rapport really shows on stage."
Lourie directs this weekend's production. "The tightness, the fast pace, the intensity" draw her to Mamet's work, she explains. The dialogue is intricate and features plenty of cursing. But "profanity releases tons of energy, so it's exciting," she notes.
Like Glengarry Glen Ross and American Buffalo, Speed-the-Plow uses a business setting to explore raw human relationships. "Mamet probably believes that business defines what is most basic to human beings," Lourie reflects, "this drive to succeed, drive to get ahead, drive to acquire power and money. And that distills some of the most brutal and most powerful impulses in humans. It strips away some of the niceties."