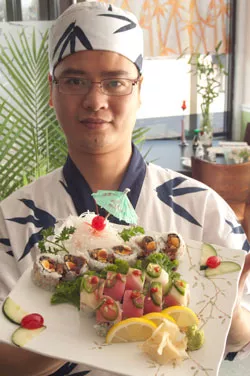 There's creative sushi, and then there's the Funky Monkey. The name of this selection at Yama Japanese Restaurant isn't just an attempt at Monchhichi-style kawaii (Japanese for "cute"). The roll is actually composed of eel and banana.
Such is the adventurousness of Yama, St. Albans' first devoted Japanese spot (Chinese Eastern Dragon also sells surprisingly tasty sushi). But that blessing is also its curse. There's nothing wrong with ambition, but a kitchen needs to back it up with basic skills, something lacking in some of the dishes I tried at Yama.
I arrived at the strip-mall eatery convinced I had found my new favorite restaurant. Hole-in-the-wall Japanese is my most treasured cuisine. Moreover, since opening early last month, Yama has garnered a unanimous five stars on 7 Nights, including a glowing review from a respected St. Albans chef-owner. I could barely stand the excitement.
The atmosphere was clean and bright, with little of the standard "new restaurant" ambiance. The slightly lived-in feeling bolstered my confidence, reminding me of favorite Japanese neighborhood joints in my native New York tri-state area. One wall bore a series of artworks that resembled the patterns on Bill Cosby's "Cosby Show"-era sweaters. The rest showcased photos of the restaurant's dishes. Most were sushi plates complemented with piles of vermicelli, studded with drink umbrellas and lit by blue or pink LEDs.
The Funky Monkey was the first dish to arrive at my table. A chunk of cooked eel made a strange bedfellow with a pile of ultra-thin banana slices, but I could see where the chef was going with the idea. The mushy fruit took the role more commonly occupied by avocado, adding a creamy element to the maki. However, the strong fishiness of the eel and the sweet banana didn't quite work together, even with liberal zigzags of eel sauce on the plate.
What did help was the pickled ginger, some of the spiciest I've ever tried. The burn managed to unify the ingredients slightly better than the sugary eel sauce had. At $6.50 for the roll, I didn't feel too bad about the misstep.
At $11.25, the Kiss of Fire roll was more expensive but sounded less risky. I was drawn in by the promise of "tuna, white tuna [and] jalapeño tobiko on top." Jalapeño tobiko? Did that mean the flying-fish eggs would be drizzled with the pepper's oil? Or would bits of jalapeño be mixed with the roe? As it turned out, it meant there was no tobiko.
Nonetheless, the roll's exterior was beautiful, with alternating layers of pink and white tuna and each slice topped with a single thin slice of jalapeño. That and a dot of sriracha sufficed to give each bite a pleasant afterburn.
The filling of Kiss of Fire lowered its marks, though. The tuna inside was finely chopped and mushy, leaving no real textural difference between it and its pairing of avocado. Both were mixed with panko or tempura flakes. Even a soaking in wasabi-muddled soy sauce couldn't completely alleviate the dryness. Another great idea turned misfire.
The cooked dishes I tried were less complicated and more successful. The yakitori, or skewered chicken, was oddly Americanized with red peppers and chunks of canned pineapple, but the caramelized, mirin-based sauce was spot on.
Hibachi dinners are a calling card at Yama, so I tried one of the least expensive, with chicken. The small, juicy chunks of meat, tossed in little more than soy sauce, were a fun eat, as were the noodles. Stir-fried broccoli, mushrooms, zucchini and onions were cooked to perfection, and I couldn't get enough of the ginger sauce on the side. I was less fond of the honey mustard our server called "seafood sauce." And, much as I enjoyed the dish, $15.95 seemed like a steep price for a noodle stir-fry.
The best dish was my last. I've tried many a fried banana in my day, but this version was something special. Each slice was tempura-fried separately, with a subtle milky flavor that only grew when vanilla ice cream was placed in the middle. Once honey was drizzled on top, the dish evoked biblical Israel's milk and honey.
The dessert was the embodiment of what the chefs at Yama would do well to keep in mind: Simplicity can be delicious.
Yama Japanese Restaurant, 133 North Main Street, St. Albans, 524-6660.