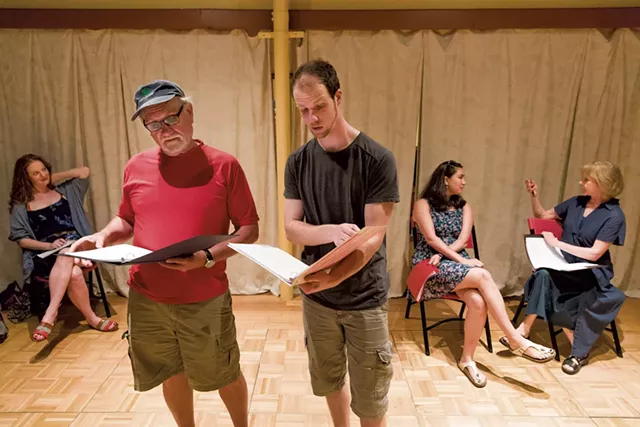 Oliver Parini
The cast of ThevGods of theHills
The new play The Gods of the Hills gets its name from an Ethan Allen quote: "The gods of the valley are not the gods of the hills." But to whom do we answer when the gods of meaningful progress are at war with the gods of independence and democracy?
Burlington playwright Lesley Becker explores this conflict of loyalties in her "pre-apocalyptic" play about how the big business of energy impacts small-town folk. Her story follows a community divided by corruption, blackmail and betrayal, and involves a debate about who should preside over the land.
At staged readings of The Gods of the Hills, to be held June 11 and 12 at Off Center for the Dramatic Arts in Burlington and June 18 at the Irasburg Town Hall, actors will perform with scripts in hand. The idea is to give Becker a chance to see how her play looks on its feet — it's been two years since she started writing it. And a discussion following each show, with panelists including officials and advocates, will give audiences an opportunity to grapple with the questions raised in the play.
A member of Vermonters for a Clean Environment, Becker writes with an unabashed eco slant, both in Gods and a previous play, Winds of Change. But the playwright is quick to point out that she focuses on social issues more than strictly environmental ones. "I'm writing plays about what it is like to live in these times," Becker says, "and we live in a time when there's lots of environmental issues shaping the world we live in."
Residents of Irasburg will find the central conflict of Gods eerily similar to their town's recent debate about a proposal to revitalize a now-dry 75-year-old pipeline by reversing its flow with tar sands oil. That natural resource emits high levels of greenhouse gases. It is also highly corrosive, which greatly increases the likelihood of its leaking from the dilapidated pipeline.
For Becker, "The saying about life imitating art became really relevant," she says. "I wanted to write about this pipeline, and I was trying to figure out what would make the reversal of the pipe more important for the play. So I thought, I'll put it over an aquifer and the town drinking water."
As she did more research, she found out the pipeline does run over local water supplies. Talk about dramatic effect: The 200-mile-long pipeline, which runs from Maine to Montréal, would pose a serious risk of contaminating drinking water if it leaked. The more Becker learned, the more she realized she did not have to fabricate the "what ifs" of risky energy-industry practices — they are happening.
But the play is about more than pipeline pros and cons. In Becker's script, corporate lawyers strong-arm local officials using coercion and nondisclosure agreements, trying to make blocking the project as difficult as possible. Simultaneously, local officials with skeletons in their closets strike backdoor deals to push their own agendas, then struggle with the demons that grow from their own corrupt practices.
You don't have to dig too deeply to find news headlines about similar scenarios. Ignoring environmental warning signs in favor of the bottom line is a familiar story: Parallels to Becker's fictional drama about a small town on the brink of ecological disaster have played out time and again in real life, with society paying the price (see: Flint, Mich.).
The Gods of the Hills draws local relevance from its setting, which overtly resembles the Northeast Kingdom. Its content gives it an even broader scope, evoking what has become an unfortunate piece of America's heritage: natural resources stripped, people swept away by waves of "progress," and battles for the favor of gods in the name of the almighty dollar.