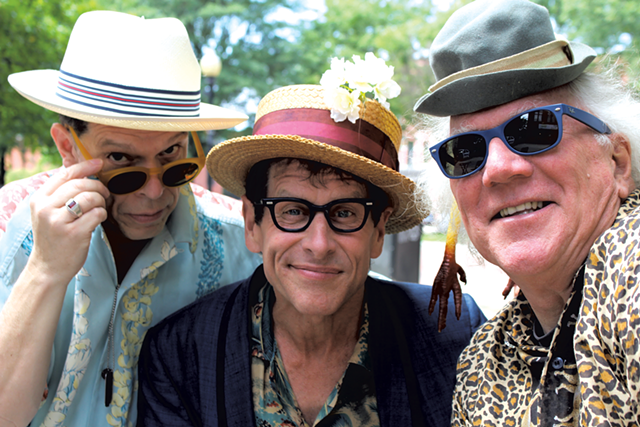 Courtesy Of Woody Keppel
The Hokum Brothers: Billy Bratcher, Woody Keppel and Allan Nicholls
The Roman poet Horace once wrote, "It is delightful to play the fool." OK, actually he said, "Dulce est desipere in loco." He had a lot of other things to say about fools, too. But Horace lived in the first century BC, so maybe his musings have no relevance to us 21st-century peeps. Or do they?
This Friday through Sunday, July 29 through 31, the annual Festival of Fools comes to Burlington. It will be filled with fools. Fools offering to thrill and entertain us, to gently tease us and urge us to participate in the merriment and mayhem. To just let go, already, and give in to the "infinite jest." Famous from the late David Foster Wallace's epic novel, that phrase actually comes from the title character's lament for the king's jester in Hamlet. And while Shakespeare wasn't referring directly to jugglers, acrobats, vaudeville performers and high-wire artists, we suspect he would have approved.
In advance of the funfest produced by Burlington City Arts, Seven Days interviewed festival director Woody Keppel. He's made a career of playing the fool, from busking solo to shows with Paul Burke as Waldo & Woodhead to a current musical-vaudeville incarnation with the Hokum Brothers. Keppel takes seriously his business of being very silly, and he waxes enthusiastic about the future of the festival.
SEVEN DAYS: I've been thinking about the role of the "fool" throughout history. That figure has played various roles, from court jester — often an unofficial adviser to kings — to "simply" an entertainer. Let's just say that there is a fool spectrum. What do these roles have in common?
WOODY KEPPEL: "Fools" have appeared in every culture, playing various roles. And though the fool has myriad expressions, s/he encourages us to laugh at ourselves, a need that is part of the human condition. The fool's job was to arouse the mirth of the king or everyday man. Playfulness, irreverence and the freedom of "not knowing" are all attributes of the fool.
SD: How do you see the buskers and other performers in the Festival of Fools on this spectrum?
WK: There are basically three types of clown/fool and a clown archetype in every performer. The Harlequin, light-hearted and witty, enjoys the highest status. The trickster, juggler, dancer, high-skill-level performer with great physical agility falls into this category.
The Auguste is the lowest-status fool. S/he tends to be gaudy, dressed in mismatched, poor-fitting, garish clothes. The Auguste clown is the zaniest (think Harpo Marx).
Courtesy Of Woody Keppel
Galumpha
The Character is widely thought of as the tramp or hobo clown. They are happy in their situation, knowing everything will turn out all right. One minute they can rattle you with laughter and the next evoke tears. Charlie Chaplin and Red Skelton were Character clowns.
All fools/clowns have one job in common: to transform how we feel. If that transformation takes place, the performer has done their job. The Swiss clown Grock said, "The genius of clowning is transforming the little, everyday annoyances into something strange and terrific."
Musicians, for the most part, take on a higher status than the audience. They provide a pleasant juxtaposition to the fools.
SD: Where would you place yourself?
WK: My clown, Woodhead, is a mix of bumbling Auguste and Character clown. I am subservient to most but not all. This character is without inhibition, speaks his mind and has a lofty self-image. My archetype in this year's festival is a higher-status clown (with my band) but lower status to the mayor and those with authority. A bit Character clown and Harlequin rolled into one.
SD: What does experiencing street entertainment do for us, the audience?
WK: I believe the most fantastic aspect of street theater is its availability to everyone. People from all walks of life, rich, poor, young and old, can come together in one place and enjoy the same things, a laugh or that "wow" moment, and experience a transformation that entertainment is supposed to provide.
SD: Back to the court jester. Several hundred years ago, this person could get away with calling kings or queens or emperors on their shit with impunity. Why was that valued?
WK: Since he is "licensed," the fool is able to speak any truth and not be banished from the community or put to death for his irreverence. This enabled the fool to become a voice of reason and conscience. In the old days, the fool was able to operate as a moral and spiritual alter ego to those in power, questioning their actions and probing into the nature of what should be without reproach. In King Lear, the fool was allowed to speak the truth, and, since the fool follows Lear everywhere, symbolically truth never leaves his side. This is why the fool operates as a catalyst for Lear's insight into the world and his place in it.
SD: Who in our society, in our time, has that role?
WK: The late George Carlin, Stephen Colbert, Jon Stewart, Sarah Silverman, Eddie Izzard all come to mind, using satire and mockery while addressing social taboos.
SD: If there were to be, say, a White House jester, who might fit that bill?
WK: Jimmy Fallon.
SD: Standup comedy has grown to be a big deal in the entertainment world, including locally. Burlington's Vermont Comedy Club is co-branding some of its acts this week with the Festival of Fools. Generally speaking, where would you place this genre on the "fool" spectrum?
WK: The lines seem to blur a bit with standup. Some comedians have taken on the fool/clown archetypes, using quick wit and satire to mock the weaknesses of others. Others play low-status, self-effacing characters. Those that ridicule the establishment, a person or groups of people play a valuable role in our culture, not unlike the fool's role in the Middle Ages. Generally speaking, someone or something has to be the butt of satire in order for it to be funny; though it may be harmless to some, it's offensive to others.
Today's vaudevillians and street performers, those who perform in outdoor festivals, theaters and restored vaudeville houses across America, have wide appeal and are, for the most part, less controversial in nature and geared toward family audiences. Our festival, by design, has a "big tent" and offers up something for everyone.
SD: For Burlington's fest, more venues are getting on board this year — the aforementioned VCC, the Light Club Lamp Shop. What potential collaborations do you see in the future? And what growth do you envision for the fest?
WK: The Festival of Fools is an amalgam of music, comedy, vaudeville and circus that is intended to reach every demographic, the way that vaudeville, once considered America's national pastime, did.
The pleasure of working with BCA and the City of Burlington is the collaborative aspect of opening up the festival to other local artists and presenters. If we put on a festival that offers top-shelf, accessible entertainment and creates lots of good will, then businesses and artists will want to be part of it, and putting on an event with an "everybody wins" mantra is where we want to be.
I feel there's an enormous potential for growth with Waterfront Park. I remember the water-skiing exhibitions from Cypress Gardens [in South Carolina] with acrobats on skis and clown high diving and shenanigans over the water. I would love to see a high-wire walk from the Moran Plant roof to a truss erected on the concrete on the waterfront. For me, the Festival of Fools, with its medieval heritage, conjures up images of knights in armor jousting from atop horses. A theatrical reenactment would be entertaining, wouldn't it?