School's out, but kids are still coming to Waterbury's Thatcher Brook Primary School — for the playground. This sprawling hillside funscape is home to tetherball and teeter-totters, swing sets and slides. But what really sets it apart are the natural play structures, including a rock-garden labyrinth, a massive sandbox and a rock-climbing wall.
"The goal was to connect kids to nature through imaginative play," says co-principal Stephanie Hudak of the unusual design. Conceptualized in 2005 and finally realized in 2008 after much community fundraising and support, the playground minimizes plastic and metal structures by making use of logs, rocks and the natural lay of the land.
Best of all, the playground is open to the community during all non-recess hours. Hudak says she has seen children climbing, sliding and swinging on the grounds all summer long.
Jeb Wallace-Brodeur
Stormwater flows through natural pipes to a pool
A tall log treehouse is handicap accessible. Kids follow a winding gravel path up the hill to enter from the back via a smooth wooden ramp.
Kids can watch stormwater runoff flow through a series of halved, hollowed-out log "pipes" and into a small pool.
The rock-climbing wall, set against the hill at a gentle angle, lets kids safely ascend.
Built into the curve of the hill, an amphitheater with stone seats and a brick stage is big enough to hold classes and performances.
A designated preschool area features a smaller jungle gym and swing set, as well as a big sandbox for digging.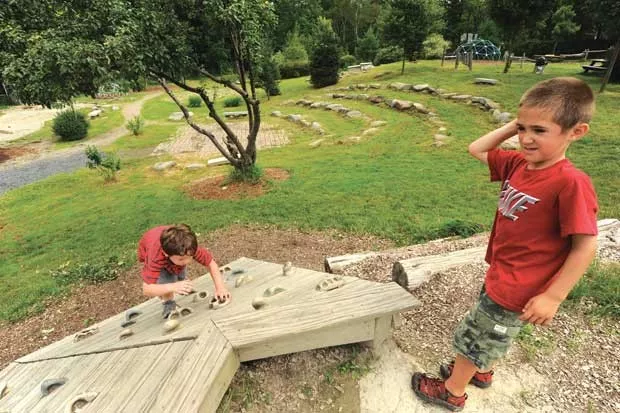 Jeb Wallace-Brodeur
Conquering the rock wall
If you go: Thatcher Brook Primary School is located on High Street in Waterbury. For more information, call 244-7195 or visit tbps.org.