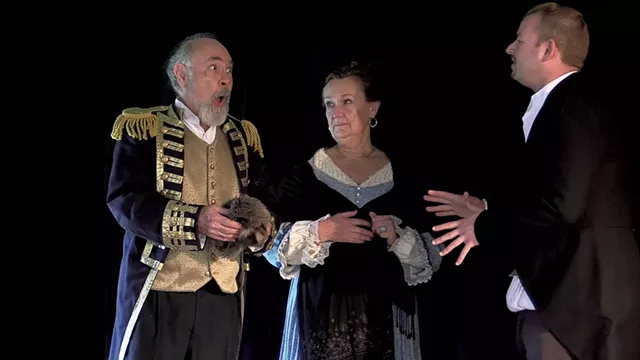 Courtesy Of Jerome Lipani
From left: Clarke Jordan, Cheryl Conner and Paul Cavaliere
The midterms are barely behind us, but more politicking lies ahead — onstage. This Thursday, November 8, Plainfield Little Theatre premieres Smoke and Mirrors, penned by local playwright Tom Blachly, at the Plainfield Town Hall Opera House. The fact-based work depicts the 1840 presidential race between incumbent Martin Van Buren and William Henry Harrison. According to Blachly, the show is part comedy and part historical drama: It portrays antiquated, zany campaign stunts, but it also explores a country recovering from deep recession on the eve of social upheaval and civil war.
Blachly, 61, has written nearly 40 plays; about half have been produced. Attorney by day, playwright by night, he keeps on writing because, he says, "I still have a lot to say!" Theater could be in his blood: His father, 94-year-old Bill Blachly, has long run Unadilla Theatre in Marshfield.
Though he wrote Smoke and Mirrors several years ago, Blachly says, he decided to bring it out for a 2018 audience. "I found that the election of 1840 was really relevant to our own times," he says. "Many historians have characterized it as the first truly modern campaign. It was kind of a heady time for democracy."
Blachly, who also directed Smoke and Mirrors, draws a distinct comparison between the 19th-century election and Donald Trump's 2016 presidential campaign. The not-so-subtle poster art delivers that point by featuring a winking president William Henry Harrison sporting a red Make America Great Again-style baseball cap.
If you're rusty on mid-19th-century American history, here's a quick review of the Van Buren/Harrison election. Sitting president Van Buren was a powerful member of the Washington, D.C., elite and a founding member of the then-fledgling Democratic Party. His challenger was not an ideal candidate. At 68, Harrison was the oldest president to be sworn into office to that point. Despite political success in his youth, he had not held a significant public office in years. His crowning achievement was leading the Battle of Tippecanoe and massacring Native Americans.
Blachly says he was intrigued by the campaign tactics that led such an unlikely candidate to victory.
Harrison was sickly and would die of pneumonia just 31 days into his presidency. Yet the electorate perceived him as a strong, vital man who could lead the union. "They made up this whole image of him as this frontiersman who drank honest hard cider instead of drinking Champagne like the dishonest Van Buren," Blachly explains. "[The Harrison campaign] ran against Washington in a very conscious way, and people really took to it. Sound familiar?"
One historical figure fleshed out in Blachly's play is a man named Thurlow Weed, who worked on Harrison's campaign. He collaborated with Horace Greeley, a highly influential newspaper editor at a time when newspapers were a new form of mass media. Together they embarked on a propaganda campaign that employed a great deal of "fake news" to advance their candidate.
"They had a whole new style of politicking," Blachly mused. "Thurlow basically said, 'Democracy can really be manipulated, and I think I know how to do it.'"
But Smoke and Mirrors is not all warnings and premonitions; Blachly also points to some fun campaign practices of the day. For example, Harrison's campaign built log cabins as it toured from town to town, handing out hard cider and singing campaign songs. Harrison would literally "roll" into town with eight-foot balls covered with campaign messages. Blachly has re-created one of these giant balls in Plainfield. "It won't be quite eight feet," he concedes, "otherwise it wouldn't fit in the theater."
A self-described "American history and political junkie," Blachly has woven fascinating tidbits of history trivia into his show. For example, Harrison's campaign was also one of the first to mobilize women. Though they couldn't vote, ladies participated in campaign rallies by waving their brooms, symbolizing the party's promise to clean up corruption in Washington. They might as well have been shouting, "Drain the swamp."