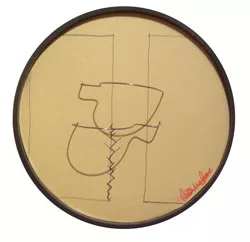 "Subcontractor II" by Christy Mitchell
Repetition creates rhythm, and rhythm is an essential component not only of music but of visual art. That's because rhythm dominates all aspects of nature, and even the most minimal art relates to nature at some level. "Make Art, Repeat," currently on view at the Vermont Community Access Media studio in Burlington's South End, is a group show by seven artists who harness the power of repetition as they invent engaging visual rhythms in painting, silk screen and assemblage.
Repetition can seem manic, as in the series of more than 50 ephemeral images by Adam DeMasi. "Studies in Paper" is a group of drawings made with repeated gestures in marker, pastel and ink washes, and drawn onto pages from magazines or plain paper. DeMasi scribbles in a host of ways, creating densely organized shapes.
Alecia Geno's series of circles, each a foot in diameter and tightly wrapped in earth-toned yarns, is collectively called "Interior Topography 13." She arrays them horizontally in three rows of 13 circles, whose negative-space interiors (like holes in doughnuts) change incrementally in size from five to 10 inches. These interior variations contrast with the exterior uniformity of Geno's circles.
Christy Mitchell also worked with 12-inch-diameter circles in her seven-piece "Subcontractor" series, but these circles explore variations of line and cast shadow. Mitchell is the director of S.P.A.C.E. and Backspace galleries on Pine Street, where the "Make Art, Repeat" exhibition first appeared in November.
Each of Mitchell's circles is a picture plane the color of a manila envelope, with fairly minimal drawing and bits of wire affixed to create delicate passages of line. An arc of shadow cast by a bent wire sweeps over "Subcontractor II." In contrast to their delicacy, these pieces are signed in jarringly red marker. The relatively large signature is disconcerting, perhaps intentionally — like a dose of reality splashed over the cool formalism of each circle.
A silk-screen series by Greg Mamczak called "The Marlborough Ramp Rumor" is a group of 11 18-by-12-inch sequential prints. The Burlington artist says this is his first use of silk screen, and the medium proves effective for him. The narrative in the sequence is a skateboard ramp becoming engulfed in flames. Mamczak has often utilized stencils and collage in his paintings, and his opaque, bright colors in silk screen seem like a natural evolution. His simplified design elements are rendered in gray and pale blue. The flames are stylized, like shapes in Japanese woodblocks, and printed in yellow and orange.
The show features bigger pieces as well. Ashley Roark's 56-by-36-by-7-inch construction "Continuity of Line" is built from PVC pipe and ceiling wire. Roark combined triangles into an architectonic, wall-mounted form that seems like an elaborate puzzle solved.
Carleen Zimbalatti and Clark Derbes both contributed large-scale paintings. Derbes' 48-by-48-inch oil "Ghost Town" uses organic shapes and scumbled grays to define a crowded space that's delineated into rectangles and concentric squares. A few dark edges on the canvas seem to push his composition into greater movement. Zimbalatti's "Butterfly Effect" is an elaborate, 70-by-70-inch oil with a matrix of fine lines painted over an ethereal color field modulating from red to orange to yellow-green. Her lines are straight edged but closely arrayed, like the whorls of fingerprints.
The nine 10-by-10-inch works of Zimbalatti's "Primary Cell" series are conceptually akin to her "Butterfly Effect," with interlocked patterns crossing over hues in transition. The smaller scale and more contained rhythms of these pieces make patterns easier to discern.
"Make Art, Repeat" reprises the exhibition at S.P.A.C.E. and Backspace galleries with a couple of additions. The repeat performance is as fresh and intriguing as the original.