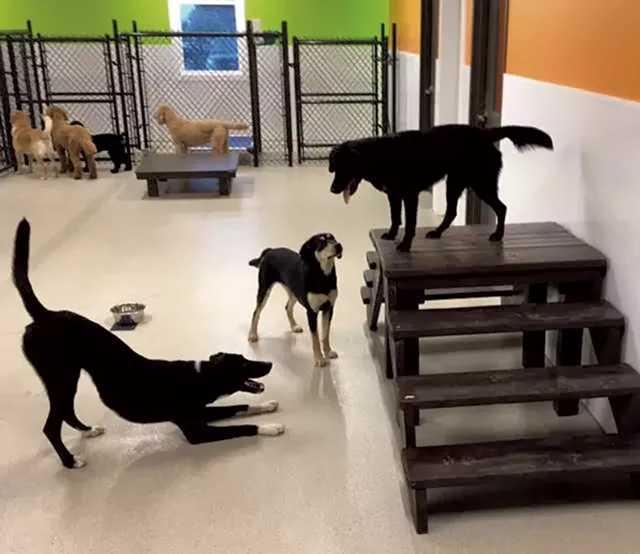 courtesy of Happy Tails Pet Resort and Spa
Dogs playing at Happy Tails Pet Resort and Spa
Jemma and Mayhem took a brief respite from their midmorning dip in the indoor splash pool to saunter over to the observation window and watch their human caretakers enjoying a cup of coffee in the retail boutique. Neither Jemma (a Cockapoo) nor Mayhem (a Labradoodle) were scheduled for a dog massage, "pawdicure" or the weekly special: a $10 blueberry facial. Nevertheless, their owners could call in or text these or other pooch-pampering extras at any time of day, and spa staff would gladly oblige.
The Happy Tails Pet Resort and Spa, a new pet daycare and boarding facility in South Burlington, offers many more jowl-to-tail services. Perhaps your Corgi or Boston terrier would enjoy a spa bath and grooming, a teeth brushing and breath freshening, a nail "pawlish," having an anal gland expressed or some hair stenciling.
That last procedure is described as "a fun way to involve your pet in a special occasion or holiday." Think Rover adorned with red hearts for Valentine's Day, orange jack o' lanterns for Halloween or the New England Patriots' logo for Super Bowl Sunday.
These are just a few examples of the lavish love that Happy Tails showers upon its guests. The new facility, which opened January 1, describes itself as a "one-stop shop" for animal lovers and their canine or feline family members. Though posh pet hotels have long been a thing in large metropolitan areas, Happy Tails is the first in Chittenden County to embrace the moniker of "upscale resort and spa" for four-legged creatures.
Perhaps your kitty would enjoy a "brain-teaser activity" ($4) to "keep your cat interested and playful," or the "sanitary trim" of its genital area ($12) to "reduce matting and associated odors." Think of it as a Brazilian for your puss. Then there's the "escort" service — for vet visits, of course.
For doggies, a standard 4-by-4-foot suite for an evening will run you $55 per night; or upgrade to the deluxe 4-by-6-foot suite for $65. Toss in a $45 massage for the small to medium pups or $60 for a large or XL breed, add a $3 hair bow, and you've got yourself one happy hound.
courtesy of Happy Tails Pet Resort and Spa
A pampered pooch
"The 'pet parents' are constantly asking if they can stay here. We must get asked that three times a week," said Heather Soren, who cofounded Happy Tails with her mother, Donna Little. "Our vision from the very beginning has been to provide our clients with the full package."
The mother-and-daughter duo from Shelburne, who previously spent decades raising beagles and showing horses in Ocala, Fla., designed the new 10,000-square-foot facility from the ground up. Their attention to detail shows. Visitors immediately notice the abundance of windows, which let in ample natural light.
Inside, two- and four-legged guests are greeted at the front desk by smiling, headset-wearing staffers who provide each new human client with a detailed, eight-page questionnaire that documents everything staff need to know about a hound or kitty: Is your pet microchipped? Is it taking any meds? Is Rufus a couch potato or an elite athlete? Does Bailey chew on his leash, hoard toys, climb trees or eat feces?
While enjoying a free cup of coffee beside the lobby's gas fireplace, pet parents may then peruse free gourmet pet food samples offered in the boutique — kibble flavors available during a recent visit included turkey, venison and kangaroo.
"We want people to feel comfortable here. It's not just a handoff and then you go," Soren explained. "There's some real communication [such as], 'Did your dog eat anything last night that we should be aware of?' We've had a few of those 'If you see my ear buds, let me know.'"
Cat parents boarding their felines are immediately escorted to the five-bed cattery, aka "the Catnip Inn," a room that's segregated from the barking and baying bustle of dog areas. There, the cattery's lone guest for the morning, a gray and white feline, was playfully batting a paw under his clear Plexiglas door.
"Ashton is in what we call the 'family suite,'" Little explained about the transparent floor-to-ceiling "atrium" that can accommodate several kitties simultaneously. The family suite provides Ashton with his own cat tree, sleeping hammocks, litter box, food and water bowls, and window with a view. No mention of Netflix or on-demand Animal Planet shows.
In the cattery, one is immediately struck by the smell — or, more accurately, the lack thereof. Whatever stink nuggets Ashton had deposited in his litter box that morning had already been dutifully whisked away by Happy Tails' staff.
Aiding in such olfactory efficiency is the cattery's state-of-the-art ventilation system, one of four such HVAC systems in the building that completely refresh the air every six minutes, flushing away airborne odors and pathogens. The air-exchange system in the cattery is isolated from the rest of the facility, Soren noted, so that felines don't have to endure the smell of dogs.
That said, cats have access to a window for watching the dogs play outside. Pet owners who board both their family cat and dog have the option of scheduling daily interspecies visiting sessions — assuming, of course, they don't fight like cats and dogs.
By necessity, most of the resort and spa is the dogs' domain. The first of two large indoor play parks looks more like a preschool daycare center than a kennel, but with walls that can be hosed down and sloped floors and drains for washing away the inevitable fluid messes. The walls are painted bright orange, green and pink, as are large tubes and other play structures for dogs to explore.
Five-foot chain-link fences create separate play areas where, Little explained, the pups are divided by age, size, play style and temperament. Sorry, status-conscious dog owners, but there's no further dividing by pedigree, tax bracket or political affiliation.
Next, we entered a gymnasium-size room that houses sleeping kennels, or dog "suites." Each one has its own raised canvas bed and swivel door for food and water bowls. For an additional $6, parents can order an extra fleece snuggle blanket for afternoon naptimes and overnights, a Frosty Paws ice cream treat ($4) or a peanut-butter- or cheese-filled Kong before bedtime ($4). There's even a "personal shopping spree" in which "your dog picks out his own toy from our boutique."
courtesy of Happy Tails Pet Resort and Spa
Dog gets a spa bath
"It's the little things," Little said.
"But we don't charge for the petting or getting tucked in at night," Soren clarified. Tucked in?
"Well, yeah. All the dogs get tucked in at night," Soren confirmed. "We'll tidy up their suite and make a little nest with their blanket and [provide] some fresh water and a nighttime treat."
Dog cookies are put in their dish, not on the pillow to avoid crumbs in bed. Notably, because Happy Tails is staffed 24/7, potty breaks can happen at any hour of the day or night.
"If your dog has to go to the bathroom at four in the morning," Soren said, "someone is always here to take them outside."
Adjacent to the sleeping kennels is a full-service kitchen, where Happy Tails staff provide dogs and cats with whatever meals they're accustomed to, be they grain- or gluten-free, raw, cooked or vegan.
"That could include fresh vegetables on top of their kibble," Little noted.
"Always fresh vegetables," Soren emphasized. "That's big."
"Or a dollop of yogurt," Little added. "That's what we do here. If it's that one little thing that makes them comfortable, we're happy to make that happen."
On the day this reporter visited, most of the action was outdoors, where some two dozen dogs snoozed in the dirt, chewed on each other's necks or chased each other around the yard. Soren noted that each employee never supervises more than 15 dogs at a time. Also, the perimeter fencing includes underground wires to prevent any digging dogs from, as Soren put it, "Shawshanking it out of here."
Want to watch what your dog is up to in the yard? For an additional $25 per visit, Happy Tails will outfit Wilbur with a waterproof GoPro camera so you can watch him make his rounds. Sounds entertaining — until he starts mounting other spa guests.
Perhaps you're on vacation in the Cayman Islands and need a little FaceTime with your bichon frise. Both Little and Soren give out their cellphone numbers so that pet parents can get regular photo and video updates; parents can even live video conference ($10) with their critters if desired. Soren did so recently with Stella, a pug, whose parents were away in Italy.
"That's not uncommon," she said.
"People consider their dogs [to be] very much a part of their family," Little agreed. "They're loved as much as a child."
Though some people may chafe at the notion of pampering pooches with massage, hair chalking and yogurt-dolloped dinner, many pet owners see it as a way to lavish their furry best friends with love. That's especially true for pets that had a rough start in life.
Terrie Easton is a regular client of Happy Tails who can't say enough nice things about how the staff treats her dog, Luke. Easton rescued the 3-year-old beagle about a year ago from a severely abusive household. The dog had a plethora of behavioral and emotional issues to overcome, she said, including being very shy and standoffish, especially around men. After another boarding facility kept Luke confined in his kennel for three hours at a time, Easton discovered Happy Tails.
"I've never really seen a center like this," said Easton, who also has two children with special needs at home and brings Luke to Happy Tails several times a week. Although he initially displayed signs of separation anxiety, "Now, he can't get over there fast enough," she said.
It's easy to understand why. Easton routinely treats Luke to the full treatment, including a spa bath, massage, nail trimming and ear cleaning.
"They just baby him," she added. "He gets the full nose-to-tail treatment, and he absolutely loves it."