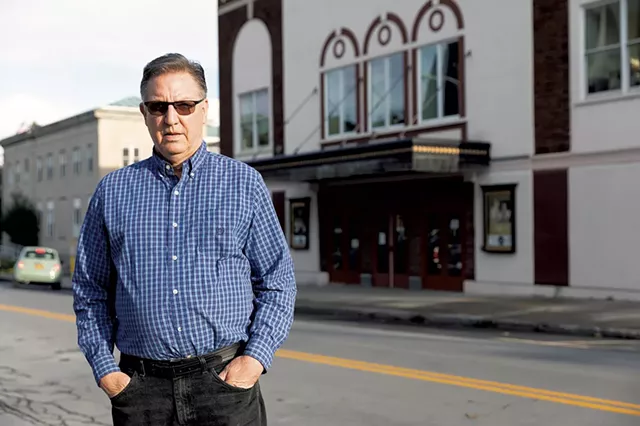 Gabriel Dickens
Robert Garcia
In 2014, when Seven Days toured the renovated Strand Theatre in Plattsburgh, N.Y., things were looking up for the Greek Revival performance space. With a Swarovski crystal chandelier, a rare Wurlitzer organ and freshly painted walls, the rechristened Strand Center for the Arts was almost ready to receive patrons. Leigh Mundy, president of the center's board, told the reporter she hoped it "could be this anchor and selling point for downtown Plattsburgh," doing for the city what the Flynn Center for the Performing Arts had done for Burlington.
Five years later, things aren't looking as bright for the 950-seat Strand. The organization fired its executive director and bookkeeper in early September, citing concerns about overspending. The result has been community confusion over the future of the venue.
The Strand's board of directors announced Robert Garcia's departure from his leadership position on September 3. A few days later, Garcia told the Press-Republican he'd been doing his best to revive a struggling institution.
On September 13, the board issued a statement via Facebook saying the center's operating budget was expected to jump from $700,000 for 2018 to $1.2 million for 2019. The statement also alleged that financial reporting to the board had been "inconsistent and faulty" and that, "although the shows gave the appearance of a packed house, they were, in fact, losing money."
"The cover band model was not working as hoped and only exacerbated historically weak financial footing," the statement continued, referring to Garcia's programming strategy. "We were as excited as everyone else to see growth and public excitement related to theater programming, which amplifies our disappointment."
The board did not respond to requests for further comment from Seven Days, leaving the statement as its most detailed explanation of the firing.
Garcia, 62, took the director position in August 2018, following three years of interim leadership. He came from the for-profit entertainment industry, having worked 33 years at Radio City Music Hall in New York City and then for its new owner, the Madison Square Garden Company. A nonprofit theater in a small town sounded like a different kind of challenge.
"I took a gamble, basically uprooted myself and came all the way upstate," Garcia said. "Unfortunately, I didn't ask for financials."
According to Garcia, he arrived to find the Strand in dire straits and didn't know how he'd make payroll. Constructed as a vaudeville house in 1924, the Strand was at the end of a long fundraising and renovation period, begun in 2004 when the North Country Cultural Center for the Arts (now the Strand Center for the Arts) rescued the building from a tax sale. More than $3.2 million was raised to fund its transformation.
The first show Garcia booked was Dave Mason, a former member of '60s rock band Traffic. He continued to book acts he thought would appeal to the city's "blue-collar" crowd, he said. Those included tribute and bluegrass bands. It was a change in content and volume from the Strand's previous programming of symphony, musical theater, silent films and comedy.
Garcia said he increased the number of shows and the theater's investment in marketing — he even walked around town himself to hang or replace concert posters. In his view, the strategy worked: "We started generating a buzz, and we started seeing new faces coming through the door."
Garcia acknowledged that not every show he presented turned a profit, and the theater lost money during months of his tenure. Just how much money is up for debate.
"I cannot figure out where they got that number. It just doesn't add up," Garcia said of the $1.2 million in 2019 operating costs cited by the board.
In Garcia's account of events, he "ruffled a lot of feathers" when he made staffing changes, including bringing in new security and promoting bookkeeper Marilyn Dwyer to business manager. In late spring, he said, he heard rumblings of tension as the board began interviewing staff as part of an investigation into his leadership.
"No one could trust anybody," Garcia said. "It was a lot of drama going on between the staff members."
File: Gabriel Dickens
The audience at the Allman Betts Band show at the Strand in March
In late August, Garcia and two staff members sent a memo to the board requesting information about the investigation. The board agreed to meet with them on September 3. That afternoon, Garcia and Dwyer learned they had been fired. Though Garcia had an at-will contract, he said the decision took him by surprise.
"They told the two of us we were being fired because they wanted to move the company in a different direction," he said. "And that was it. So I was told to pack up."
Many community members have offered support to Garcia since his termination. The board's Facebook statement garnered more than 70 shares and 140 comments, many of which blamed the board for the Strand's troubles.
Tracy DeCoste, who lives in nearby Champlain and is involved in theater and music, said that while the Strand's previous programming was "lovely stuff," she didn't think it appealed to a general audience. When Garcia took over, she hoped things were turning around.
"I thought that he was at least creating the interest. If you don't get people in the door, you're not going to see the value," DeCoste said. "Once you go in and you see how nice this place is — it's beautiful — the more you'll want to go back."
Steve Finnegan of Port Kent said he used to see movies at the Strand as a kid. More recently, he attended several shows during Garcia's tenure with his own kids, who are in their early twenties.
"They love the old classic-rock stuff, which is kind of what he's done," Finnegan said. "I think he's put the place on the map."
Both DeCoste and Finnegan said they had read Garcia's comments on the situation, suggesting that his openness to the media gives him an advantage in the court of public opinion.
"We don't really know what the board has to say," the Press-Republican wrote in a recent op-ed. "Citing personnel confidentiality, they are not talking about what happened. Could there be deeper problems that Garcia and his supporters are not mentioning? Surely, but we remain in the dark for now. The result is you have a potentially viable theater venue with a future that is in serious doubt. And you also have a disheartened public."
Garcia claimed the board declined to help him fundraise or build partnerships with business leaders. In his view, the Strand needs significantly more community contributions to stay financially stable through the highs and lows of a performing arts season.
In its statement, the board apologized to the public for the turmoil, saying it was in the middle of fact-finding about the theater's financial situation.
"This year the SCA was functioning without an approved budget or shared vision due to inconsistent and faulty reporting," the statement read. "Additionally, in recent months the SCA was over-spending based on potential future income; an operational practice adopted by SCA leadership, without communication to and approval of the Board of Directors..."
According to Garcia, getting financial information to the board in a timely manner could be difficult, but "there's certainly nothing that we were hiding," he said. "We were just trying to keep up."
A petition calling for Garcia's reinstatement was posted on Change.org on September 25 and gained more than 300 signatures in a few days. Garcia said he's been asked what it would take for him to return. His answer: a revamped board and a pledge by the business community to contribute $100,000 annually to keep the Strand open.
The board's statement presented the theater's sale as an option and announced a capital campaign called Save Our Strand. Meanwhile, the venue's fall season is proceeding. Even Garcia, via Facebook, is encouraging Plattsburgh residents to attend shows and keep the theater in business. In the coming weeks, tributes to Barbra Streisand, Patsy Cline and the British Invasion will perform under that glittering chandelier.