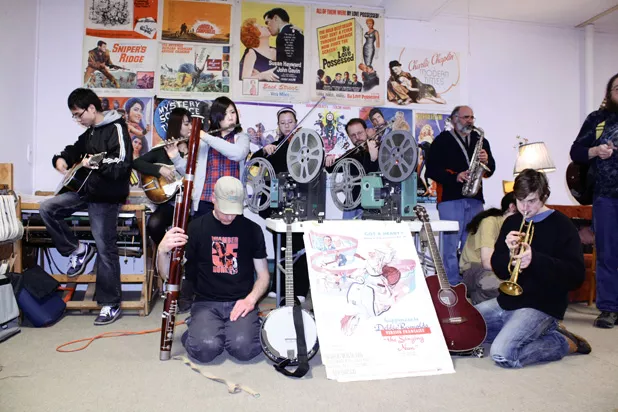 Andy MacDougall (with bassoon) with ISOMST3K's ad hoc Arcade Fire-tribute band
Andy MacDougall loves 16-millimeter films — the kind that come on "bulky reels" and need to be threaded through projectors. In 1978, when he was in high school, the Plattsburgh, N.Y., native collected old newspapers to raise money to rent movies. He screened them for his fellow students after hours on school projectors.
In the ensuing decades, movies got lighter, cheaper, more accessible — they became tapes, discs and finally just strings of streamable data. But to MacDougall, now 49, "movies" are still film reels. He collects 16-millimeter prints, screens them — these days, at Plattsburgh's North Country Food Co-op — and advocates for them.
For the past 20 years, MacDougall and a shifting cast of cohorts have called their film series Illegitimate Son of Mystery Science Theater 3000 (ISOMST3K). The name is an allusion to the geek-canon cable TV show where comedians offered sardonic running commentary on grade-Z films via puppets.
Now, MacDougall says, he's renaming his group the 16-Millimeter Shriners to reflect the serious side of its mission: giving locals a chance to watch movies the old-fashioned way, in a communal, analog experience. "We're trying to create this throwback to the old days of what moviegoing was all about," MacDougall says.
The group's Halloween-themed event on October 29, "Fear in Three Acts," will offer fodder for ridicule but also genuine film appreciation. MacDougall will start the night with Don't Be Afraid of the Dark, the 1973 cult horror film that inspired Guillermo del Toro's recent remake. "We don't really want people showing up to laugh at that movie," says MacDougall — who, at one memorable screening of Hitchcock's The Birds, promised to toss "guano" (actually oatmeal) at anyone who dared snicker.
Laughter will be welcome in the remainder of the program, however, when MacDougall test-screens two shorts he's altered, turning them into something far stranger than their creators intended. He transformed a low-budget apocalyptic feature into "End of the World: The Special Addiction," and added satirical title cards to archival footage of a woman speaking in tongues to "translate" her gibberish. Finally, MacDougall will seek feedback on a new project: gene splicing two vintage trailers for The Towering Inferno and The Parallax View into a single commentary on 9/11 conspiracy theories.
MacDougall doesn't undertake these transformations with editing or animation software. Instead, he physically manipulates "disparate bits of film" into what he calls "collages of projected clip art." To produce thought balloons above actors' heads, he scratches the emulsion side of the print. For "special effects," he exposes the emulsion to fluorescent light.
MacDougall's group currently has four core members, but many other film enthusiasts have come and gone over the years, he says. They helped MacDougall write quips for ISOMST3K screenings. So did his students in the now-defunct Inmate Higher Education Program — prisoners at the Clinton Correctional Facility in Dannemora, whom MacDougall claims "were pretty witty writers."
MacDougall had a parallel career at the Plattsburgh Press-Republican, where he reviewed movies from 1985 to 1999. Now, some 25 film fans gather in the food co-op's upstairs lounge to appreciate his favorite medium. Though high school and college students have participated over the years, today's kids are "hard sells" when it comes to celluloid, says MacDougall.
As for the movie-loving kid who became a preservationist, his affection for film hasn't diminished, though MacDougall has "had two hernia operations, no doubt linked to years of hauling these projectors and shipping cases full of film around," he says.
He has no plans to join the digital revolution. "I'm really of another time, another place," says MacDougall. "Through this film series, I'm trying to hold on to the little bit of that that remains."
"Fear in Three Acts," Saturday, October 29, at 7 p.m., at the North Country Food Co-op, 25 Bridge Street, Plattsburgh, N.Y. Free. Info, serious_61@yahoo.com.