What do Vermont cooking instructors, restaurateurs and gardeners do when they're not busy growing tomatoes or whipping up pots of minestrone? Increasingly, it seems, they're in front of their computers, typing furiously to capture tastes and textures in words.
The early months of 2009 have already given us a handful of books from locals eager to share their experiences — and sometimes their recipes. NECI's founding chef put his life story on paper; a pair of married restaurant owners captured their sensuous experiences traveling in Italy; and a gardener passionate about sustainability worked to build a case for a more sensible way to grow and buy food.
To help you decide which one to bring to the beach (or the kitchen), we took a peek.
No Crying in the Kitchen: A Memoir of a Teaching Chef by Michel LeBorgne, The Public Press, 225 pages. $21.95.
In a country obsessed with the personal habits of the rich and famous — and with the colorful folks who cook for them — it's no surprise that culinary memoirs are a growing genre. Over the past few years, these tell-all tomes from critics, chefs and even food bloggers have allowed the authors to air their dirty laundry. (Ruth Reichl cheated; Gael Greene slept with Elvis, Clint Eastwood and Burt Reynolds!) At the same time, of course, they offer lush descriptions of the fare.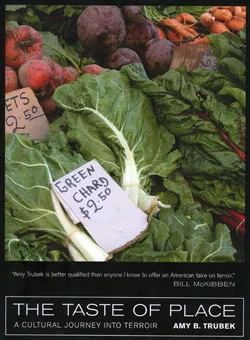 The memoirs of Michel LeBorgne, founding chef of the New England Culinary Institute, aren't quite in that glossy category. No Crying in the Kitchen tells the story of LeBorgne's young life and apprenticeship in France, immigration to the United States, and eventual association with NECI. Published by a small author-owned and -subsidized press in Randolph, it looks and feels rough beside the prettily packaged, mass-market memoirs. It features a gradated-gray cover, recipes that call for foods not mentioned on the ingredient list and exclamation-point-sprinkled prose.
But these very quirks give the book an intimate feel, as if the chef is speaking aloud. When he talks of the 1998 opening of NECI Commons in Burlington, LeBorgne emotes in staccato: "Another opening! I thought Elm Street Café was my last one! Chef Robert Barral did this opening with me. Two heads are better than one!"
Compared with the more carefully managed, politically correct personae of many memoirists, LeBorgne may come across as bullish. He admits to head-butting a sassy student in NECI's early days, suggests that women are easier to teach because they "question your authority less," and mocks servers who are not well trained. "The waiter will expect a 20% tip," he writes of an imaginary staffer who makes every mistake in the book. "I give him 5% and explain that it's not personal, but he should learn his profession or sell pencils on the waterfront."
But LeBorgne is tender, too, toward his hardworking wife, Anne-Marie, his students and his produce. "When shopping, do not let the bagger bruise your vegetables and fruits," he cautions. "Food must be handled like a baby." And, despite the macho-posturing title, LeBorgne even admits to shedding the occasional tear.
The book may not have mass appeal, but those who have learned from or worked with "Chef Michel," or Vermonters curious for a brief peek inside NECI, will find plenty of points of interest in this quick read. Take these two passages:
The post office where my father worked and our family lived was just a cold and dark house, with no running water. The only heat came from the stove and the fireplace in the kitchen. There was an outhouse. We had a root cellar, a huge garden, chickens, and rabbits. One of my chores was killing a chicken or a rabbit every Thursday. I also had to weed the garden, which I hated. To this day, I love fresh vegetables, but I hate gardening.
The public wants more gimmicks, whether undercooked green beans or more undercooked fish. This is why chefs must adapt to the present without forgetting the principles of tantalizing the palate. You need to seduce customers with new dishes and pique their curiosity to come back to your restaurant.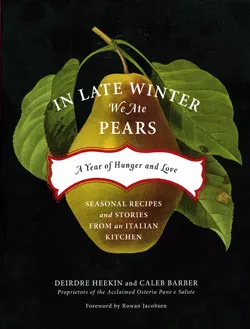 In Late Winter We Ate Pears: A Year of Hunger and Love: Seasonal Recipes and Stories From an Italian Kitchen by Deirdre Heekin and Caleb Barber, Chelsea Green Publishing, 291 pages. $25.
In Late Winter We Ate Pears — a collaborative effort of spouses Caleb Barber and Deirdre Heekin, owners of Osteria Pane e Salute in Woodstock — could be considered a reinvention of the culinary memoir. Drenched in lush descriptions of the cuisine and people of Italy — and Vermont — the book takes a circuitous route through the couple's travels, their discovery of a passion for Italian cuisine and enticing descriptions of the fare they serve to guests at their own tiny restaurant.
Lacking the chronological structure of most such works, Pears instead bounces back and forth in time and space. One moment the authors are celebrating Christmas at their Vermont home. "We prepared a French tea for our Christmas meal: lobster salad, pâté, tea sandwiches, and tiny cheese soufflés to be tasted with a glass of Sherry," recalls Heekin, who wrote the chapters (Barber did the recipes). Turn two pages, and the couple is in Venice for Carnevale: "We crossed small footpaths over the canals where gondolas dressed in black and purple glided, a few with seventeenth-century lovers sharing a candlelight picnic … We walked until we found ourselves hungry again."
Heekin also penned the new Chelsea Green book Libation: A Bitter Alchemy, a collection of writings on the topic of beverages ranging from wine to absinthe to her own homemade, rose-petal-infused brandy. In Pears, her prose has a dreamlike quality that lends itself to languid reading outside on a sunny afternoon, preferably with a picnic lunch nearby. Here's another example:
On an evening off I drive home with dinner from the restaurant packed in a box sitting next to me on the passenger seat: roasted chicken, cold haricots verts and beets in vinaigrette, fresh bread, cheese … The car windows are open and the air smells like freshly mown hay. The light is soft as the sun recedes a little to the west …
This summer night, Caleb and I sit in our garden at a small table with two chairs eating dinner, that picnic so carefully packed. The peonies have been blooming for three weeks now.
Although the chapters are organized by season, with delicious-sounding recipes closing each segment, the book seems to have been written with no expectation that readers might be waiting to see what happens next. No urgency. It's slice after slice of a very good life, punctuated by detailed descriptions of the history of pizza making, the methods used to produce olive oil, recipes for perfect risotti. "The flavors of this dish are never loud or unbalanced," writes Barber in one. "But rather subtly harmonic, even symphonic in their depth. This dish asks of you only the best ingredients you have to offer, but most importantly it asks for your time and devotion."
The book is the same way.
Lifting the Yoke: Local Solutions to America's Farm and Food Crisis by Ron Krupp, Whetstone Books, 320 pages. $25.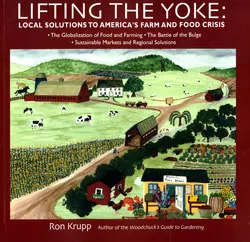 Local grower Ron Krupp is known for the Woodchuck's Guide to Gardening, a colorful book that combines practical tips with poetry, recipes and resources. At the beginning of his new book, Lifting the Yoke, Krupp admits that when he returned to his writing tools, he intended to produce another creative how-to like the first.
But what emerged was something quite different. In 320 pages, Krupp seeks to tell the story of America's industrial agriculture and to suggest solutions to the problems it has created.
To build the case, Krupp divides the results of his extensive research into small chunks, accented with bold, eye-catching headlines. For example, in a section called "The Battle of the Bulge," he highlights issues such as "An Agri-Culture of Corn," "Pot Pies, Faux Foods and TV Dinners" and "Junk Food Politics as Usual." Under the last of those subheads, he writes: "The Bush White House repeatedly weighed in on the side of the large food corporations … They questioned the scientific basis for 'the linking of fruit and vegetable consumption to decreased risk of obesity and diabetes.'"
Unfortunately, some of the facts and scary statistics that pop up on each page lack citations, the inclusion of which would have gone a long way toward shoring up the book's case. While it is lively and opinionated, Lifting the Yoke may not be particularly accessible to those who aren't already singing in the local-foods choir. If, however, you're a convert to Krupp's camp, it's the kind of read that will get you jazzed up about injustice — and excited about solutions.
Lifting the Yolk is not the type of volume that can be read straight through. Rather, it should be digested one piece at a time. The best parts tell the stories of businesses that have defied the odds and become successful while pursuing sustainability. Locals will particularly enjoy seeing familiar enterprises mentioned, such as Claire's Restaurant, City Market and Nutty Steph's. Krupp offers meditations that tie such innovative efforts to Vermont's history and natural endowments:
Ice cream, cream cheese, cheese curd, yogurt and artisan cheese bring in more money from value-added products than any other type of food in Vermont … Vermont has a long history of cheese making. In the mid-1800s, the backbone of Vermont agriculture shifted from sheep's wool to cow's milk, and as dairy farming increased, so did the surplus of milk. Because of this excess, more farmers became interested in cheese making.
These three tomes are dramatically different in style and topic, but they have something in common: Each one helps to enrich and broaden the reader's experience of Vermont cuisine. Bon appètit!