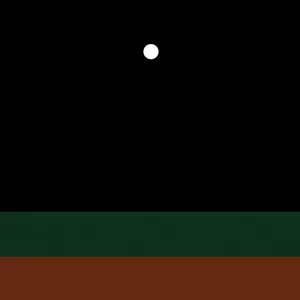 Plastique Mammals, 'Northern Sound'
(Self-released, cassette, digital)
Are you an insomniac? Or are you perhaps an early riser whose mind still floats along on beta waves in the bleary-eyed a.m. hours? Do you take long drives through the country with no destination in mind, just to isolate yourself from the omnipresent press of humanity and let your brain have a conversation with itself? If you answered yes to any of these questions, Northern Sound, the new EP from Burlington duo Plastique Mammals, might just be what you need.
The beauty of instrumental records is the freedom one's imagination is afforded to fill in the spaces in the absence of words. Every shoe-gazing turn Plastique Mammals take, they leave behind an auditory bread crumb for the listener. With no lyrics, no trace of human voices — at least not until the last track (more on that later) — the songs create a different sort of dialogue. There's no aggression here, just lush soundscapes and the kind of grooves meant more for contemplation than for moving your ass.
The four-song collection starts with an ominous, escalating synth drone that holds until drummer Evan Raine drops a shuffled beat. Remi Russin layers delay-laden guitar lines as the appropriately named "Intro" builds into the EP's sound check.
"She Found She Had Grown Antlers" is the heftiest track on the record at nearly eight minutes long. Russin weaves together a tapestry of synths, samples and understated guitar lines like a glowing net that hangs over Raine's architecture, a Ginger Baker-esque beat. A properly drugged-out haze lingers over the tune, an effect that's like trying to see the rising sun through a cloud of cannabis.
On the comparatively brief "I Have an Idea" and "Tiger Woulds," Plastique Mammals give bite-size portions of the band's nonchalant atmospherics. Even within these small samples, it's clear what Raine and Russin are going for. And the duo, which also plays together in local indie-rock band Entrance to Trains, easily achieves it. Brief run time aside, Northern Sound has a fabulously lethargic feel that's perfect for letting the mind wander.
The only caveat is what follows the final moments of "Tiger Woulds," the last track: audio of Rusty "The Logger" DeWees rambling on outside of a show in Enosburg while trying to corral a stray cat. While I usually enjoy a good spoken-word segment on a record, this just didn't do it for me. No disrespect to the Logger, but considering that the jarring bit comes on the heels of four chilled-out songs, the clip is entirely unnecessary here.
Northern Sound drops on Friday, February 15, and can be purchased on cassette or downloaded at plastiquemammals.bandcamp.com.