Courtesy Of Hannah Photography
The love-is-blind thing worked out well for Jackie Watson. Seventeen years ago, the Hyde Park resident went on a blind date with a fellow employee at Smugglers' Notch, and the two were smitten.
First came love, then marriage. In fact, marriage has come again and again and again. As president of the Vermont Association of Wedding Professionals and a wedding planner with Enchanted Events, Watson has overseen hundreds of weddings since her own at the Barn at Boyden Farm in 2009.
It takes a village of caterers, photographers, florists, bands, butchers, bakers and favor makers to raise the roof, as it were, for nuptials in Vermont. Some 5,200 betrothed couples per year generate nearly $20 million in annual revenue for the state — and that doesn't include sales of rings or wedding dresses.
The scale of the Vermont wedding industry was the impetus for VAWP's founding in 2002. Its mission is to provide a one-stop website for out-of-staters looking to tie the knot in the Green Mountain State. Watson works with clients as near as New York and as far away as Turkey to take care of all the trimmings.
"The industry has grown leaps and bounds since I started, and each year I think it gets bigger," says Watson, who now regularly caters to couples with guest lists of 250-plus. "Many are booking way ahead this year and starting to even book into 2017," she adds. "Two years ago, that wasn't happening. Vermont is on the move and showing that we are amazing in what we do."
We popped some questions to Watson about how she handles the details of a perfect "I do" day.
courtesy of Jonathan Couture Photography
SEVEN DAYS: What do most people imagine or want for their big day in Vermont?
JACKIE WATSON: For a destination wedding, they want to show their guests why they chose Vermont. This is done through local wedding favors — such as maple syrup or Red Kite Candy, which is based in Thetford. [See related story] They want the ambiance, the rustic [feel], the elegance and grace, and they want the character and charm all at the same time.
SD: What's the most popular season now to get married here, and why?
JW: Right now, the season to beat is September. It's the first month to book up for many of us, and I think it's because it's known as the prettiest in our state. Fall foliage is in, the weather is nice and there's a number of things to do. Two years ago, I would have said June.
SD: Why do people love to get married in Vermont?
JW: It's our picture-perfect New England towns with all their country charms — how can you not love it?
SD: Well, not always picture-perfect. What are some of the most surprising requests you've had?
JW: We get requests for helicopters or ski-in ceremonies. Every wedding, we have to think outside the box and push each other — no wedding is easy. As a planner, I have the fifth-toughest job in the world. It ranks up there with police officers and firefighters and the military, just because of the stress we are under. It's not just getting a specific linen — it's getting that linen sorted and to me in time, for example. We have to sit back and say, "How do we make this? How do we get this? How do we do this?" It's a great process, because it makes us stronger and better. I have a couple that is doing a 275-person all-vegan wedding at the Essex [Resort & Spa] that blows me away.
SD: How so?
JW: It's my first all-vegan, ever. I've had partial vegan, vegetarian, gluten-free. The couple is vegan, and none of their guests is, so they are asking us to challenge their guests: "We want you to see how it can taste as good as steak and potatoes or chicken." Chef Kyle [Wescott] at the Essex is the bomb at this, so they are going to be so wowed. The menu is really fun: tofu scallops over wild rice, tofu Parmesan over basil-pesto pasta with heirloom tomato sauce, mushroom risotto, vegan samosas, potato latkes, vegan chocolate wedding cake. Vegan cupcakes from My Little Cupcake, and the new vegan Ben & Jerry's ice cream.
SD: Have you ever had a cake topple over?
JW: Yep, my own! It was so very hot, my cake started to melt and topple over, and my planner and one other person caught it and put it in the fridge. They kept the backside to the wall, and no one was the wiser.
SD: Speaking of backsides, what are the music trends at weddings these days?
JW: Classic bands playing the old songs with a really great vibe. We do have a wedding this year where they want a little reggae in it. But for those coming from out of state, they want bands. As a planner, I have 10 upcoming weddings, and nine have bands.
SD: Do you recall any couples who have triumphed over Mother Nature particularly well?
JW: That's another great thing about Vermont — we're always prepared for the unknown, such as the freak windstorm that causes you to move an entire event and keep on keeping on without hesitation. Or the photographer who carries an unlimited amount of umbrellas in the car for that freak rainstorm and catches the epic shot of the bride and groom playing in the mud puddles! We just go with it and stay calm, and know and hope that our couples see that and just ride along with us. I think we all have had some trump moments with Mother Nature!
SD: Hmm, Trump. Any election themes, or Bernie Sanders requests, for 2016?
JW: Not that I've heard of.
SD: What are some of the most popular venues in Vermont this year?
JW: Barns are the "it" thing — everyone loves them! It's the rustic grace that comes from rooted traditions and that you can't get anywhere else. The Barn at Boyden Farm, which is more than 100 years old, is sold out for 2016 already and booking into 2017. We have three new barns being built specifically for weddings as we speak and ready to launch in 2016 — Mansfield Barn, the Barn at Smugglers' Notch and another one in Shelburne that is coming back to life. The Barn at Lang Farm [Essex Junction], the Alerin Barn [St. Johnsbury], the West Monitor Barn [Richmond]. It's a trend that will continue, because it's a staple of Vermont.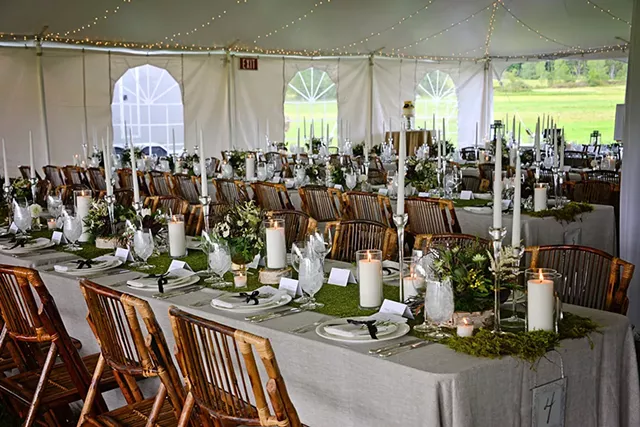 3. courtesy of Birke Weddings
SD: What are the big trends for décor, dancing, food, favors?
JW: Farm-to-table is pretty big right now, and people are starting to look at unique ways food can be served. It's not just food in a pan anymore; it's food art. Indigo is a big color this year, but blush from last year is still sticking around. Big bars, in the way of décor, are popping up, and lots of lighting — people really love the bare-bulb lighting and bistro lights. The al fresco feel is pretty huge right now, as well.
SD: With Pinterest, Instagram, etc., finding inspiration can be overwhelming. What are other go-to sources for couples?
JW: I think Pinterest is starting to slow down a bit, and Instagram is the big thing right now. Many couples want a hashtag for their wedding day, and some companies out there will actually come to your event and do social media for it. Who knew, right?