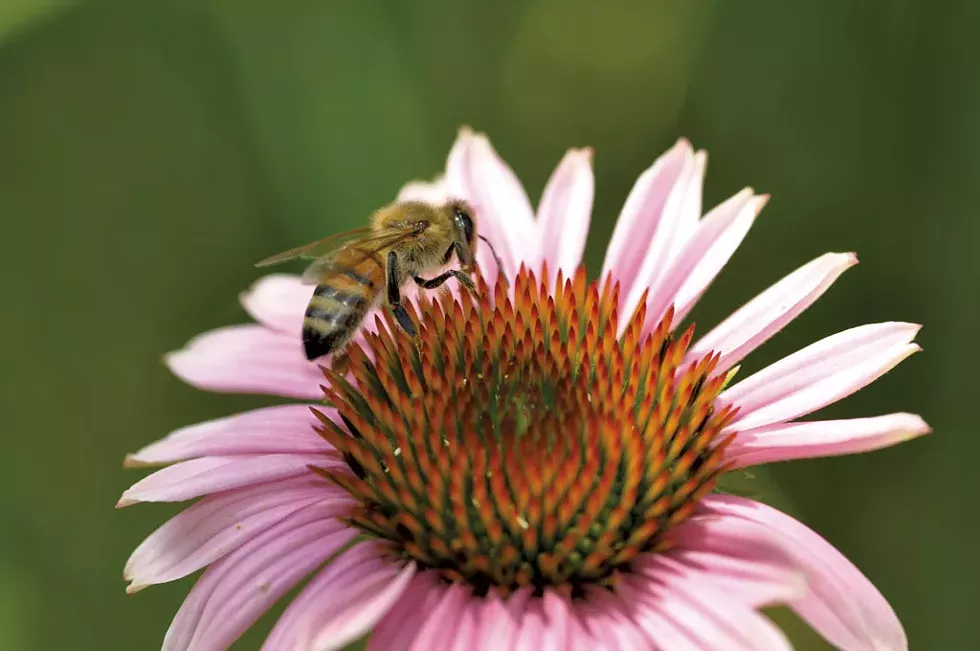 Courtesy Of Michael Willard
Bee on blooming echinacea
When you're headed into the grocery store, you're probably thinking about your shopping list. Landscape architect Michael Willard would like you to reflect for a few moments on pollination.
The two are connected. He estimates that about a third of our food supply depends on pollinators — birds and insects that move pollen from plant to plant, playing a crucial role in their reproductive cycle.
Without pollinators, your shopping list would be a lot shorter: There'd be no apples, blueberries, raspberries, potatoes, avocados or almonds. "The world would not be as enjoyable," Willard says.
Many species of pollinators are in decline. Monarch butterflies and bees get the most attention, but loss of habitat and use of pesticides and herbicides are threatening numerous beetles, moths and birds, as well.
What can you do about this looming crisis? For starters, plant a garden full of pollinator-friendly plants.
Willard is designing one that will serve as an eye-catching entry point to the Market 32 plaza on Shelburne Road; pending permitting, it should be ready by this fall. Paid for by the property owners — Pomerleau Real Estate — it will include art along with signage explaining how and why the plants were chosen, and the pollinators they feed and host.
Habitats like these are popping up in backyards, public spaces and even in solar fields all across Vermont. You can find many of them on the national Pollinator Pathways map, visible at pollinator-pathway.org. Little butterfly icons mark such habitats in towns from Barton to Benson, Hartford to North Hero.
National Gardening Week, June 6 through 12, is a great time to learn about pollinators — and to find out how you can help them.
Pick the Right Plants
Courtesy Of Carolyn Bates
Butterfly garden at Wheeler Nature Park
Native plants attract the most pollinators, Willard explains. When considering what to grow, focus on those.
Julie Parker-Dickerson, a Charlotte resident who maintains five pollinator gardens within walking distance of her house, recommends looking up your zip code on the National Wildlife Federation's Native Plant Finder at nwf.org/nativeplantfinder.
She started planting pollinator gardens in 2019 after seeing road crews repeatedly mow down a patch of milkweed near her house. Monarch butterflies lay their eggs on milkweed; the larvae use the plant as a source of food when they hatch.
A teacher at Smilie Memorial School in Bolton, Parker-Dickerson did her homework, reading books such as biologist Heather Holm's Pollinators of Native Plants.
Then she posted to her neighborhood Front Porch Forum, the free community-building service, announcing her intentions and asking for help. Neighbors and local businesses responded. Parker-Dickerson got donations from Vermont Compost. Julie Rubaud, owner of Red Wagon Plants, gave her a truckload of plants. Parker-Dickerson also sought advice from the volunteer master gardener program at University of Vermont Extension.
The five public gardens she now maintains — all posted on Pollinator Pathways — are full of native plant species, including milkweed, bee balm, yarrow and perennial sunflowers. "I love wild senna," she adds. "It's yellow, [and] it's got these beautiful flowers that bees can tuck themselves into." All told, the gardens support hundreds of pollinators.
Parker-Dickerson recommends combining varieties that will bloom sequentially throughout the season, so there are flowers in spring, summer and early fall. You can learn more about the varieties she's planted at jgardensvt.blogspot.com.
She stresses that she couldn't manage these gardens without help from her neighbors. "If somebody's out walking in our neighborhood, people will stop and weed," Parker-Dickerson says. "It's a community effort."
Let Them Grow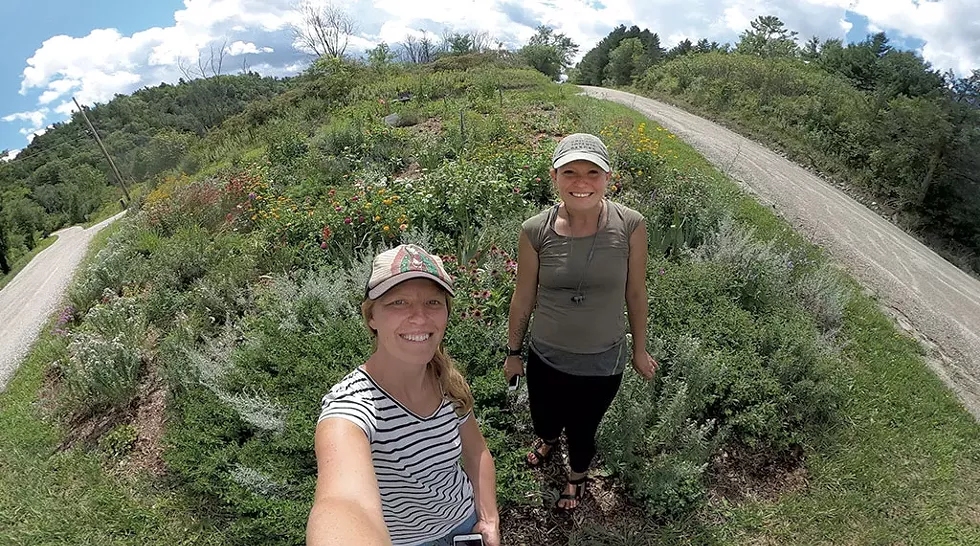 Courtesy Of Beret Halverson
Beret Halverson of the UVM Extension Master Gardener program (left) and Julie Parker-Dickerson at a pollinator garden at Fairwinds Farm
Growing a mix of native plants is the first step. The next one? Don't obsessively mow and trim your garden, Willard says. Those decaying plants can host and feed beneficial insects. Let your garden get a little messy.
This is tough advice for gardener Lynne Tiballi to follow. The copresident of the Burlington Garden Club describes herself as "kind of a neatnik" but says she's learning not to tidy things up too much.
She adds that it's important not to "deadhead" some plants. Typically gardeners will snip off flowers as they die back in hopes that the plant will produce another. Tiballi points out that some species of pollinators lay their eggs close to blooms. By cutting them off, you could be destroying a vital food source for them.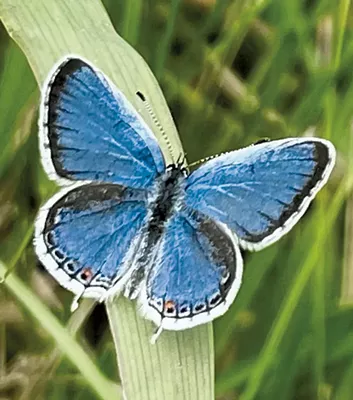 Courtesy Of Mike Kiernan
Eastern tailed blue butterfly at Ferrisburgh solar farm
And don't forget to leave out some water. Pollinators need that, too. Bird baths "should be shallow and not slippery," Tiballi notes. If you're worried yours is too deep, put a rock sticking up in the center on which the birds can land. "A hummingbird feeder is also a nice addition," she remarks.
Tiballi's group keeps up a butterfly garden at Wheeler Nature Park in South Burlington. Tiballi herself and a couple of friends will help maintain the garden that Willard is designing outside Market 32. Her advice to gardening newbies? "It's important to plant, plant, plant and not use insecticide."
Willard echoes that last bit and adds that herbicides can be deadly, as well. The two in combination can cause harm that is "off the charts."
The most important thing to consider, Parker-Dickerson says, is the way the plants, the pollinators and all of us are connected.
"A collection of plants is so much more than a bunch of pretty flowers," she says.
Bee Humble
Courtesy Of Mike Kiernan
Bee carrying golden rod pollen
Did you know that 300 species of native bees exist in Vermont? That doesn't include honey bees, by the way — those came over from Europe.
Landscape architect Michael Willard, sideline beekeeper and past president of the Vermont Beekeepers Association, notes some of the different types: bombus bees — aka bumblebees — squash bees and ground bees among them.
Willard uses a micro lens to photograph the bees and study them up close. He points out that their bodies are actually covered in hair. When bees fly, he explains, they become electrostatically charged. And when they land on a flower, the charge attracts the pollen, causing it to "jump" onto the bee. Then the insects groom themselves, pushing the pollen into sacs on their legs.
"It's really fascinating how it all happens," he says.
Even more mind-blowing: The distinctive hexagonal shape of a honeycomb, in which the bees store their honey, is mirrored by a similar pattern that appears on the bees' eyes. Willard saw that when he zoomed in on them. "It just blew me away when I discovered that," he says.
Mike Kiernan, a physician in Middlebury, is similarly enchanted. He and his wife Tawnya started a nonprofit called Bee the Change with the goal of bringing pollinator gardens to all 251 towns in Vermont. They also create them in fields that are home to solar arrays — more than 25 of them across the state, so far.
Kiernan has spent the last few years learning as much as possible about tiny insects and the amazing ways they interact with plants and with each other — ways that we rarely see or consider.
The half-inch-long cellophane bee, for example, builds its nest underground. It secretes a substance from one of its glands, which it spreads with its tongue. The substance holds the nest together and protects its eggs from fungi and bacteria.
Each one of these pollinators has a similarly complex story, Kiernan marvels. "It's like peering into a well of untouchable depth."
Dig Deeper
Learn more about pollinator-friendly plants from these gardening resources.
This article was commissioned and paid for by Pomerleau Real Estate.