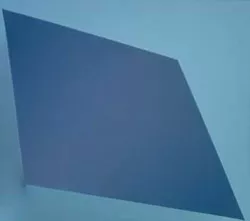 EXHIBIT: "Breaking Boundaries: Beyond the 2D Barrier," a group exhibit of mixed-media works by local artists. South End Arts and Business Association, 180 Flynn Avenue, Burlington. Through June 1.
ARTWORK: "Plane Blue" by Will Patlove
The main artistic event of Burlington's South End Arts and Business Association is its annual South End Art Hop in September, but SEABA also maintains a modest, year-round gallery space in its Flynn Avenue office. The current show, entitled "Breaking Boundaries: Beyond the 2D Barrier," offers assemblages, shaped canvasses, mixed media and wall-installed ceramics. The dynamic collection subverts the antiquated notion of two-dimensional work as a "window into space." SEABA enlisted the brick-walled showroom of its neighboring office -- Red Concrete, a producer of artful concrete and stone products -- to accommodate large-scale pieces by several of the eight exhibiting artists.
Will Patlove's shaped canvasses present minimal, geometric imagery. He notes in his artist's statement: "My work is and always has been about paring things down and removing excess." Patlove's paintings are monochromatic, but he bends his picture planes outward, so that shadows tint their surfaces. To create the white acrylic "Second Time," canvas was stretched over a protrusion at far right, allowing a gray shadow to slope off its edge. "Plane Blue" portrays a trapezoid, but the shape's lower left corner is raised. This makes the medium-blue trapezoid appear to float above the light-blue ground.
Tabbatha Henry's ceramics are more about truth in materials than illusion. Her "Four Ways of Being" and "Solitaire" wall sculptures, hung in the Red Concrete showroom, are constructed from red and black clay and porcelain. Henry describes them as "exploring the elements of time, heat and pressure, and their roles in ceramics, the landscape and ourselves." Each of the five rectangular horizontals are about 3 feet long and made to the specific proportions, Henry explains, of "the Golden Rectangle," whose ratios are found repeatedly in nature. Perhaps those proportions are what impart an air of mystery to her works. "Four Ways of Being" is a series of four individual black rectangles with central white areas. "Solitaire" is a singular white rectangle with black at its center.
Gary Godberson takes a totally different approach to ceramics. His pointed yet humorous terra-cotta pieces are representational, like three-dimensional caricatures. "Gen. Tommy Franks" is a 2002 work with three quizzical busts on a shelf labeled "Surprise," "Shock" and "Awe." A missile passes through them, as in three frames of a comic. Indeed, Godberson suggests that bringing his cartoonish sculptures into three dimensions gives their subject matter "more permanence."
Godberson's 2005 "Things I Think About While Waiting at Traffic Lights" lampoons the popular "Support Our Troops" magnetic yellow ribbons. He drew the outline of a car on the wall and festooned it with six ceramic ribbons bearing slogans such as "Support my selfish lifestyle" and "Support greedy politicians who lie."
Lori Hinrichsen's three mixed-media wall pieces are untitled; their materials are silk organza and cotton hand-dyed with logwood and osage orange, silk-screened imagery, digital photographs, text on fabric, hand-stitched markings and bamboo. The silk organza is a gossamer fabric that forms a sheer veil over square sheets of fabric hung from bamboo sticks. Hinrichsen printed images of trees and branches onto inner layers of cloth, and added texts such as "This moment is my home."
Modern physicists are pondering the theory that there may be as many as 11 dimensions in our universe. This SEABA exhibit goes beyond the standard two -- who knows what new dimensions future artists might explore?