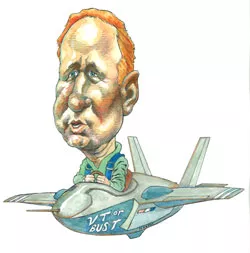 Frank Cioffi used to fly under the radar, quietly promoting Chittenden County business interests wherever it counted: Montpelier, Burlington City Hall, Washington, DC.
That is, until the leader of the Greater Burlington Industrial Corporation soared into view on the contrail of an F-35 fighter jet.
Cioffi, 57, has emerged as the chief champion of the Air Force option of basing up to two dozen of the warplanes at Burlington International Airport. As the head of GBIC, he orchestrated and helped secure financing for the recent daylong field trip to an air base in Florida, where Gov. Peter Shumlin and other Vermont fans of the F-35 listened to the supersonic jet in action. Shumlin judged the roar of its engines to be no louder than that of the F-16s currently based in Burlington.
Cioffi has powerful political allies in his mission to land the F-35, but there's a sizable grassroots movement against the local bed down. In fact, at one public hearing earlier this year, Cioffi and Burlington developer Ernie Pomerleau were the only F-35 proponents among roughly two dozen speakers. The Frank & Ernie Show didn't play well with the plane's detractors, who accuse the GBIC boss of distorting or ignoring data and working as a propagandist on the payroll of the 1 percent.
Cioffi admits that controversy makes him uncomfortable. He has an easygoing disposition that is better suited to schmoozing with business leaders than reasoning with homeowners fearful of the F-35's impact on property values or left-wing campaigners against "U.S. militarism."
But "this is what I have to do — somebody has to step up and support them," Cioffi says, referring to the hundreds of Vermonters who work for the Air Guard. If the F-35 ends up elsewhere, Cioffi warns, those people could find themselves unemployed. "These are working-class people," he notes. "These jobs, full or part-time, mean everything to them and their families."
The push to station the plane in Vermont is "all about saving jobs," Cioffi argues. And protecting employment — or "playing defense," as he puts it — accounts for half of what Cioffi does at GBIC.
Helping to create jobs in Chittenden County, or "playing offense," takes up the rest of his time.
How effective is Cioffi in these two roles?
In the 15 years he's been running GBIC, the Vermont native and UVM grad has built a reputation for seriousness and reliability. State Sen. Tim Ashe (D/P-Chittenden), who sits on the Senate Economic Development, Housing and General Affairs Committee, says that when Cioffi comes to Montpelier to lobby for legislative action, lawmakers understand something major is at stake.
"Other economic-development guys tend to talk in theoreticals," Ashe observes. "Frank doesn't. He's very concrete, very much into the particulars of a project. I find that refreshing."
Cioffi worked for years, both inside and outside the administration of Gov. Howard Dean, to persuade Husky, a Canadian manufacturer of plastic moldings, to open a plant in Milton that would pay good wages to several hundred Vermonters. Husky finally did build its factory, but job numbers there never spiraled as high as boosters had projected.
GBIC's most visible contribution to the Burlington-area economy takes the form of the seven industrial parks it has built since its launch in 1954. One of those manufacturer clusters, in Burlington's South End, was the home of a start-up that GBIC "took a gamble on," Cioffi recalls. Helping to finance a facility for a snowboard maker paid off. Burton Snowboards grew to become one of Vermont's greatest economic-development success stories.
The heroic era of heavy industry ended a long time ago, however — both in Vermont and nationally. Manufacturing accounted for about 20 percent of the jobs in Chittenden County around the start of this century; today, fewer than 12 percent of workers in the Burlington area produce goods. GBIC hasn't built an industrial park since 1983, but it's moving toward converting an unused portion of IBM property into a field of corporate dreams in Essex.
Cioffi says he realizes that the GBIC moniker may seem archaic or misleading. In recognition that "industrial" is no longer really where it's at, the entity's board considered changing the "I" in the title to "innovation," Cioffi relates. But a branding expert recommended against the revision on the grounds that it's simpler just to refer to the operation as "GBIC," without spelling out the acronym.
Although nothing in its name says "improved workforce training," that's also part of Cioffi's job in relation to both job retention and recruitment. He says that the number of jobs available in the state won't matter much if there aren't enough qualified Vermonters to fill them.
It's hard to say whether Cioffi performs well in regard to preserving jobs, according to Vermont auditor-elect Doug Hoffer, another Democrat/Progressive. "I've never seen a meaningful indicator of that kind of effectiveness. How would one quantify success in preventing jobs from going away?" Hoffer wonders.
Cioffi's cluttered but comfortable office is on the corner of Burlington's Main and South Champlain streets in the building that also houses the Lake Champlain Regional Chamber of Commerce, with which GBIC shares two employees. With four additional full-time staffers, it has an annual budget of $800,000. Ninety thousand of that comes from the state, which appropriates an identical amount to each of the 12 regional economic development agencies in Vermont. They're all nonprofit bodies, but they're all incorporated by acts of the Vermont legislature.
GBIC also gets a total of $55,000 a year from the 19 towns in Chittenden County. Burlington contributes the biggest share — about $20,000 — while South Burlington pays less than half that. The contribution recently caught the attention of Rosanne Greco, chairwoman of the South Burlington City Council, which has voted 4-1 against basing the F-35 at BTV. Greco says she appreciates the irony of her city's donation to an entity that she believes is fighting hard against its interests.
Three-quarters of GBIC's budget comes from rent that private companies pay on a pair of buildings in Colchester owned by the real-estate-investment arm of the nonprofit corporation. Additionally, local employers voluntarily throw $30,000 into GBIC's kitty, which is less than half of what they anted up prior to the recession, Cioffi notes.
Seated at a conference table, Cioffi narrated his autobiography during a recent 75-minute interview. The account included an explanation of why he pronounces his name "coffee."
Cioffi's grandfather emigrated from Italy to St. Albans, where French speakers had trouble with the "chee-ahfee" pronunciation. The "coffee" slug got passed down to Frank, but not to his brother, Robert, who has reverted to the authentic, soft-C pronunciation of the family name.
Cioffi's cousin, who is also named Robert, is the chair of the UVM board of trustees.
The Cioffis have deep roots in St. Albans, where Frank's father worked as a successful realtor and where Frank still lives. Although his family was relatively well off, Cioffi never lost touch with the Rail City's working class. "Some of the workers who lost their jobs at Energizer were my classmates" in high school, the economic development specialist says, referring to the 165 employees who were recently told they'll be laid off because the battery plant is pulling the plug.
After UVM, where he served as student government president, Cioffi helmed Franklin County's economic development agency for two years before going into the real estate business with his father. "We did really, really well," Cioffi recounts, "but I was bored as hell."
He eventually became state economic development commissioner under Dean, whom Cioffi describes as a close friend. He also calls himself a Democrat, even though he sometimes supports Republicans running for the governor's office.
Some of the hipper entrepreneurs on Pine Street may view the companies that GBIC seeks to recruit and retain as "kind of old-fashioned — corporate and conservative," comments Michael Monte, who headed Burlington's Community and Economic Development Office during much of Mayor Peter Clavelle's 14-year tenure. "But the truth is," Monte adds, "there's a ton of those types of jobs in Chittenden County."
Now chief financial and operating officer at the Champlain Housing Trust, Monte empathizes with Cioffi's work — not only as a development advocate, but as a defender of Air Guard jobs. The former CEDO chief remembers the flak local peace activists directed at the Burlington plant of General Dynamics.
From city hall, Monte had a different view. "It's part of the military-industrial complex," he notes, but then adds, "The way we saw it was that everybody working at General Dynamics was a Vermonter."
The F-35 conundrum is similar. "Who wants the F-35?" Monte asks. "Nobody wants the F-35." But a lot of Vermonters sure do want to retain the jobs the F-35 would ensure, he notes.
It's not that simple, Greco suggests. A retired Air Force colonel, she notes that the lifespan of the F-16 fighter has already been extended by 10 years and could well have another 20 tacked on, given the constant delays and cost overruns in developing the F-35.
"So at worst we're talking about maybe losing 400 full-time jobs for Vermonters in two decades," the South Burlington city council chief says. "Weigh that against the 4000 homes that will be in high-noise zones if the F-35 does come here — and that's supposedly in seven years," Greco adds. "Why does the potential loss of jobs decades from now take precedence over the damage to so many people's property and perhaps to their health?"
Cioffi acknowledges that F-35 foes make a powerful argument when they point to the 200 South Burlington homes targeted for demolition because they lie in an existing high-noise zone adjacent to takeoffs of the F-16 and commercial jets. "The airport could have done a lot better job of communicating with its neighbors," Cioffi says. Airport officials "put the Vermont Air Guard in a really bad position."
(Disclosure: Tim Ashe is the domestic partner of Seven Days publisher and coeditor Paula Routly.)