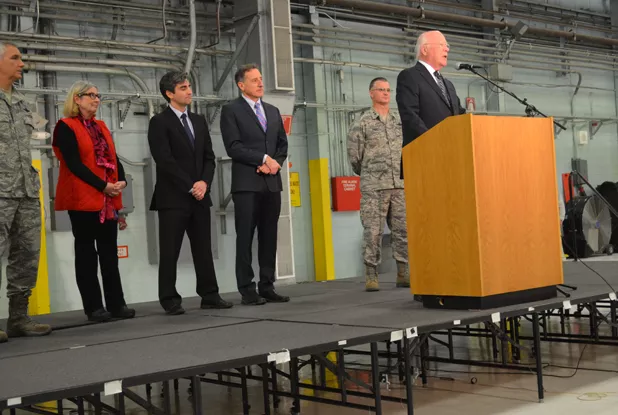 Patrick Leahy announcing the decision to base the F-35s at Burlington International Airport
Seventeen months ago, Nicole Citro tied a green ribbon to a railing on the front porch of her Essex Junction home. Her simple gesture started something big: what Sen. Patrick Leahy and Gov. Peter Shumlin both recently hailed as a winning "grassroots campaign" to base a squadron of F-35 fighter planes at the Burlington International Airport.
But to the plane's opponents, the Green Ribbons campaign is more like political AstroTurf, an effort underwritten by Vermont's biggest business interests and hyped by the state's most powerful pols. It's a case of the 1 percent pretending to be the 99 percent, says Paul Fleckenstein, a leader of the Stop the F-35 Coalition.
Citro, owner of a South Burlington insurance agency and daughter of a Vermont Army Guard master sergeant, acknowledges receiving financial help from organizations such as the Greater Burlington Industrial Corp. and the regional and statewide chambers of commerce. Wealthy executives such as realtor Ernie Pomerleau also made contributions, as did "20 or so" local companies, Citro adds.
Together, she reckons, business sources accounted for "around half" of the Green Ribbons campaign's total take of "a little more than $20,000." Citro says the rest of the money came from "hundreds" of work a day Vermonters who either made small donations or bought marked-up merchandise such as hats and T-shirts emblazoned with pro-F-35 slogans.
"I love jet noise" was a particularly popular bumper sticker associated with Citro's campaign.
"It was definitely a grassroots thing. Nicole really worked Facebook hard," Pomerleau says. And for opponents who depicted the campaign as "a bunch of big, bad business guys" who wanted the F-35 for the money it would bring in, Pomerleau has two words: "That's bullshit."
Proponents such as he and Citro were actually motivated by a desire to "stand up for the Guard," Pomerleau says. F-35 opponents, he charges, were "demonizing" the 1100 Vermonters who serve with the Green Mountain Boys. Citro adds that she got involved because "I didn't want the men and women of the Guard to think the community wasn't behind them."
The plane's opponents deny they have been critical of the Guard. Their objections, they say, have been directed solely at the F-35.
GBIC president Frank Cioffi depicts the Green Ribbons campaign as a genuinely populist push for a local basing option favored by a majority of Vermonters. "One thing I learned from working with Nicole," Cioffi says, "is that grassroots support for the F-35 just overwhelmed the opposition" in terms of numbers. That was despite backers not being "as loud or as well organized" as those opposed.
Citro initiated the campaign spontaneously, without prompting from, or coordination with, any established organization, Cioffi adds. "She's a one-woman army."
As evidence of the rootsy nature of the effort, Citro points to the "many gas stations and mini-marts" that gave away green ribbons, along with pre-addressed postcards that supporters were asked to sign and send to the Air Force.
Citro says that over a four-month period earlier this year, F-35 backers in Vermont mailed more than 10,000 of the postcards to officials mulling the basing decision. The campaign printed 40,000 cards in all and also bought advertisements on TV and radio stations, as well as in several northern Vermont newspapers, including Seven Days.
In light of that lobbying blitz, F-35 opponents maintain that Citro's "little more than $20,000" calculation lowballs the amount actually raised and spent in support of stationing the plane in Vermont. Roger Bourassa, treasurer of the Stop the F-35 Coalition, puts pro-F-35 expenditures at "over $100,000."
The price of printing and mailing all of those postcards came to around $17,000, according to Citro's calculations. Bourassa, a U.S. Air Force and Vermont Air Guard veteran, estimates, "It must also have cost thousands and thousands" to buy two weeks' worth of 30-second spots on WCAX, WPTZ and Comcast channels, as well as full-page color ads in the Burlington Free Press.
Pomerleau and GBIC together laid out an estimated $23,000 for a chartered plane to fly Shumlin and the mayors of Burlington and Winooski to Florida a year ago so they could listen to the noise made by F-35s on test-run takeoffs. All parties on that trip reported afterward that the plane's roar had been within tolerable limits.
Pomerleau won't reveal how much he gave the Green Ribbons initiative or how much he spent overall to help bring the F-35 to the Burlington air base. "I'm not going to say," he replied in response to a question from Seven Days. "There's no reason why I should."
Cioffi proved almost as closed-mouthed when asked to specify what GBIC spent on the Green Ribbons campaign. He set the figure at "several thousand dollars" but said he did not recall the precise total.
A portion of the F-35 advocacy outlays by Cioffi's group went to finance a Friends of the Air Guard campaign that ran parallel to and separately from Citro's Green Ribbons drive. Cioffi does say that about 30 percent of his time at GBIC over the past two-plus years was spent on boosting the F-35. An assistant at Cioffi's partly public, partly private organization devoted about 40 percent of his time during the same period to the plane campaign. In addition, GBIC contracted with a writer-researcher for a one-year period to work exclusively on F-35 matters.
Personnel resources devoted to the pro-F-35 effort — by the state congressional delegations' staff as well as by workers at business-promotion groups — should also be factored into any computation of the cost of the Burlington basing efforts, Fleckenstein argues.
But the financing of the local campaigns to bring F-35s to Vermont will likely remain opaque. Citro didn't do the legal work that would have been required to establish her campaign as a nonprofit organization. Acting on what she says was the advice of her accountant, Citro decided that filing incorporation papers with the Vermont Secretary of State's office "didn't seem worth it because of the time it would take to go through that whole process."
Instead, she says, "I've been keeping very detailed records for my own tax return" in regard to money she collected and spent in the name of the Green Ribbons campaign. But the public won't have access to Citro's personal tax returns, while it would have been able to review at least some of the donations and expenditures for the pro-F-35 effort if the campaign were to file the 990 IRS form that nonprofit organizations are required to submit annually.
The Stop the F-35 Coalition has a different arrangement: It's an affiliate of Burlington's Peace & Justice Center, notes activist Eileen Andreoli, which places it under the umbrella of a nonprofit. But that doesn't mean journalists or members of the public can see its basic financal data on the PJC's tax return; the IRS form doesn't require enough detail to reveal each affilate organization's separate finances.
In the interest of transparency, Bourassa said he'd be "perfectly willing to sit down with any journalist" to go over the Stop the F-35 Coalition's payables and receivables. Bourassa says that so far this year it had raised $27,620 from about 200 donors, $21,000 of which went to pay legal fees. The largest donor — who asked to remain anonymous — gave $12,000 in cash and paid $8000 to improve the organization's website, Bourassa reports. Another contributor stopped gifting the Vermont Democratic Party to the tune of $100 a month and now instead sends that sum to the coalition, Bourassa adds. He says he doesn't know the names of the many individuals who put small bills into a bucket that the coalition passed around at its events.
Ice cream tycoon Ben Cohen says he gave the coalition "around $12,000 or $15,000"— a sum that included the cost of the massive sound system the plane's opponents rigged in City Hall Park this summer to simulate the roar of an F-35 takeoff.
And the Stop the F-35 Coalition isn't giving up — at least not in terms of getting its message out, which Andreoli says has consistently been, "Love the Guard, hate the plane." It's aiming to raise another $75,000 in 2014.