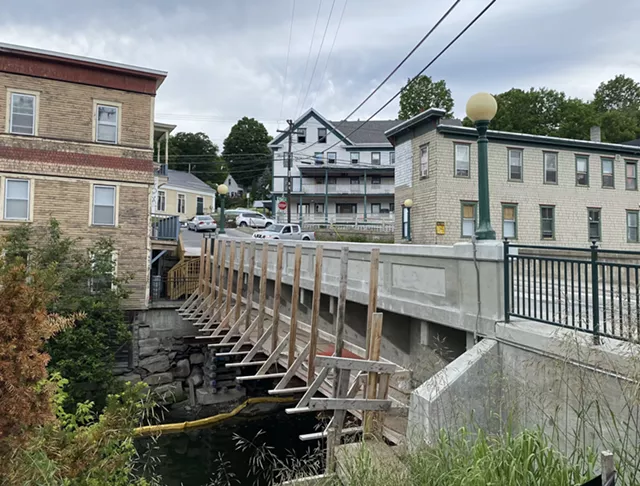 Rachel Hellman ©️ Seven Days
Main Street Bridge in Plainfield
Starting on Saturday, October 1, the lone bridge leading into the sleepy town of Plainfield will be closed to traffic for repairs that will take about four weeks to complete.
The 95-year-old bridge has needed resurfacing for years. Overhaul of the bridge deck, which has been corroded by salt and water, was initially to start in mid-July. Earlier plans that aimed to keep one lane of the bridge open during construction have been changed.
Unexpected engineering complications led the selectboard to delay construction and make a last-minute decision to close the bridge altogether. Earlier this month, a petition signed by 55 Plainfield residents urged selectboard members to postpone the repairs until next spring. Ultimately, though, the selectboard opted to get the project over with, ensuring the town could utilize state funds intended for the bridge.
While the new plan will result in a shorter construction period, it also means Plainfield will be cut off from easy access to its neighbors for October. The detour will add 10 to 15 minutes to a drive into downtown Plainfield from Route 2.
Local business owners are worried. "We really feel like we're making great progress and now the bridge is closing, cutting us off," said Cat Klarich, president of the board of directors of the beloved Plainfield Co-op, which has been struggling to stay afloat without a bridge closure.

Klarich has reason to be concerned. When a lane on the bridge was closed last year for three months to accommodate inspection work, sales at the co-op plummeted by $65,000.
Klarich said she's heartened, though, by the community's rally to keep its small businesses afloat. Montpelier's Hunger Mountain Co-op has offered to receive some of the Plainfield Co-op's deliveries. Customers are rounding up their purchase totals to support the grocer. And the selectboard is planning a campaign encouraging passersby to "get lost in Plainfield." They've crafted a map highlighting dozens of local businesses that are on the detour route, including the co-op.

Plainfield Fire and Rescue remains very concerned, though, about safety. "I don't think this is a good plan at all," said Fire Chief Greg Light, who warned that response times will be longer. His department is working with the East Montpelier and Marshfield fire departments to ensure all of Plainfield is covered.
Light is advising residents to call sooner rather than later if they are facing a medical emergency.
And if the weather is dicey this upcoming month, it is possible the construction will have to be pushed into next year. The hope, though, is that a quick and effective repair will mean traffic can quickly go back to normal.

Klarich said, "You're not going to please everybody. It's happening regardless."