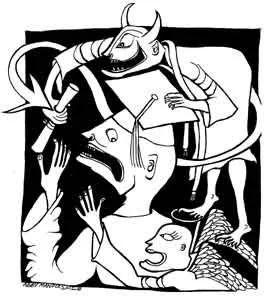 Cheaters come in many forms: The tough-cookie, future chairwoman-of-the-board material, who raised her chin and kept eye contact when I confronted her about the paper she'd knit together from three essays on the Web. The shell-shocked freshman who complained, "I only copied from the book 'cause I thought you'd be a harder grader." The one who apologized smoothly for "disrespecting your class" and asked to be let off with a warning (he wasn't). The one who didn't quite see what was wrong with cutting and pasting full sentences from Web sites — unattributed — into her essay.
In four years of teaching college English to more than 400 students, I've caught five cases of clear-cut paper-theft. Evidence suggests I've probably missed many more. In a 1999 study conducted by Donald McCabe, more than 75 percent of college students surveyed said they had engaged in some form of academic dishonesty; half confessed to "serious cheating on assignments." Cheating is even more common among high school students.
And it's not just the kids. In the past year we've seen two acclaimed historians, Stephen Ambrose and Doris Kearns Goodwin, brought to task for lifting passages in their books almost verbatim from the works of others. Both blame their pilferings on sloppy note-taking — much like my cutting-and-pasting student. If the pros are doing it, how can we expect the amateurs not to?
No one disputes that plagiarism is on the rise on campus. In a 1963 precursor to McCabe's study, only 39 percent of students admitted to cheating. Most professors finger as the culprit the advent of the Internet, with its easy access to polished prose on almost every conceivable subject. In 2001, researchers at Coastal Carolina University found more than 100 Web sites offering downloadable academic papers.
Another possible factor is the crunch on students' time, as more and more of them juggle school with full-time jobs. David Christensen, a professor of philosophy at the University of Vermont, says the excuse paper-stealers give him most often is, "It was right before the deadline; I was panicked and didn't know what to do."
With some students, plagiarizing is undoubtedly motivated by simple laziness. "They don't want to do the work," suggests Josh Palmer, a UVM junior majoring in small-business management.
Jackie Weinstock, an associate professor of human development at UVM, recently taught an ethics course in which students discussed hypothetical cases of academic dishonesty. What they said "really shocked" her, she reports. "The biggest theme was not thinking plagiarism was a big deal, especially when it was just a little bit here and there, and not telling on another student if they saw them cheating." Her students didn't think cases of academic dishonesty should go on their permanent records, they told her, because "we're young — we're here to learn and make mistakes."
UVM junior Leah Maurice, a landscape design student, sees a difference between buying a whole paper and plagiarizing "accidentally."
Palmer agrees. The penalties are "a little severe, maybe. Teachers should give you the benefit of the doubt if you don't paraphrase something enough or you mean to change something but you don't," he suggests.
Weinstock has concluded that UVM's student culture accepts cheating. "Students here aren't so concerned with the honor or worth of their degree. They're more concerned about getting it."
Four hundred miles to the west, David Rear, who recently graduated from Case Western Reserve in Cleveland, believes "indifference" is the chief cause of cheating. "The overwhelming majority of students that I come into contact with feel they are purchasing a degree with which to seek employment," Rear says. "Several times I have heard it stated that, 'For $30,000 a year the school owes me a degree... The diploma is no different if I do the work myself or not, and nobody will ever know.'"
Rear adds, "The urge to plagiarize also stems from a desire to 'stick it to the man.' Passing a paper around from friend to friend is just the sort of rebellion that can preserve independence while keeping the veneer of 'respectability.'"
UVM Early Childhood Education major Andrea Kiefer recalls a girl in her history class who unabashedly showed off a paper she'd "written," saying, "See this whole paragraph here? That's word for word."
Though no one is suggesting that all students are dishonest, Nancy Welch, an associate professor of English at UVM, sees a significant gap between students' attitudes towards cheating and those of their teachers. Of the two groups, she suspects that the kids are more in line with general American attitudes. While many professors regard the theft of someone else's words and thoughts as "only slightly less heinous than murder," she points out, intellectual property lines often blur in the business world. "As a secretary, I wrote just about everything for my bosses," Welch recalls. "Did Bill Gates ever write any piece of software? Maybe, but that's not what built Microsoft."
Welch recalls growing up in a family that considered buying or borrowing papers a matter of practical savvy. With classic American ingenuity, the family pooled its talents in order to maximize efficiency: "When my mother had college papers to write, my father would write them because he could do it better and more efficiently; then she would edit them because she was good at editing. My father and I wrote my brother's papers." She adds wryly, "When I tell this story, people usually want to hear some kind of moral at the end, such as, 'And so, my brother never learned to write, and he failed, and horrible things happened to him.' But in fact he's one of the few dot-com millionaires who's still doing well."
Are the professors and pundits who rail against academic dishonesty fighting a losing battle? How can a practice that so many students regard as a harmless shortcut be prevented? One obvious response is to treat it like a crime: to set up clear penalties for plagiarism and enforce them. Both Weinstock and Christensen believe that UVM has an effective system for dealing with allegations of academic dishonesty — one that avoids bias and departmental inconsistency by taking all such cases directly to the administration.
Coordinator of Academic Honesty Robert Kelly says that last year his office dealt with 65 cases — a number he calls low for a school of 7500. Most students confess before the case goes to a hearing, and the standard sanction for first-time offenders is an F in the course. Repeat offenders risk suspension or expulsion.
But, Kelly notes, the system can only work if teachers cooperate, first by catching plagiarists and then by reporting them. The first of these tasks presents a practical hurdle. While electronic services like turnitin.com can check student papers against an immense database of published and unpublished material, they're pricey — nearly a thousand dollars a year. Most departments can't afford that kind of expense and leave faculty to go it alone, plugging suspicious phrases into ordinary search engines.
Concerns about professional security may also stand in the way of reporting cheaters. Two UVM professors who asked to remain anonymous describe instances in which department chairs discouraged their faculty from reporting cases, in one instance because the chair considered the system "a hassle that would probably just end up putting the professor on trial."
But even when a department encourages vigilance, professors are reluctant to step into the role of plagiarism cop. Bonnie Fraser, who teaches sociology at Champlain College, points out that the process of accusing and reporting is "upsetting for everyone — the teacher, the students. It's not as if teachers want to go around and catch it."
Some professors take time in class to discuss plagiarism with students. Keifer's history professor, for example, began the semester by warning, "'If I catch you plagiarizing I will consider it my personal duty to kick you out,'" she says. "The no-tolerance policy makes people really scared."
Other teachers, Christensen suggests, feel that lecturing students about honesty isn't part of the job description. "They shouldn't have to be lectured to about this. It's in the student handbook," he points out. But all agree that a purely punitive system won't solve the underlying problem. "It sets us up as the antagonists of the students rather than their supporters," Weinstock says. "I don't want them to be doing their work because of a threat."
Given that the mission of a university is not just to make students toe a line but to teach them something, the best way to prevent plagiarism may be to provide a lesson in proper scholarly citation and the use of quotation marks. This would at least set straight those students who, as Fraser says, "cheat unknow-ingly."
To get through to careerist students, Weinstock points out that potential employers will devalue their degrees if their school has a reputation for rampant cheating. Welch suggests that students also have an idealistic side: "No one wants to be a cog in the machine. You can appeal to their latent desire to be creative individuals."
Appealing to better impulses can work. Kara von Stade, a UVM film major, says she doesn't cheat because it's an "honesty thing. I would just feel guilty."
Since the 1960s, Middlebury College students have been subject to an honor code requiring them to pledge that each piece of work they hand in is their own. The policy also considers students "morally obligated to turn one another in," says college secretary Eric Davis, who chairs the school's Academic Judiciary Board. But, he adds, almost all allegations come from the faculty — and the majority of them recently have involved students lifting papers off the Internet. The number of Middlebury students being brought before his panel is slightly lower than the rate at UVM: about 15 cases a year in a student body of 2200.
So, what's to be done? "If you really don't want cheating, make it impossible," David Rear suggests. "No homework. No papers. Everything is a test where you enter with only a pen. Have test proctors who are ex-Vegas pit bosses enticed [to academia] with better benefits."
Or, failing that, he adds, "make an education something a student wants to get, a paper something a student wants to write, and the outcome of their own work their own reward. Perhaps the future employees of Enron will get their just desserts."