Picture yourself walking down the aisles of City Market, Healthy Living, Hunger Mountain Co-op or wherever you go to buy your favorite Vermont food products. Imagine the local items you reach for.
Did you think of packages stuffed with thick slabs of Vermont Smoke and Cure bacon, the words "DAMN FINE" emblazoned on the nifty brown label? What about a brown paper bag of Vermont Coffee Company's bold dark roast? Maybe you imagined waiting in line for the cashier and making a last-minute addition to your cart: a Lake Champlain Chocolates pistachio-and-red-pepper bar called Grace Under Fire. (You know, the one with the illustration of Grace Potter strumming an electric instrument while being engulfed in a flaming yellow fireball.)
The packaging for each of those familiar Vermont food items in your imaginary cart was designed by Place Creative Company, a Burlington advertising, branding and design studio located in the old Hood Plant on South Winooski Avenue.
Steve Crafts founded Place in 2000, and his partners Keri Piatek (now Crafts' wife) and David Speidel joined him soon after. The company handles a range of accounts, from Dakin Farm to the Vermont Arts Council, from CarShare Vermont to Darn Tough Vermont socks. But Crafts developed the local-foods niche early on — his first account was the Vermont Coffee Company — and his firm has become known for the bold-but-clean, folksy-yet-modern graphic art associated with much Vermont food packaging.
"On one hand, 'commercial' art is a very particular kind of art, but marketing art is really very special," remarks Vermont Coffee founder-owner Paul Ralston, who also is a Democratic state rep from Middlebury. "You need to convey and connote in just a brief glimpse a whole bunch of emotions and ideals and principles. And I think Steve is very good at it."
Ralston approached Crafts, an old friend, with an idea for marketing his now-30-year-old coffee-roasting company (slogan: "Coffee with friends") when Crafts was starting out as Place Creative in the early aughts. "He didn't have an office," Ralston says. "He was working out of his living room."
Crafts remembers that he and Ralston hit on the distinctive brown paper bag as a means of separating Vermont Coffee's wares from traditional foil-wrapped coffee, while also creating a "general store" aesthetic. The original black-ink stamp on the packaging was made with an old-fashioned letterpress. "The look has really stood the test of time," Ralston says. "[Place Creative Company] was our first and only." He adds that the design has translated well on the web and in social media.
"I just read a piece in the [Burlington] Free Press the other day, and someone described the branding and design of [Vermont Coffee Company] as 'unsophisticated,'" Crafts remarks. "And I thought, Perfect! We nailed it! Because we really were going for something down-to-earth and approachable."
Crafts credits his intuitive aesthetic sense to a combination of family history (his great-great-grandparents owned a general store in western Massachusetts) and his design training at Syracuse University.
"When my great-aunt passed away and left her house to my parents, the barn was full of old packaging and posters from the Civil War," he says. "That was right around when I was in college, and it was so cool to go through that almost-museum of vintage advertising and packaging. It just kind of sinks into your DNA."
The ranks of new Vermont food businesses swell each year, and a walk through a local grocery store reveals dozens of products emphasizing their Vermont-made, rustic qualities. Accordingly, their packaging often straddles the line between "down-home" and cleanly contemporary.
"We've seen a real resurgence in 'Americana' brands," Crafts notes. "When we started doing it 10 years ago, nobody wanted to be doing that type of design, even though consumers wanted it. Everybody was into the cleanliness of Apple, or the boldness of Nike. The folksiness had sort of fallen out of favor."
Crafts shies away from speculating about Place's role in fostering a certain aesthetic in Vermont food packaging. Based on the success of some of its major accounts, he does admit there are themes or even "clichés" in Vermont marketing.
"Sometimes it's a good thing, and sometimes it's a bad thing," Crafts says. He thinks there's a reason why people respond to cows, old-timey fonts and cheerful flower designs: "It triggers a positive emotion, and that's not a bad thing."
Clearly, though, some brands are more effective at tapping into this sensibility than others. When presented with a random selection of Vermont food labels that his company didn't design, Crafts is game to offer constructive criticism.
For example, though he likes the colorful illustrations on Aqua Vitea's squat glass kombucha bottles, he says the overall look of the bottle "feels like something I've seen before." Same goes for the plain, classic labels on bars by Middlebury Chocolates: black type on white paper.
Crafts does get excited when shown a Krin's Bakery design, though not because of the product's simple yellow label with tiny flower drawings, which he considers forgettable. Rather, "They make the best macaroons," he enthuses. And that, he says, is his biggest tip for effective branding: Work with companies that have a good product.
In addition, Crafts advises, once a brand "owns" a category, it's best to avoid imitation. "Like Ben & Jerry's, with Woody Jackson's cow and Lyn Severance's font — it came to own an aesthetic," he says. "If you go there, you become a me-too brand."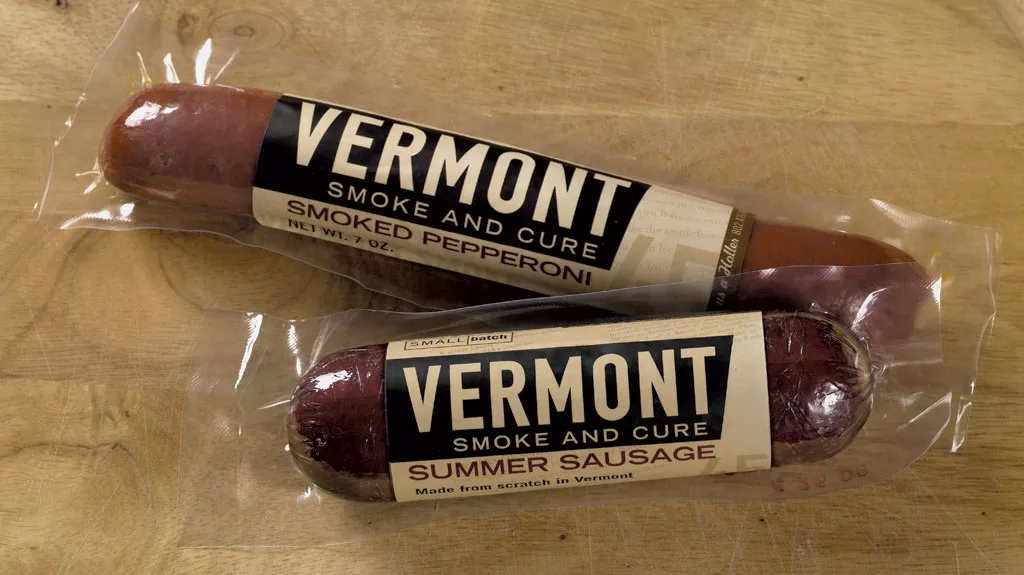 Crafts allows that Place has found its own niche in the Vermont food market. Local food companies have sought out the company for rebranding — Grafton Village Cheese and Vermont Smoke and Cure being prominent examples. Crafts worked with those companies to make their products stand out on crowded grocery-store shelves.
Some local businesses have asked Place to build their brands from the ground up, such as Darn Tough Vermont, with which Crafts has worked since the sock company's inception a decade ago. (It's an outgrowth of Cabot Hosiery Mills, which launched in 1978.) Darn Tough socks are currently sold at stores around the country and to the U.S. military; director of sales and marketing Mark Comcowich says the company's profits have been "comically huge" since it launched.
Crafts says boosting sales for local companies with good products is rewarding work.
"A lot of my [Syracuse University] classmates have gone on to become lead creative directors for Apple and Nike and all these huge global brands," he says. "And personally, I find helping a company like Vermont Smoke and Cure or Darn Tough Vermont ... more rewarding than helping a big global brand that's probably going to be fine on its own."
The original print version of this article was headlined "Total Package: Burlington's Place Creative Company Finds a Niche With Vermont Food Brands"