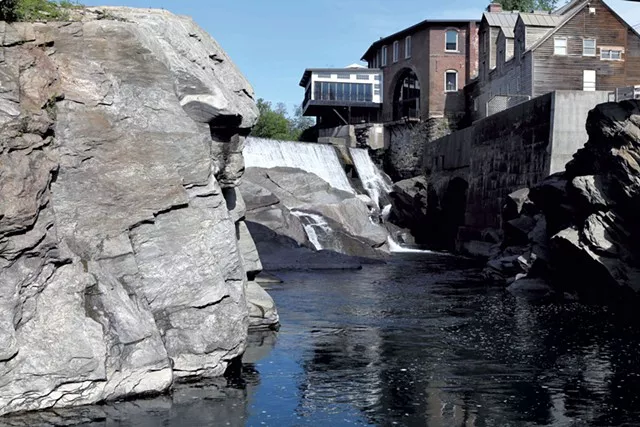 Courtesy Of Simon Pearce, John Sherman & Glenn Suokko
Simon Pearce's flagship location in Quechee
This Friday, November 11, Stowe-based PK Coffee will begin a pop-up residency at Simon Pearce in Quechee. From 8 a.m. to noon, Thursday through Sunday, for the next 12 weeks, PK baristas will pull espresso and ladle lattes at the glassblower's New Bar near the main entry.
The new caffeine stop will also serve hot chocolate and baked treats such as cookies, muffins and savory biscuits hot out of the Simon Pearce oven, courtesy of chef Jerod Rockwell. As in Stowe, PK will use beans from North Carolina cult roastery Counter Culture Coffee; it will source other ingredients, such as milk for lattes and cappuccinos, from local farms. Artisans at the Simon Pearce pottery studio have crafted stoneware mugs for the coffee.
If all goes well, PK co-owner Katrina Veerman tells Seven Days, the new pop-up could evolve into something more enduring. In Stowe, PK began as a pop-up at Commodities Natural Market, then grew into a permanent location on Mountain Road, which opened last March.
"This is something that's fun," Veerman says of the Simon Pearce partnership. "It's also an experiment — we're just getting to know each other." However, she adds, "The goal would be for people to come here and say, 'Oh, my God, this is amazing, and we want this here permanently.'"