Sarah Priestap
Colatina Exit in Bradford
The sleepy riverside village of Bradford isn't known for its tourist attractions. But for more than four decades, out-of-towners — from surrounding areas and farther afield — have made the pilgrimage to dine by candlelight at the Colatina Exit, which serves family-friendly dinners and romance nightly atop gingham tablecloths.
164 N. Main St.
Upper Valley
Bradford, VT
802-222-9008
Italian
Thin pies are the restaurant's calling. In the back of the house, youthful "pizza boys" hand-throw each one, spinning dough above their heads like so many old-fashioned Luigis. The resulting shell is paper-thin in the center with a springy outer crust that puffs and bubbles in the oven. It's the kind of doughy delight you'll want to dip in marinara rather than discard.
Build a custom pizza with toppings ranging from familiar (pepperoni, sausage, mushrooms, peppers) to fun (feta, primavera veggies, roasted garlic). Or choose from one of 14 specialty pies, such as the savory Melanzano Pizzano topped with smoked marinara, baby spinach, caramelized onions, roasted eggplant and fresh mozzarella.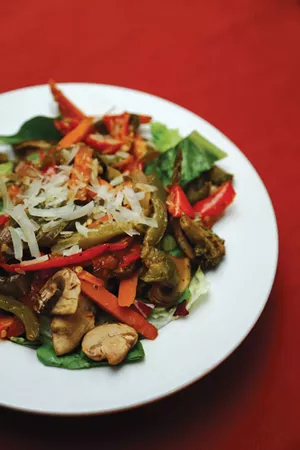 Sarah Priestap
Colatina Exit in Bradford
Entrées such as the lasagna Bolognese nod to classic Italian American cuisine. Heaping portions come smothered in meaty red sauce, cheese oozing from each layer. Other dishes are more modern: Pan-seared diver scallops are finished with brown butter and ginger and served with crisp risotto cake. A hand-cut New York strip is dry-aged in-house, drizzled with garlic-infused extra-virgin olive oil and scattered with fresh herbs.
Just looking for a quick bite and a cold beer on draft? In that case, climb the stairs to the friendly Exit pub, where the full menu is available in a less formal setting.
Garlic bread — baked fresh daily at the Colatina Bakery around the corner — is available toasty, with mozzarella tucked between slices. Eat it at an upstairs table near a long row of windows. From this perch, you can take in the view: a sea-green golf course with the slow, south-flowing waters of the Connecticut River visible behind it.
Dishing out enchanting food and views, Colatina delivers.