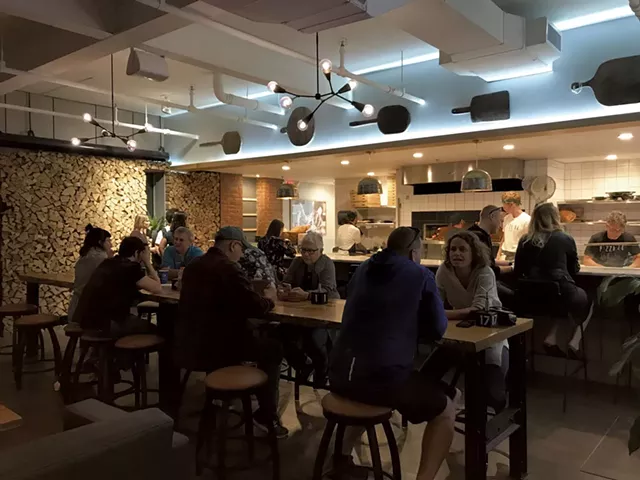 Sally Pollak
Pizza 44 on Burlington's Pine Street
Pizza arrives in the South End of Burlington on Wednesday, September 12, with the opening of Pizza 44 at 703 Pine Street, where it shares a building with Queen City Brewery.
The pizzeria, which had a soft opening the weekend of the South End Art Hop, serves New York-style pizza baked in a wood-fired oven. Chef Steve Erceg comes to Pizza 44 from across the street, where he cooked at the Great Northern.
The restaurant makes its own mozzarella and ricotta cheeses and tomato sauce, Erceg said. House specialties include a classic margherita and a pie called Tim's Pepperoni, named for co-owner Tim Williams. A large pepperoni comes topped with 65 pieces — the most pepperoni-heavy pie in Burlington, Erceg claimed.
Pizza 44 also makes pizzas baked in cast-iron skillets, which Erceg described as a crusty cross between Sicilian and deep-dish Chicago. On the apps menu are oven-baked chicken wings, meatballs served with housemade bread, and roasted vegetables and hummus featuring veggies from Jericho Settlers Farm. Salads, including a Caesar with crispy Brussels sprouts, feature local greens.
The renovated space has booths behind big windows that open onto Pine Street, a central communal table and a pizza bar with seating. The restaurant's southern wall is built of stacked split wood.
Pizza 44 will be open every day but Monday, starting at 11 a.m.