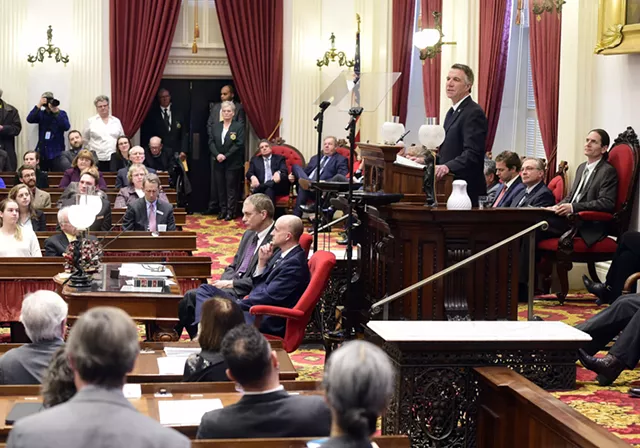 File: JEB WALLACE-BRODEUR
Gov. Phil Scott addressing the legislature
It's a notion that every governor finds irresistible: Reinvent state government, find efficiencies, trim the fat, tear down the silos — and watch the savings roll in.
Somehow, the results never live up to the promise. Consider, for example, former governor Jim Douglas' Challenges for Change initiative. It would save millions upon millions, he promised, cutting costs while enhancing government services.
By the time Douglas left office, politicians of all parties were distancing themselves from the program, and it was quietly dropped.
Well, it's that time again. Gov. Phil Scott has a management initiative of his own, and it goes by the acronym PIVOT. That's short for Program to Improve Vermont Outcomes Together, and it was one of the first initiatives he launched after taking office last January.
He's consistently promoted it ever since. In his January 4 State of the State address, Scott boasted of "44 PIVOT projects under way." They would, he said, produce a government "geared towards continuous improvement, better service, done more efficiently and producing more value."
That list of 44 comes from a progress report released last June, and the projects are a real mixed bag. Some are specific and measurable, such as "billing process improvement" in the Agency of Administration and "multi-year licensing" in the Agency of Agriculture, Food & Markets. Some are grandiose: The Agency of Natural Resources is to "create a world-class Vermont outdoor recreation experience." Some are impossibly vague, such as "culture shift" in the Department of Labor.
So is PIVOT a transformative force in state government — or just another management fad that won't outlive Scott's tenure? Sue Zeller, chief performance officer in the Agency of Administration and the point person for the effort, argues that PIVOT takes a long view.
"We're issuing the state's strategic plan, not the Scott administration's plan," she said. "We're trying to institutionalize it as ... a vital document that lives forever."
Some things to understand about PIVOT: It's meant to combine a strategic vision from the top with ideas from the bottom — engaging state employees in the effort. It aims to coordinate short-term budgeting with long-term strategic planning. Also, there's an advisory group whose role is to ask questions and generate ideas. It's called GMET — the Government Modernization and Efficiency Team, a 10-member group that includes people from the public and private sectors.
So how's the process going? Great, say the people involved.
"This approach to budgeting is long overdue," said Jim Reardon, former state finance commissioner and member of GMET. "I used to write budgets based on previous years." Now, he said, budgets are being crafted with an eye on long-term objectives.
GMET member Kevin Pecor, a computer support specialist in the Department for Children and Families, says PIVOT is having an impact on the front lines. "Staff are thinking about how they can do their jobs better," he said. "There's a different energy, a different mentality."
That may be true, but tangible results are hard to find.
"If you were to ask me to connect it to some particular outcome, I cannot do that," said Sen. Jane Kitchel (D-Caledonia), chair of the Senate Appropriations Committee.
PIVOTeers say that's not the point. "This is evolving," said Reardon. "From my perspective, it's a little too early to start measuring results."
Indeed, the goal isn't necessarily to save money. It's to improve operations. "We will save in some areas, maybe spend more in others as we identify needs," said Allyson Laackman, executive director of the Burlington Housing Authority and GMET member. She served in the Obama administration and instituted a process similar to PIVOT in the White House. "Once you budget based on impact, you spend more efficiently," she added.
It sounds promising. But the whole process is essentially a black box. Zeller says that GMET, as an advisory group, is exempt from state open meetings laws. PIVOT is an administrative process with no official reporting requirements.
In the end, it's too soon to tell if PIVOT will be a transformative force or a fizzle. There are a lot of talented, dedicated people devoting their energy to the project, but that doesn't guarantee results.
In her 35 years in state government, Kitchel has seen this movie before. "The question is, are you getting outcomes that are over and above what you would normally expect?" she said. "Once it's over, do people revert to their old behavior?"
The governor identifies PIVOT as a policy cornerstone. Will it pay off? History says no. But if it does, it could be a lasting legacy of his administration.
Lift Rug, Sweep Briskly
After Washington County State's Attorney Scott Williams resigned from office last week for medical reasons, Attorney General T.J. Donovan wasted little time dropping his investigation into Williams' official conduct.
Williams had been on medical leave since November 14, and the Vermont Supreme Court has suspended his law license on the grounds of medical disability.
During his last year in office, Williams had stockpiled checks worth some $75,000, most of which came from a nearly defunct charity meant to aid crime victims. He planned to form his own charity but never got around to doing so. Some of the money came from Washington County defendants who wrote checks to Williams and then saw their charges dismissed.
"There was no case," Donovan asserted in defense of his decision to drop the matter. "There is no allegation that Scott Williams was personally enriched."
Well, sure, he never cashed the checks. But isn't there something iffy about dismissing criminal cases in exchange for payment?
"There's no allegation of embezzlement," Donovan responded. "What is the quid pro quo? There's no personal benefit."
That seems a narrow view of the situation. What about dereliction of duty? Interference with the administration of justice?
There remains an ongoing investigation by the judicial branch's Professional Responsibility Board, which could sanction Williams or even permanently revoke his license. But the hot potato is safely out of Donovan's hands.
Media Notes
After making a big deal about selling Vermont Life, the iconic state-owned magazine, the Scott administration last week reversed course — rejecting all nine bids for the publication and keeping it under state control. (Da Capo Publishing, which operates Seven Days, had considered bidding but decided against it, according to publisher and coeditor Paula Routly.)
Vermont Life was put up for sale because it had failed to break even for years and had accumulated more than $3 million in debt. But now, according to Department of Tourism and Marketing Commissioner Wendy Knight, the tide has turned. "For this fiscal year, we're about $2,500 in the black," she said. "For next year, we're projecting a $50,000 profit."
Why the sudden uptick in fortune? Mainly because of cost-cutting and a structural shift.
"The Vermont Life team is being increasingly integrated into the Agency [of Commerce and Community Development]," Knight explained. The staff's time and expertise — and the magazine's content — are being used for agency projects, such as the promotional ThinkVermont website.
Does that mean that story ideas will be considered through a marketing lens? Not so, said Knight. "I see a distinction between Vermont Life, the magazine with editorial content, written independently from marketing efforts," she said.
Still, the staff will be cognizant of the need to provide content suitable for marketing.
Speaking of financially struggling print media, several Vermont newspaper publishers descended on the Statehouse last Friday to fight for their precious monopoly on legal notices — paid advertisements placed by governments to notify the public of official meetings and actions. A bill before the Senate Government Operations Committee, S.97, would allow online publications to compete for the legal-notice business.
The constant refrain of the hearing was "It's not about the money." Which means, of course, it's about the money.
"This is not about revenue, it's about access," said Adam Silverman of the Burlington Free Press, who spoke as president of the Vermont Press Association. He argued that despite plummeting circulation figures, newspapers remain the best option "to reach the widest audience."
Karen Horn, public policy and advocacy director for the Vermont League of Cities & Towns, which supported the bill, also put her argument in a public-service context. "In the 21st century, people use the internet," she told the panel. "It's timely, efficient and broadly available."
And then she added the money kicker. "We spend a lot of money on legals," she said. "Print media have a monopoly. S.97 would provide for more competition."
In the end, the publishers found receptive ears around the committee table.
"I worry about our little papers," said Sen. Chris Pearson (P/D-Chittenden). Three of his four colleagues expressed support for community papers, as well. In the end, the committee agreed to put the bill "back on the wall," which almost certainly means it won't be considered again this session.
But propping up newspapers with a legal-notice monopoly is, at best, postponing the inevitable. "When will we recognize that Vermonters are increasingly getting their news from internet sources?" asked Shawn Cunningham, a reporter with the web-only Chester Telegraph. "If we want people, especially younger people who are far less likely to pick up a cellulose-based newspaper, to be included in our civic life, an adjustment to our laws is necessary."
It won't be happening this year. Lawmakers are more interested in paying tribute to the ways of the past.
Finally, it didn't take long for Morgan True to land on his feet. True resigned from the VTDigger.org reporting staff in December to pursue new opportunities.
A few weeks later, he has not one but two new jobs. He's working for Heady Vermont, the media company that provides cannabis-related news and content, and for the Kria Group, the strategic consulting firm created by Bill Lofy, a Democratic operative who served as chief of staff to former governor Peter Shumlin.
At Heady Vermont, True will serve as editor for the firm's news operation. "We were looking to expand our editorial staff," said Heady cofounder Eli Harrington. "Our readership is growing, and we expect that to accelerate when legalization takes effect."
As for Kria, True said, "I will be working mostly on bringing in new clients and using my writing experience to help them craft their messages."
Apparently I can claim partial credit for the gigs, having first announced True's departure from journalism in my November 15 column. "I had no preconceived notion of what I would do next," True said. "It wasn't until your column ran that these opportunities came to light."
Royalties accepted in cash or Green Stamps, deliverable in plain brown envelopes, c/o the Seven Days loading dock.

Correction, January 17, 2018: A previous version of this story misstated Shawn Cunningham's position with the Chester Telegraph.