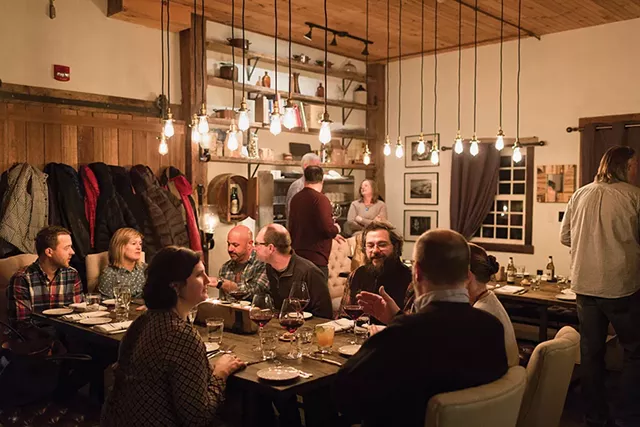 Oliver Parini
The Backroom in Pittsfield
Old-fashioned general stores still thrive in Vermont's small towns, where populations often number in the hundreds and main drags stretch only a single block. By necessity, these eclectic enterprises stock everything from eggs and milk to lotto tickets and live bait. So it may come as a shock that one of Vermont's most exciting dining experiences is found within Pittsfield's Original General Store.
3963 Route 100
Rutland/Killington
Pittsfield, VT
802-770-4357
American (New)
Cross through barn doors to a former storeroom at the back, and you'll find a rustic dining room, gently glowing with Edison bulbs, and a sublime meal waiting. The enchanting transformation is the handiwork of Kevin Lasko, former executive chef of New York's celebrated Park Avenue restaurant, and Katie Stiles, who previously handled public relations for celebrity chefs such as Alain Ducasse and Michael White.
On Fridays and Saturdays, the couple offers tasting-menu dinners for no more than 20 guests — that is, when they're not too busy with their other business, Vermont Farms Catering. So book reservations well in advance and surrender control to the hosts, for these meals are served family-style at two long tables, and the menu changes nightly.
Though you may be seated among strangers, a string of pleasant surprises follows. Stiles welcomes diners with a complimentary glass of bubbly and cocktail snacks, which might include Alpine cheese fondue, sweetbreads swaddled in paper-thin prosciutto, or celeriac soup with tiny blue-cheese sandwiches. Most, if not all, ingredients come from area farms and food artisans.
Oliver Parini
The Backroom in Pittsfield
Throughout the meal, Lasko works over a stove at the head of the room, quietly cooking and plating each dish. He often builds his menus around whole animals, so succulent cocktail-hour lamb spareribs might foretell a main course of slow-roasted leg of lamb, served whole alongside ribboned cucumber, cilantro and pomegranate salad with cooling Greek-yogurt dressing.
Dessert, too, is a culinary grab bag. Will it be pumpkin-brioche bread pudding with brown-butter ice cream, or spiced panna cotta with cider gelée?
Whatever is dished out, know that the hosts have painstakingly selected every detail for your pleasure, from the vintage, gold-trimmed plates salvaged from New York's Waldorf Astoria to the farm-fresh cream in your after-dinner coffee. At around $40 per person, it's hard to imagine a more memorable experience for the price.