James Buck
From left: Rob Rock and Eric Seitz, co-owners of Pitchfork Farm at the Intervale
At Pitchfork Farm, an organic vegetable farm at the Intervale Center in Burlington, the crew breaks every day for a lunch of bean burritos made on-site. Rob Rock, co-owner of Pitchfork, said he's eaten at least 1,500 burritos over the past five years, maybe closer to 2,000.
Last year, more than a thousand burritos into the "eating-lunch-at-work project," as Rock called it, a culinary breakthrough occurred: Pitchfork people started adding kimchi to their burritos.
"Everyone was making kimchi, and it was improving all our lives," Rock said. "It kept getting better and better. The kimchi was there, like, brewing."
Pitchfork's kimchi project has since expanded beyond a lunchtime pick-me-up into an affiliated business. Pitchfork Farm & Pickle opened last winter at the Soda Plant on Pine Street, one of several food-related businesses in the building that formerly housed the nonprofit ReSOURCE.
At the pickle shop, vegetables are fermented and pickled to make long-lasting value-added products, including sauerkraut, kimchi, squickles (pickled butternut squash), dilly beans and sour pickles. The fermentory primarily uses produce grown at Pitchfork, a 21-acre farm owned by Rock and his business partner, Eric Seitz. It supplements those raw materials as needed with food from other sources, including other farms at the Intervale.
"The idea was that we could take the things we have on hand and ferment them," said Seitz, 36, who started the farm 13 years ago. He and Rock, now 39, met at the Intervale, where Rock was a farmer at the now-defunct Arethusa Farm. They decided to farm together and became partners in Pitchfork in 2009.
The farm, which has grown from four acres to more than 20, specializes in salad greens, beets and radishes. Pitchfork delivers produce to about 50 restaurants and retail stores in Chittenden County, as well 150 pounds of salad greens a week to the University of Vermont Medical Center. This year, it will sell 3,000 pounds of beets and a ton of butternut squash to the Vermont Foodbank in Barre. And Pitchfork is growing more cabbage than ever — about an acre's worth — for its fermentation project.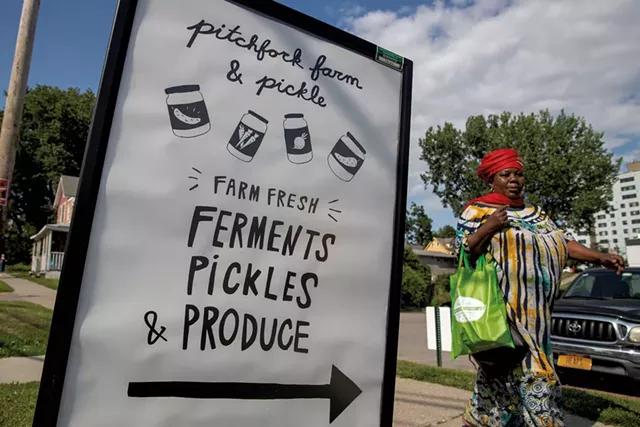 James Buck
The sign outside Pitchfork Farm & Pickle
Standing in his field last week, looking over beds of arrowhead cabbage, Seitz observed: "This is like the craft store. And Julia is the artist."
He was talking about Julia Irish, a farm employee who is a partner and co-owner with Rock and Seitz of Pitchfork's pickle business. The farm's "craft store," Seitz elaborated, produces the raw ingredients. The "artistry" happens under the direction of Irish, who uses salt, seasoning and time to make fermented food.
Pitchfork grows storage crops such as cabbage, carrots and beets in sufficient quantities to last most of the year — if not year-round. Other vegetables, including beans and cucumbers, are seasonal. Whatever its duration in the field or in storage, the produce gains flavor and edible life in the pickle shop on Pine Street.
Irish pickles some kinds of produce in a vinegar-based brine (adding seasonings) and ferments others by squeezing and pressing the vegetable to draw out its own juice, adding salt (which also helps extract liquid) and letting it sit for a number of days. In this interval, which varies with temperature (heat accelerates fermentation), the veggie ferments in a brine of its own liquid.
Using this method, Irish makes sauerkraut, "kraut-chi" (shredded cabbage, daikon radish and carrots), and other seasonal krauts. Sour pickles, made with field-fresh cucumbers, are fermented in salt and water with grape leaves for added tannin. She also pickles turnips, radishes, beets, carrots and pearl onions.
"I've always made pickles and salsas and that kind of thing," Irish said. "I love the idea of transforming the vegetables that grow into something that lasts longer than our seven-month growing season."
Experimentation has yielded new products, such as the squickle: "In the winter, we had stockpiles of butternut squash," Irish explained. "I was trying to ferment it, and it turned to mush. Then I put it through the shredder, pickled it with vinegar, and lo and behold — the squickle."
James Buck
A selection of Pitchfork Farm's pickles
Irish, 33, who grew up in Boothbay Harbor, Maine, farmed for several years in Washington State before deciding in 2017 to move back east. She had no particular destination in mind, but Pitchfork was on a "short list" of farms that interested her.
She knew about Pitchfork through social media, which she called a "phenomenal resource" for learning about farms and farming techniques. In particular, Pitchfork caught her attention because of the tools Rock had developed there, including his prone weeder — an electric-powered vehicle that allows farmers to roll across their fields and weed while lying on their stomachs.
Irish's move back east coincided with Pitchfork's hiring for the 2017 season, and she joined the crew. Last fall, as the farm's pickle project gained traction, she joined Rock and Seitz on a pickle tour of New York City. Traversing the boroughs, from the Pickle Guys on the Lower East Side to kraut and kimchi in Carroll Gardens, they saw the range of possibilities and got a sense of how pickle makers set up their shops.
"That was enough to say, 'This is pretty cool,'" Rock said. "'Let's add this.'"
At about the same time, the Soda Plant — which is owned by Seitz's father-in-law, Steve Conant — was undergoing its own transformation. Pitchfork, which grows microgreens under grow lights in the winter, moved its indoor grow operation from Colchester to the South End building. In January, the farm opened its combined production space and retail shop, where pickles and ferments are available for tasting and purchase. (Pitchfork's value-added products can also be found at local grocery stores.)
A big jar of sour pickles sits on the counter of the shop at the Soda Plant. Crunchy and alive, they rival the kosher dills of New York delis.
"They're excellent," said chef Frank Pace of the Great Northern, a fermentation specialist. Having provided guidance to Pitchfork on its fermentation setup and equipment, he's now a customer with a standing weekly order for a five-gallon bucket of sour dills.
Lunch on the farm is still bean burritos, but the added ferments continue to spice things up.
"We add produce from the farm, and Julia brings down all kinds of stuff [from the pickle shop], and we chop it up like relish," Rock said. "All that stuff's going in there, and it's improving the burrito situation."