This just in: CityPlace Burlington was supposed to be built by now. But, as you may have heard, instead of a gleaming 14-story complex loaded with shops, restaurants and housing, the three-acre lot along Cherry Street looks like the landing site of a meteorite. The development has, quite literally, cratered.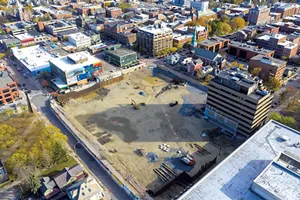 File: James Buck
CityPlace Burlington construction site
A litany of issues, from construction delays to flimsy financing, vexed the project from the start. Public distrust deepened when majority ownership of the property shifted from developer Don Sinex to Brookfield Asset Management. It's put Burlington Mayor Miro Weinberger and other politicians who supported the downtown complex in an awkward spot. It's become their very own version of the Pit of Despair.
In July, Brookfield acknowledged that the "scope, scale and the timing" of the project may change. (Side note: No shit.) "Over the next several months, we will be working collaboratively with the administration and stakeholders to refine our development plan to ensure we have a design that is consistent with the community's values and goals," the company said in a statement at the time.
Pit Contest Winners
Narrative: Bryan Marsden
Visual: Al Dworshak (see below)
Most Popular Ideas for the Pit
Park
Swimming Pool
Housing
Ice Rink
Parking
Farmers Market
Seven Days had a better idea: Ask the people what they want. You're welcome, Brookfield.
Almost 300 responded to our call for alternative pit proposals, with descriptions and drawings, poems and polemics.
The most popular idea? Some version of "Burlington's Central Park" — with public toilets, please. Coincidentally, that was the happy fate of the failed development project in "Parks and Recreation," the TV comedy series starring Amy Poehler. Lots of recommendations referenced the show: One called for "a real-time reenactment of 'Parks & Rec,' played out on the same timeline as if the show happened in Burlington ... With the right marketing, fans from all over the world will come to watch as the allegory unfolds live in Burlington." The show's Nick Offerman will perform at the Flynn MainStage in October, so perhaps he could advise?
Failing that, here's another idea: "We call Amy Poehler, explain the situation, ask her to appear for a benefit concert to fill in the pit and turn it into a park, similar to how it went down in Parks & Rec. The concert would ideally be a bunch of local bands and musicians. We use the money from the concert to buy the pit back and turn it into an open market, park and concert venue."
Prius Demolition Derby submitted by Al Dworshak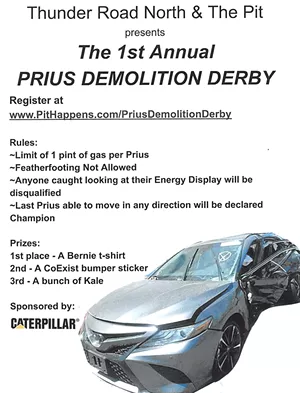 Prius Demolition Derby submitted by Al Dworshak
Dozens of people envisioned aquatic solutions for Burlington's hole in the ground — from the simple "Put in a liner, fill it with water, and, voila, you've got a public swimming pool," to "a dome-covered salt-water pool complex complete with wave simulator and lazy river" and "a tropical-themed oasis ... with a salt water pool, jacuzzis, saunas and a mini rainforest."
Plenty of votes for a family-friendly version of that, too: a water park with slides, fountains and surfing waves.
Eco-sensitive? "Drill down a couple miles or more for hot water, like they do in Japan and Iceland, and create an enormous health spa with hot and cold pools, steam rooms and saunas, and resting rooms, like the Nordic spas in Quebec. People living in associated homes and surrounding businesses could benefit from the proximity and residual heat."
Many pool proponents also embraced the cold — in the form of an ice rink "a la Rockefeller Center." Too bad Burlingtonians can't vote on this simply worded ballot item: "City park with a large swimming pool in summer; floating ice rink in winter."
Other popular ideas included affordable housing, a permanent farmers market — because Vermont — a sports stadium, a botanical garden and the practical but predictable: "Put in a parking lot."
A number of respondents drew within the lines, calling for — wait for it — a mix of commercial and residential development, plus shopping. Even a convention center. Seven Days could not confirm that those responses were issued by Brookfield, Sinex or Weinberger.
Other ideas were more imaginative. "Set it up on a sultry date with the Newport pit and wait nine months for Baby Pit ... in Rutland? St. Albans? Randolph?" suggested Anna from South Hero.
Plenty of readers took the opportunity to express their frustration with the mayor, the developers, the F-35 fighter jets, Burlington and the state of the world.
Our favorite is from Bryan Marsden, who lives two blocks from the construction site: "With the pit in the center of Burlington, we should create stadium style seating that has an open space in the middle of it for developers to fight to the death for city contracts. Winner takes all. Naturally, the mayor will decide whether or not to grant mercy to the losing developer via a thumbs-up or thumbs-down gesture. This would clarify and add very literal transparency to the process, but it would also provide a family-friendly space where Burlingtonians can come together and see how the sausage is made."
Read on for more practical and preposterous suggestions for how to fill "City Hole" or read a selection of (unedited) suggestions drawn at random in the idea generator below.
Just So Burlington
There are Vermonters who would love to see the city's monster pit host municipal mud-bogging "accompanied by flyovers of the F-35" or "an extreme truck rally track." But those guys are from Williston and St. Albans. In the Queen City, a large expanse of dirt is more likely to bring calls for community gardens, a "public edible forest," a pollinator habitat, a "city-wide hemp cooperative" — even a giant corn maze. One optimistic reader suggested a tiny dairy farm in the space would be "inspiring." It's no wonder lots of people are imagining a permanent home for the Burlington Farmers Market after a summer of schlepping down to Pine Street while City Hall Park is under construction. A couple of contrarians called for drive-through fast-food restaurants — "to buck the norm" — and a big Taco Bell.
I would love to see solar-powered community greenhouses on street level and [a] huge cold storage area in the pit.
Fill it in and make a farm. What would be cooler or better for our city? It could have year-round greenhouses. Flower farm, veg farm, bake house, education gardens for the schools. Farmers market for all seasons. Much more our style than malls and stores.
A park — a nice simple park. Offset the carbon we emit in the city. As simple as that.
Animal House
Everyone loves a dog park. But a wildlife refuge for feral hogs? An indoor zoo? A sanctuary for cats and kittens — read: giant kitty litter box? Some of the animal-related suggestions for the pit veered to the dark side.
Miro's catbox
Localvore petting zoo. Each adorable critter is tagged with their destination restaurant. Pet them before you eat them!
One word: Sarlacc
We should get a group of scientists together to bioengineer a real live Champ and then the pit could be converted to a giant tank that puts Champ on display. Imagine the boost in tourism.
Sweet Revenge
One guy from Newport suggested taking "all the trash and garbage produced in Chittenden County and fill[ing] in the hole instead of sending it all to Orleans County ... See how it feels when it's in your backyard." He wasn't alone in wishing a landfill on downtown Burlington. Another, ahem, shitty option: "Fill it with raw sewage overflow from the wastewater treatment facility." Surprisingly, Weinberger himself got off pretty easy. One reader would like to see the mayor's reelection headquarters in the pit. Another imagined a giant ball pit with Weinberger's house keys at the bottom. "Whoever find[s] them becomes the next mayor."
I would find one small corner, build a chain-link fence, put up a few ramshackle houses, and insist that the developers live there for a month. For the remaining large section of space, I would make it a farmers market or an open-air market.
Thunderdome!
Best Intentions
CityPlace was supposed to improve Burlington's housing crisis, an irony not lost on those who wrote in to suggest the pit should be used for shelter — "until City Hall [Park] reopens," quipped one respondent. Several people proposed a community of tiny houses — and another envisioned shipping containers — tastefully designed and arranged in the 268,141-square-foot vacant lot. Better yet: "Create an international competition for design of an innovative low-cost public housing project."
A housing facility with an ice rink, a labyrinth, a playground, a swimming pool, a gym, free laundry and community rooms.
Make it into a Sanctuary City within a city!
Street-level restaurants, shops and services topped by three floors of affordable senior housing.
Game On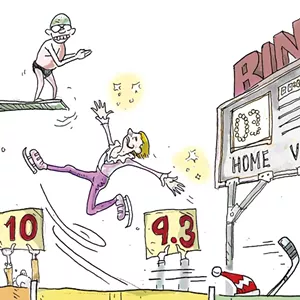 "This is a perfect site for sports activities," one reader pointed out. "It could be set up with volleyball, miniature golf, bocce, horseshoes, shuffleboard — all those activities that all ages can play and we don't see in our parks." Frisbee golf and pickleball each got a vote. But some people offered less civilized athletic endeavors, including Monday night mud wrestling and Roman-style gladiator fights. Are you not entertained? Also:
NBA arena
Dirt pump track
Soccer stadium
Roller rink
Test ponds for kayaks, canoes, etc.
Indoor bike park
World-class Velodrome for track-cycling!
Motocross/ATV/Snowmobile racecourse
UVM hockey and basketball games
Wackiest
"Many of us are disappointed that the Winooski Dome never happened." Really? Go on. "Let's revive that idea in downtown Burlington with a massive park under a dome with food carts and year-round outdoor entertainment and recreation. Sounds outlandish but would help us get through the dreary months and bring in tourists." So might a Green Mountain-themed amusement park, a giant maze à la The Shining or "Catacombs!" — all suggested. Slightly more doable: "a safe place for people to shatter away their anger. You can hurl plates, take a sledgehammer to an old computer, printer or appliance or kiss a framed photo of your ex goodbye with a golf club. It could be enormously cathartic considering the current state of affairs in this country." And, perhaps, stalled public projects?
Thunder Road North with Priuses
Let's use this pit to bury all the guns us Vermont snowflakes take away from our fellow Americans.
The world's first protected drone firefly habitat! Commission a hundred artists to create a marsh-like habitat from recycled metal, wires, and other assorted electronics. Stock the habitat with a hundred autonomous miniaturized illuminated drones. Observe over time to see if they become self-aware and begin to self-replicate using the raw materials from the marsh.
Artsiest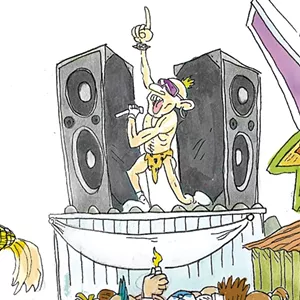 Concert venue, anyone? Lots of readers envisioned music right off Church Street in downtown Burlington. Some got very specific: "Let's have a city-wide pity party at City Hole! Complete with bands, a mosh pit, Dirty Mayor and mud pie. Courtney Love's band Hole will be the headliner!" One "Parks and Recreation" fan proposed an enormous concert by Mouse Rat, the fictional band in the show that perform a tune called "The Pit." The lyrics are kinda perfect:
Pit/I was in the pit/You were in the pit/We all were in the pit
The Pit/I was in the pit/You were in the pit/We all fell in the pit
The Pit/I fell in the pit/You fell in the pit/We all were in the pit
Museum of Vermont Art and Design with artist studio spaces and galleries.
A space to replace the hole in the community that the Memorial Auditorium left: rental spaces for up-and-coming small business[es], winter farmers market, 242 inspired music venue, child care, etc.
Historically Correct
Burlington's biggest empty lot was once the site of a lively Italian neighborhood, with clapboard homes and mom-and-pop shops. It was destroyed in the '60s — and 167 families were relocated — to make room for the city's first mall. To justify the demolition, officials called it urban renewal of a "blighted" area. Ironic, eh? Some readers would like to turn back the clock...
Rebuild Little Italy, have Champlain Housing Trust manage the properties as affordable housing for families.
Burlington has tried to find a single-source solution to the mid-century mistake that was the mall. But a single monolith does not, no matter how well designed, promote a livable, thriving city. The real answer is that this downtown land needs to become again what it once was: a neighborhood. The city should put in streets, divide up the lots and sell them off to developers. Plural. Zone for 7-10 stories, mandate some affordable housing, and rebuild a proper neighborhood.
Good Ideas From Other Places
We'd never heard of Dig This until a reader claimed it was the "most fun you can have in Las Vegas." The place, which bills itself as the World's Heavy Equipment Playground, invites regular folks to pay by the hour for the opportunity to drive backhoes and bulldozers in a giant sandbox. Just one of several good ideas from elsewhere...
A unique food and local business focused marketplace similar to Ponce City Market in Atlanta. Look it up. It's amazing.
I would create something similar to the City Museum in St. Louis, Missouri. Art, creativity, adventure park for all ages, venue, restaurant, a place to upcycle materials, and all sorts of learning and exploring.
"Vermont's Grand Canyon." Offer mule trips, guided tours with park rangers in uniform, scenic vista platforms, designate South Rim and North Rim. Print maps, set up a gift shop.
Whatever structure is built, make the basement the City's bus station. A model for this is Lugano, Switzerland.
The Burlington Smorgasbord, modeled after the highly successful Brooklyn Smorgasbord, which happens every Saturday during the summer in Brooklyn, N.Y. It's a great way to enjoy prepared foods by established restaurants as well as upcoming restaurants. This is not a farmers market. Great way to bring people together and enjoy a wide variety of foods from different ethnicities.
Correction: A previous version of this story misstated the size of the CityPlace lot.