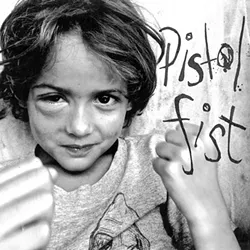 (Self released, digital download)
A couple of summers ago, I happened into the Monkey House in Winooski to catch a State & Main Records showcase featuring a handful of Montpelier bands. Unfortunately, because Grace Potter was throwing her annual Grand Point North bash on the Burlington waterfront, the show was sparsely attended. In fact, I'm pretty sure the crowd was just me, the bands who were playing and their significant others. That's too bad, because there was one Montpelier group in particular playing that night that Queen City rock fans really ought to get to know: Pistol Fist.
Pistol Fist are led by a gangly firebrand named Ben Roy. Onstage, he's a bundle of raw, sweaty energy who commands attention through the sheer force of his raw, sweaty exhortations. And his bandmates match the front man's intensity with a bruising strain of jangly garage rock that hits with staggering power. But lost in the overdriven guitars, thundering drums and howling vocals of the band's live show is a subtler quality that reveals itself only on Pistol Fist's recently released debut album, Wrist Soup. For all the force of nature Roy is in concert, he's an even more dynamic and unique songwriter.
It's hard precisely to pinpoint Roy's fundamental influences. Though the album generally bears a ragged garage punk edge, myriad stylistic variances are buried in that rumbling growl. At various points in Wrist Soup you could identify the imprint of bands such as the Pixies, Ted Leo and the Pharmacists, early Elvis Costello and Spoon. But such instances are typically fleeting — a Britt Daniel-esque melody turn here, a tumbling Leo-like riff there. And they're almost always twisted according to Roy's own clever design.
Perhaps the most clear-cut point of reference, musically speaking, is one to which Roy overtly alludes on the album's last track, "Violent Femme." At times, Roy's reedy, strained tone and timbre are dead ringers for those of Violent Femmes front man Gordon Gano. And the two share an affinity for offbeat, slackadaisical wordplay.
The album opens on "Smudge," with Roy singing, "She's left-handed / some can tell from her handwriting / some can see the smudge." Then, "When the town decides to reclaim the rooftops / she is gathering dopes." He is likewise opaque and idiosyncratic throughout, on such cuts as the pulverizing "Making & Framing Friends for Murder"; the Camper Van Beethoven-ish ode to dental health "Teeth"; and the lean, jumpy "Handshake Jesus."
Backing Roy are bassist Emily Warner and drummer Pete Rahn, the latter of Montpelier garage blues duo Lake Superior. The two form a formidable rhythm section. Roy's arrangements are just as playful and unpredictable as his lyrics, and Warner and Rahn keep pace with energy and tact.
But Wrist Soup is ultimately Ben Roy's show. As in that steamy set in Winooski a couple of years back, he impresses here with sheer, unrestrained vigor. Beneath the swaggering boisterousness are a real attention to songcraft and sharp, wry observations on love, lust and life that make the album one of the more impressive local debuts in recent memory.
Wrist Soup by Pistol Fist is available at pistolfistband.bandcamp.com.