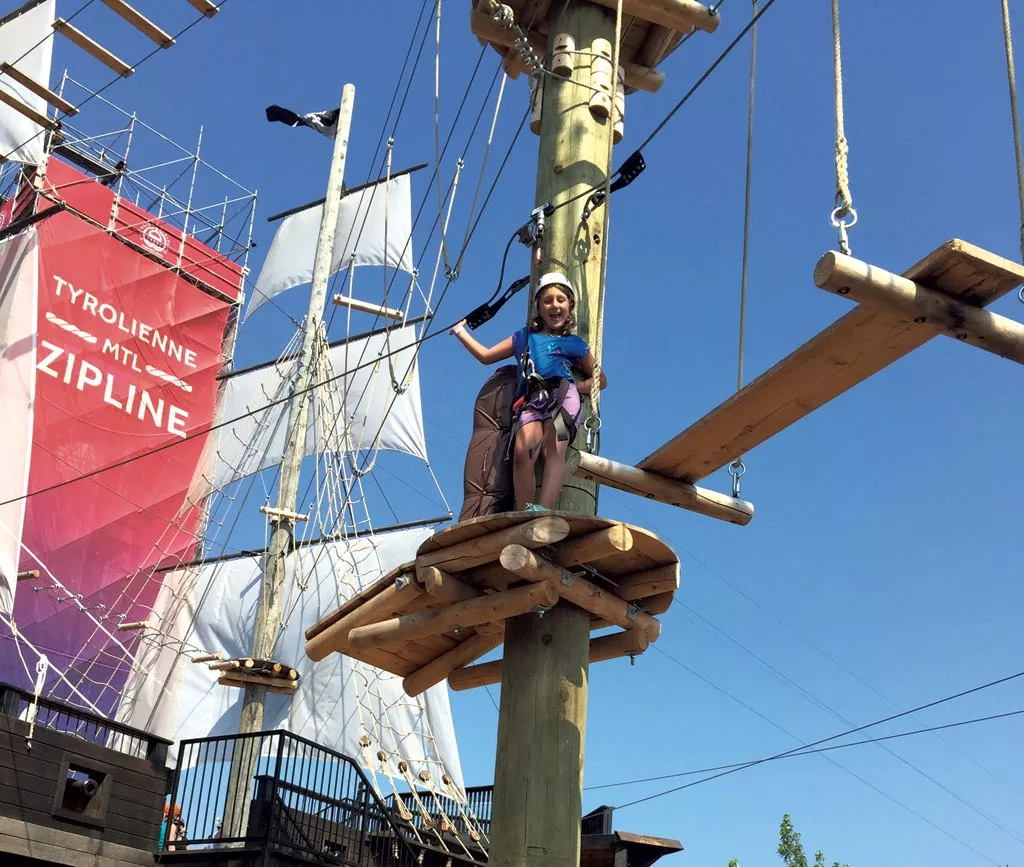 Mira, 13 feet off the ground
What makes Voiles en Voiles, the new pirate-themed ropes course park in Montréal's Old Port, so awesome? Looks, for starters. Fashioned to resemble two 18th-century pirate ships, its billowing sails, wobbly bridges, suspended logs and hanging nets just scream fun.
And once you make it through the long line to get in, the place lives up to its promise. A friendly attendant fits you with a harness and a helmet and marks the time on your entrance bracelet. After that, you have free rein of the grounds for two hours.
There are five ropes courses to choose from. Little ones can test their balancing skills on "Escape the Octopus," a mini-course designed for kids ages 3 to 6. It includes many of the same challenges as the higher courses, but they're just two feet off the ground. This is where my 5-year-old son, Theo, felt most in his comfort zone.
Older kids and adults can choose from four other ropes courses, plus a zip line. Each consists of a series of wooden bridges, swinging logs, tight ropes and cargo nets separated by circular platforms. Two of them are 13 feet off the ground — those are the ones my 8-year-old daughter, Mira, husband, Jeff, and I stuck to. They weren't super scary, but they did get my heart pounding a bit, especially on my first go-round. I put on a brave face for Mira, though, who was waiting for me to reassure her the course was totally safe before she attempted it herself.
More adventurous sea rovers can tackle a 24-foot-high course recommended for ages 7 and up and a 35-foot-high one for ages 10 and up. We didn't try those, but they looked fun and frightening.
There's also a multicolored climbing wall with four different paths of increasing difficulty, as well as three nautical-themed inflatables — essentially deluxe bouncy houses with slides — for kids ages 2 and up to enjoy.
Voiles en Voiles, which opened this summer, will stay open on weekends from 10 a.m. to 6 p.m. through November 1, then reopen when the warmer weather returns next year.
After almost two hours of swashbuckling, all four members of our family were ready to become landlubbers again. We left feeling hot, sweaty, happy and a little bit more courageux than we were before.
Pluses
Great location in the heart of Old Montréal, right next to the River Saint-Laurent, with parking and food trucks nearby.
Restrooms on-site, as well as two counters selling snacks, drinks and Slushies.
Reasonably priced; a family package gives two adults and two children access to everything for $74 Canadian — currently $14 American per person.
Minuses
Very long wait — we spent almost two hours in line over Labor Day weekend.
Not much shade, especially in the bouncy castle area.