Caleb Kenna
Cheesemakers Marjorie Susman (left) and Marian Pollack with a photo of themselves from the early days of Orb Weaver Farm
On a sunny morning in early May, Marjorie Susman walked by bright tulips and daffodils, past the greenhouse, and down the stone stairway to the Orb Weaver Farm cheese room to start the season's penultimate Monday batch.
It is normal for the Monkton dairy to wind down its annual cheesemaking routine in May. But this year was different: The Monday batch was one of the last three that Susman, 63, and her life partner, Marian Pollack, 70, would make before handing the reins over to Kate Turcotte and her husband, Zack Munzer, both 31.
By the end of June, after more than two years of relationship building and business planning, the four expect to finalize a three-year lease on the 101-acre farm and on-site cheese operation.
Under the agreement, Turcotte and Munzer will establish Orb Weaver Creamery, distinct from Orb Weaver Farm. At the end of the lease, they aim to buy the conserved farm at its agricultural value. Susman and Pollack will continue to live in the cozy butter-yellow farmhouse with slate blue trim and run their small organic market garden for as long as they want.
The transition marks an opportunity for both couples, but it's been a big shift for Susman and Pollack, who have devoted decades to building a life and a living on the Addison County farm.
"We had decided we were going to keep going until we died," Susman said.
It was more than 37 years ago that they landed as young women at the run-down old dairy, after responding to an ad for a farm manager. "We came here to a falling-down farm: house falling in, barn falling down," recalled Susman.
Susman and Pollack have since beaten their own path to success as micro-scale dairy farmers and as a women-owned and -run agricultural enterprise. One of the state's first on-farm cheesemakers, Orb Weaver has led the way for dozens of others.
Trailblazers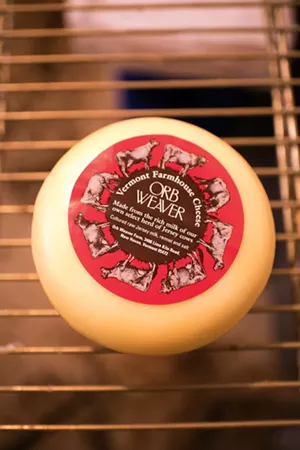 "Orb Weaver is an iconic cheese in Vermont," said Tom Bivins, a chef who moved here 30 years ago and is executive director of the Vermont Cheese Council. "Marjorie and Marian proved that you could operate a farm and a cheese business, do it your own way, and be successful at it."
"They were there at the beginning of the farm women movement," said writer/photographer Peter Miller, who featured the couple in his 2002 book, Vermont Farm Women. "These were not wives of farmers or women farming with their husbands or [male] partners. These women took over the farm, and they were the boss."
Susman and Pollack, added Miller, were also among the "apostles" of the back-to-the-land movement. "They had no money, and they did a hell of a good job."
Orb Weaver is once again trailblazing with its farm transition. The successful execution of Susman and Pollack's agreement, Bivins believes, will make it the first of its kind within the state's farmstead cheese community. That community now includes nearly 40 farms that make cheese from the milk of their own animals.
"We're about to see a number of these transitions," Bivins said. "Generationally, many of those who started making cheese in the '80s and early '90s are getting ready to retire. This is the beginning."
Bivins has high hopes for Orb Weaver, partly because he knows Turcotte well as a respected member of the local and national cheesemaking community. Until recently, Turcotte ran the cheese operation at Shelburne Farms. She is a highly valued member of the Vermont Cheese Council board, Bivins noted.
More broadly, the transition at Orb Weaver is noteworthy at a time when the future of Vermont agriculture is in flux. An aging farmer population, as well as the instability of the fluid milk sector, overshadow promising pockets of agricultural innovation. The latter have yet to prove widely replicable, transferrable or economically viable over time.
"I think we're at a really critical stage in our state with the dairy crisis that I'm not sure the public quite understands," said Sam Smith, a farm business consultant with the Intervale Center. He works on about a dozen transition plans a year and has advised Orb Weaver.
For more than a century, dairies that ship fluid milk have provided the critical mass that has supported rural communities, agricultural infrastructure, and the landscape of open fields valued by Vermonters and visitors alike. As the numbers of such dairies continue to decline, "We're going to see a really significant percent of Vermont's land base transition," Smith said. "We need a new agricultural model that will generate enough year-round income [to replace that], and we don't necessarily have the answer yet."
Good Omens
At Orb Weaver, where four out of the five Jersey calves born to the herd last December were female future milkers, the signs are promising.
"Today, I had a lot of good omens," said Susman as she cut the curds in the cheese vat on May 7. "There was a bluebird sitting on the rose of Sharon [shrub], and it watched me as I came out of the house. Then, walking up for breakfast, there were two herons flying overhead, wing by wing."
Susman, who wears her hair in two long braids, has an easy smile. Pollack is more reserved, with a dry sense of humor. The women met at an Equal Rights Amendment event in Greenfield, Mass., in the winter of 1976. "Our eyes locked across a crowded room, and that was that," Susman recalled.
The couple shared a dream of back-to-the-land self-sufficiency, which brought them to Morrisville as hired farmhands in 1980. The learning curve was steep. "We didn't know anything," Pollack admitted. "We didn't know water would freeze."
After six months, Susman and Pollack moved to the run-down former dairy in Monkton. They built up a small herd of about 30 Jerseys, shipped milk and raised vegetables to sell. With the help of a loan from Susman's alma mater, the University of Massachusetts Amherst, they bought the ramshackle farmhouse and first six acres of land for $45,000. The women named their farm after a spider whose delicate, symmetrical webs they admired.
Seat of the Pants
In the farmhouse kitchen, Susman and Pollack started experimenting with cheese recipes. Their goal was to create a cheese they could sell to their neighbors. "We wanted to be subsistence farmers. We just wanted to pay our bills," said Susman.
"We hadn't seen those bills yet," Pollack noted wryly.
They had no examples or teachers and couldn't afford to travel to Europe to see how it was done. Luckily, Susman said, "We're really seat-of-the-pants kind of people."
Ultimately, they settled on a mellow, meltable, Colby-style cheese made with their rich, unpasteurized Jersey milk. The wheels were dipped in wax before aging for six months in a cooler.
Their cheese vat cost $150 at auction, and they had to order a small-scale press from Holland. When they began selling their product in 1983, the Vermont Agency of Agriculture, Food & Markets had no inspection protocols for an on-farm cheesemaker.
For more than a decade, Susman and Pollack juggled fluid milk shipments, vegetables and cheese. In 1995, worn out, they sold all but five cows and pioneered a different approach.
They decided to milk and make cheese only half the year, from deep winter into spring, before turning the cows out onto pasture. While the cows grazed and nurtured the next generation of calves growing within them, the farmers focused on their four-acre organic vegetable operation.
"A lot of the dairy conventions, they turned them upside down," said their friend and fellow micro-dairy farmer Diane St. Clair of Animal Farm in Orwell. "When you tell your neighbor you're going to milk five or six cows for six months of the year, they think you're just playing ... And they really stuck their neck out on the whole raw-milk thing."
Staying Small
Caleb Kenna
Marian Pollack (left) and Marjorie Susman making cheese
Today, the 20th generation of the original herd is in the heifer pasture, the cheese recipe has hardly changed, and Orb Weaver makes roughly the same 7,000 pounds it has every year since 1995.
In 2000, the couple commissioned a local artisan to build a small cheese cave between the cheese room and the barn. It looks like a Hobbit home with its grassy roof and red door. Inside its cool walls, some cheese spends about 12 months maturing into cave-aged, natural-rind wheels with a deeper, nuttier flavor and firmer texture than the waxed version.
The 2005 book Cheese: A Connoisseur's Guide to the World's Best described cave-aged Orb Weaver as an "excellent farmhouse cheese." American Cheeses: The Best Regional, Artisan, and Farmhouse Cheeses called it "a humble giant" in 2008.
Despite the accolades, Susman and Pollack have always kept a low profile and sold their cheese mostly close to home. After winning several ribbons at the prestigious American Cheese Society awards, they stopped entering.
"We weren't looking to expand our markets and don't really like to compete," explained Susman.
Coverage from the Food Network, the Boston Globe and the New York Times, while flattering, simply created demand the women could not meet.
"What we make in a year, we sell," said Pollack. "We never wanted to get bigger than what we could handle ourselves."
Orb Weaver cheese is sold almost exclusively within Addison and Chittenden counties to co-ops, specialty markets and restaurants; the couple delivers it all and has personal relationships with each account.
"I don't remember a time when I didn't buy cheese from them," said Maura O'Sullivan, a chef for more than two decades in Burlington. At Penny Cluse Café, where she now works, the cheesemaker is the only supplier with an eponymous menu item: the Orb Weaver Vermont Farmhouse Cheese Sandwich.
"They are just totally unique," O'Sullivan said. "They wanted to be an everyday product. They figured out how to support themselves in a way that gave them joy."
Wake-Up Call
Susman and Pollack would have been happy to just keep working through the seasons with their beloved Jerseys, Rhodesian Ridgeback dogs and beautifully trellised tomato plants. They paid off their mortgage long ago and live frugally, growing most of what they eat.
But close to four decades of farming and cheesemaking day in and day out has worn on their bodies. Between them, the women have had a pair of hips replaced, which has enabled them to plug on but was also a wake-up call.
"What's depressing to me is not the fact that we're not making cheese anymore, it's that we can't," Pollack said, after joining her partner in the cheese room for the curd-draining step. "Really, age made the decision."
Every year, the women said, physical limitations have become harder to ignore. Square bales have gotten bigger and heavier, newborn calves more difficult to lift.
"All the times shoveling our way through shoulder-high drifts to the barn in winter, we won't miss that," Pollack said.
Still, it was not a given that Orb Weaver would continue to a new generation — though not for lack of interest.
"We've had a lot of people over the years wanting to be us," Susman said, "but we were never ready, and we didn't think we cared if it was a one-generation thing."
The couple knew that transitions are not easy, even for farmers with potential heirs in the family. Having poured themselves into building the farm and the cheese business from scratch, the women could not quite imagine handing over Orb Weaver. It had become not only their home and lifework but also their identity.
"I feel like it's part of my DNA," Susman said. "Every fall before I start making cheese, I come in here and stand and just let it flow into me. If I'm not an Orb Weaver, then what am I?"
"People call us the Orbs," added Pollack.
As the years went by, however, it was harder to imagine staying on the farm without farming, or allowing the fields to be developed or absorbed by a neighboring farm. "Barns fall down if you don't use them," Pollack said, "and I'm still attached to having animals around."
In 2013, the couple conserved all but two acres through the Vermont Land Trust with support from the Vermont Housing & Conservation Board and the Monkton open space fund.
With proceeds from the sale of development rights, they invested in much-needed barn renovations and other infrastructure improvements. They also created a small nest egg. "We had equity in the farm but no savings," Pollack said. "You can't eat equity."
Conserving the land ensures that it will not be developed. At the time, the couple wasn't sure if they would use the other aspect of farm conservation, which is designed to enable a new generation of farmers to purchase the property for its value as a farm rather than for the unrestricted fair market value.
"The goal is to facilitate farmer-to-farmer transitions at a more affordable price," explained Tyler Miller, stewardship director of the Vermont Land Trust. "Part of it is to keep Vermont's agricultural heritage — and the land base that supports agriculture — intact."
"But then Kate and Zack came into our lives," said Susman.
"They have a lot to do with making things easier," Pollack agreed.
Playing Matchmaker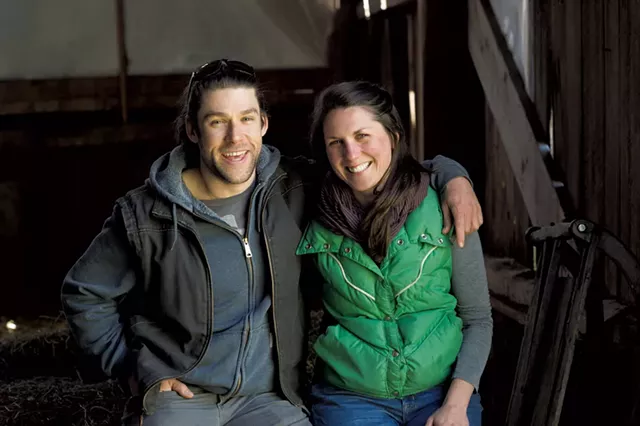 Caleb Kenna
Zach Munzer and Kate Turcotte
The weather was cool and gray the morning of June 4 when Turcotte and Munzer strolled up the knoll beyond the Orb Weaver farmhouse past Susman and Pollack's fastidiously neat beds of vegetables, berries and flowers.
Turcotte recalled her first visit to the farm in 2007, when she was a student of sustainable agriculture at the University of Vermont and was also making cheese at Shelburne Farms. She had heard about Orb Weaver and wanted to see the place in person.
While she loves the tangible result of producing good food and describes herself proudly as a "total cheese dork," Turcotte said, "I was kind of struggling [with] being inside all the time.
"I just showed up and knocked on the door," she admitted with a slightly embarrassed smile. "I think I said I was writing a paper for school."
Turcotte is originally from a logging town in northwestern Maine: "moose meat, not lobster," she said with a grin. After graduating from UVM, she went to work full time at Shelburne Farms and then headed to Pawlet for a couple of years to make cheese at Consider Bardwell Farm. That's where she met Munzer.
A Connecticut native who had come to Vermont to work ski patrol, he had found a summer job on a dairy farm that delivered milk to Consider Bardwell.
"We talked every morning while unloading 100-pound milk cans," Turcotte said.
The pair returned together to northern Vermont, where both worked at Shelburne Farms: Munzer with the dairy herd and Turcotte as manager of the whole cheese operation. They married in 2016.
Turcotte's friend and mentor Julie Rubaud of Red Wagon Plants in Hinesburg, who is also good friends with Susman and Pollack, started bringing them all together for informal gatherings.
Although she denies a matchmaking scheme, Rubaud knew that Orb Weaver's future was in play; she had even briefly worked for the farm as a business consultant. She also knew that Turcotte was interested in owning a farmstead dairy and believed the young couple had the depth of experience to do so successfully.
"They are all just such meticulous, thoughtful people," Rubaud said. "The puzzle pieces started fitting together."
Susman recalled, "Julie said, 'You have got to get to know Kate; she is who you want to take over your business.'"
After Susman and Pollack were injured in a barn accident in early 2016, Turcotte helped with cheesemaking and decided it was time to be direct. She wrote the women a letter saying that she and Munzer would be honored to be considered to continue the Orb Weaver legacy.
Susman and Pollack were intrigued but cautious. "I loved the letter," Susman said.
"It was a beautiful letter, but I let [Marjorie] do the oohing and aahing," Pollack commented.
The foursome decided to start by getting to know each other, what they refer to as their "dating" period. They shared many meals at the farmhouse, sitting around the table under beams hung with dried flowers. "We'd just hang out. Talking about everything except for [the transition]," Turcotte said.
Each couple started working with a farm business consultant through the Intervale Center to identify their goals and plans. Eventually, lawyers got involved.
Throughout it all, the four kept enjoying meals together, which now sometimes involve details of the transition.
"We've grown really close to them. We call them 'the kids,'" Susman said. "We try not to talk to our lawyers too much. We talk to each other."
Best-Laid Plans
Back up on the knoll at the top of the market garden, Turcotte and Munzer pointed to the road ribboning away from the farm to their rental house about a quarter-mile away.
Susman and Pollack reserved two acres out of the conservation deal right about where the younger couple was standing. They vaguely thought they might build a retirement home there so potential new farmers could live in the farmhouse.
"But last spring," Susman said, "we were sitting looking at the beautiful daffodils [down by the house] and Marian said, 'All I see is sorrow.' And we realized we couldn't move." They also realized that they were not ready to give up the garden acreage after decades of building the soil.
They hoped it would simply be a matter of swapping the two non-conserved acres for another two acres on the farm, but they learned that federal regulations preclude it.
The result is that Turcotte and Munzer are going into the deal without a guaranteed future home on the farm. Their rental house works for now but doesn't provide long-term security.
The younger couple understands and figures something will work out. The opportunity far outweighs the challenges. Building a similar operation from scratch was not an option for them. "You'd need half a million dollars or more just to start," Turcotte said.
"It would be a lot easier if it were just a business transaction," she said. "The emotional side — there's no checklist for that."
"You've got to be adaptable," her husband said.
Turcotte and Munzer come down every afternoon to feed the heifers and are refining their plan for making Orb Weaver Creamery into a viable business that can support them as its new caretakers, building on what Susman and Pollack created.
They face a very different world than the Orb Weaver founders did. "Just to be thirtysomethings is very expensive, comparatively," Turcotte said, noting the cost of health care and possible future childcare needs. There is much more competition and regulation but also more support.
"We want to continue being a community cheese," she explained, "but we know we'll need to milk and produce cheese year-round."
The couple will hold down outside jobs for the foreseeable future but anticipate adding a few more milkers over time and developing a line of fresh cheeses for both cash flow and "more immediate gratification" than the months-long aging process provides.
Taking over a beloved local brand is a little "intimidating and challenging," acknowledged Turcotte. "But also really comforting," her husband added. "It's nice to have a template, to have their acumen to bounce off."
Gesturing to the quilt of fields and woods below the market garden and farmhouse, Munzer noted that Orb Weaver is surrounded by much larger dairy farms. Without a farm transition plan, "This little 100 acres would be instantly [swallowed up]," he said, pressing his hands together and making a sucking sound.
"This kind of farm will disappear," Turcotte agreed, "and we need all kinds of farms."