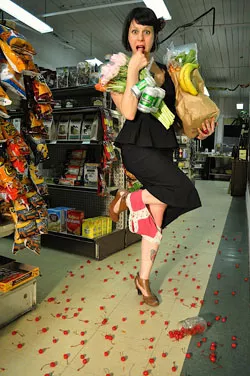 Within the stark white walls of the Falls Gallery in the temporary Winooski Pop-up district, a coterie of emerging artists is exhibiting work with a certain spark. Across from the door of the artist-curated space hang 10 large-scale photographs from Heather Gray's "Pin-Up" series. In contrast to their sedate black frames, the Vermont artist's images of cheeky rural babes exude humor and a jaunty spirit that's perfectly in tune with the uptown/downtown sensibility of the pop-up space. This series spoofs the pinup genre, joining hardscabble Yankee scenery and backwoods bombshells in pictures that are equal parts campy, sexy and witty.
Gray's previous works compiled twisted domestic scenes, glamour photography and self-portraiture into a deadpan series called "Dysfunctional Antics." The influence of Cindy Sherman's "Untitled Film Stills" series from the late 1970s is apparent in Gray's early works, yet her sharp blend of subject, composition and narrative signals an original artistic voice. Gray, who completed her MFA from the Vermont College of Fine Arts in 2005, continues to hone that voice in her current "Pin-Up" series. Her cleverly conceived images are beautifully shot and printed, and her winning combination of coy sexuality and comedy is inviting.
The "Pin-Up" series began in 2010, when Gray visited her friend Esme Hall McCarthy's tattoo shop, the currently closed Venus Tattoos. Gray was struck by the number of pinup tattoos emblazoned on the clientele. When McCarthy suggested that Gray make a pinup calendar, Gray was inspired. "At first … the images were very serious," she writes. "I created several great images, but they were lacking in my humor. Once I started to add my own flair and humor to them, they became more successful and satisfying to me."
The 10 images shown at the Falls Gallery draw from several stages of the artist's process and show her struggle to clarify a vision for the series.
In an untitled image shot early on, a central woman in a black negligé, black thigh-highs and a sheer shawl stands cruciform between red curtains parted in an arched brick interior doorway. With curly blond hair tucked back with a big, black flower headpiece and vining tattoos sleeving her arms, she gazes innocently at the ceiling. The look is part countercultural madam, part ingénue. Behind her, a bare leg edges into the frame.
In the far distance, another woman stands with her back to the camera, wearing only frilly, bottom-grazing bloomers and heels. The scene's red-black burlesque palette and tantalizing skin don't so much parody the pinup genre as contribute to it. The beguiling image is lushly produced, but it lacks the cheekiness of later works in the series, such as "Sweet Cherry Pie." Installed at either end of the show, the two photos fittingly bookend Gray's exhibition.
"Sweet Cherry Pie" is set in a market. Between the aisles, a woman in a 1940s-style black ensemble feigns surprise as her red panties drop — ostensibly spontaneously — to the floor. Her arms loaded with bananas, pink tulips and cans of Heineken, she draws a finger to her mouth as if saying, "Oops!" Bright-red cherries scatter across the floor.
The image, which employs vintage clothing and the anachronistic environs of a small-scale Vermont market, ironically feels more current than the more obviously contemporary untitled shot. Here, Gray brings it all together: the incisive glamour of Cindy Sherman, the rural charm of Vermont and the audacious fun of the pinup. It's a fitting finale to the series, and it shows the exciting direction Gray is taking. She promises, we can only assume, more Vermont vixens to come.