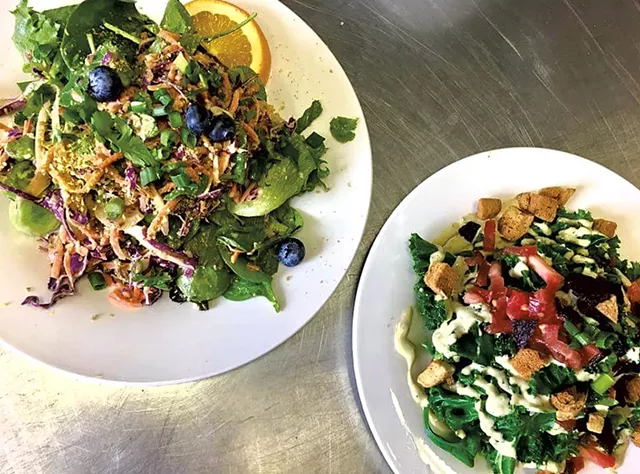 In recent months, visitors to Burlington's Pingala Café & Eatery may have noticed a few updates. Owner Trevor Sullivan and his team have painted the service window to look like a food truck and taken a more street-food-y approach to service.
Now the restaurant is preparing to open a second location, in Williston's shiny new Kismet building at 421 Blair Park Road. The second Pingala will offer plant-based sandwiches, salads and snacks much like those at the Chace Mill original.
But service will take a fast-casual approach that Sullivan hopes will appeal to lunch-hour diners and clients of the spin studio and other health-oriented businesses in the building. That format, he added, lines up nicely with where the greater food industry is headed.
"It's all about quick-service restaurants right now," he said. "Younger generations want more time and high-quality, chef-made food, and they want to save money. They want in and out, and organic and local ingredients. Everybody's shifting toward that."
When the Williston spot opens in June, it will have just a handful of bar stools onsite, but guests will be able to eat at picnic tables outside the building, Sullivan said. The food — both there and at the Chace Mill — will come in new, street-food-inspired packaging.
Sullivan hopes the new look will invite non-vegans and others to give Pingala a try. "We don't want to be just the vegan café," he said. "I want to serve food anyone can connect with; it's about making inspired sandwiches and taking something classic and putting a funky street-food sort of twist on it."
Meanwhile, Sullivan and team have rented space in a South Burlington commissary kitchen, from which they'll launch a retail line of vegan yummies. To be sold under the name Animaloo Vegan Foods at local markets and grocery stores, these will include hickory-smoked, garlic-rosemary and maple-Sriracha eggplant bacon, along with condiments such as salad dressings, chipotle aioli and "maybe some nut cheeses," Sullivan said.
"We're positioning it as a brand that could go beyond Burlington," Sullivan said. He hinted that if the new location, retail foods and rebranding go well, diners can expect even bigger, better things from Pingala. "This is the perfect next step," he added.