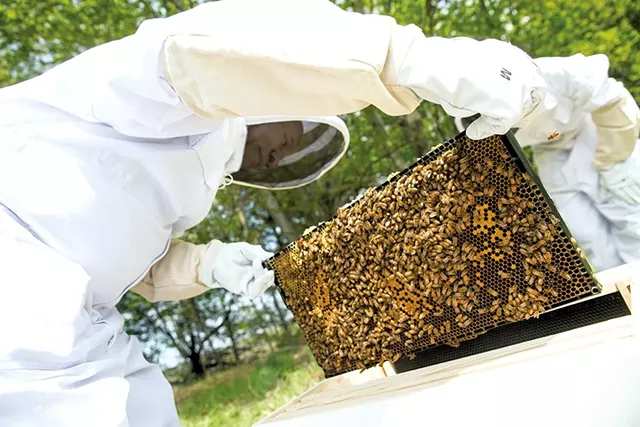 James Buck
Francois Gasaba moves bees into their new home
At Pine Island Community Farm in Colchester on a Sunday afternoon, three figures in white, baggy suits and yellow gloves stood out against the green grass and blue sky. They looked like astronauts, but they were actually beekeepers. And they were about to undertake a major mission: transferring some 20,000 bees to two hive bodies.
"François, do you want to do the smoke?" Amy Kirk asked fellow beekeeper François Gasaba. She had started a fire in a smoker using dry grass and twigs. When bees sense danger, they release alarm pheromones to alert one another. Dousing them with smoke helps to mask those chemicals so the bees stay calm and the beekeepers can do their work, Kirk explained.
Pine Island project manager Karen Freudenberger looked on as Kirk gingerly pulled off the lid of a box containing a nucleus colony — commonly referred to as a "nuc." Gasaba squeezed the smoker into the nuc, sending white puffs over the top of the bee-laden frames inside.
"Look at all of them. Isn't it awesome?" Kirk said as she lifted the first of five frames, unfazed by the bees swarming around the trio.
"Welcome to Pine Island, guys!" Freudenberger cheered.
Located just a stone's throw from the Winooski River, the Pine Island Community Farm is a partnership of the Vermont Land Trust and the Association of Africans Living in Vermont. When it opened in February 2013, the farm was known as the Vermont Goat Collaborative. The project started because the New American community, most of whom were former refugees, had difficulties buying goat meat — especially the fresh, locally raised goats they said they prefer.
As the farm diversified beyond raising goats, it was renamed Pine Island Community Farm. All together, it costs about $25,000 per year to run, with land tax and insurance among the biggest expenses.
Today, there's a livestock collaborative for goats and chickens, a beekeeping collaborative, and a garden collaborative. The livestock collective comprises two businesses, each one an individual enterprise where farmers are responsible for funding their own operations.
"We're always open to new ideas," said Freudenberger. That is, except for raising pigs; the farm respects Muslim visitors and clients, she noted.
As a whole, Pine Island is a complex venture with a social mission, explained Freudenberger. Not only does it provide the community with locally grown meat, it promotes cross-cultural relations. It also allows the New Americans, some of whom were farmers and gardeners in their native countries, to maintain their traditions.
There's an ecological restoration component, too. The farmers hope to transform areas where the goats graze into a landscape that mimics the natural ecology of the Intervale floodplain.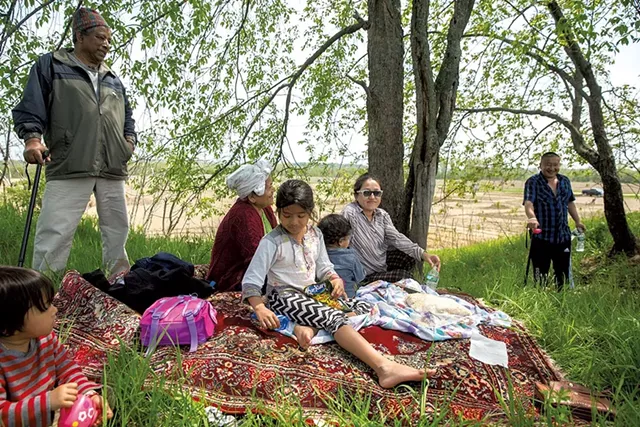 James Buck
Nepali families picnic at the farm
"This would transition from the grasslands that have been created by haying and, at one point, corn," explained Freudenberger. To do this, the farm planted bands of "positively invasive" species native to the floodplain, such as willows, red osier dogwoods and silver maples, in strips in the same meadows where the goats graze. Portable electric fences keep the herd off these strips until they are well established. The aim is for the plants to repopulate in the meadows.
"We hope to leave this place better than we found it," said Freudenberger, who has had a long career in international community development.
Back at the beekeeping station, Kirk and Gasaba finished transferring frames to one hive and moved on to the second. They were soon joined by another beekeeper — Dr. Jean-Marie Mujakazi, the Burundi-born cofounder of AALV. Though the trio didn't have much experience, they've received advice from the Vermont Beekeepers Association and other resources, including two former Peace Corps members who had kept bees.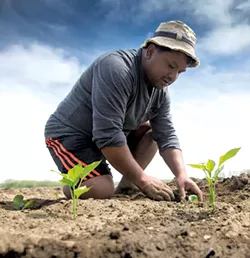 James Buck
Bishnu Khadka
Kirk, a grant manager at the consulting, engineering and technical services company Tetra Tech, has long been interested in beekeeping but can't have a hive at her Winooski residence. Mujakazi and Freudenberger had been toying with the idea of harvesting honey, and, at Pine Island, it all came together. "My thoughts focus on health, always," Mujakazi said. He wants to encourage his community members to use honey instead of sugar."If we succeed, we can grow more hives next year," he added.
While the beekeepers installed their hive bodies, gardeners plowed and sowed their plots. The garden collaborative, which began in 2015, covers an area of seven hectares. A standard-size plot is an eighth of an acre and costs $90 for the season — a fee that has allowed the farm to start generating its own income. About 60 families maintain gardens there, and they've formed subgroups of farmers who want to work together, often because they speak the same language. Each of these groups has its own leadership, whose tasks include collecting fees and liaising with Freudenberger.
When Seven Days met Bhutanese-born Bishnu Khadka, he was planting surplus cabbage and zucchini seedlings from the Intervale Community Farm. Khadka had grown vegetables at the Ethan Allen Homestead for four years but moved to Pine Island in 2015 after floods damaged his produce. Since Khadka is sharing his plot with another family, he pays half the fee.
His first harvest at Pine Island was "pretty good," Khadka said. "I still have the tomatoes that I grew last year," he added. This year, the licensed nursing assistant at the University of Vermont Medical Center plans to grow cabbage, coriander, habañero peppers, sweet peppers, tomatoes, zucchini and more.
Khadka learned how to grow vegetables from his parents, who were farmers in Bhutan and Nepal, he said. Farming allows him to connect with the land and continue his family's tradition. "I'm doing this not to grow a lot of vegetables, but because I enjoy doing it," he explained.
While he's been successful at Pine Island, Khadka has one unfulfilled wish: to grow rice. The 35-year-old once grew Japanese brown rice at the Ethan Allen Homestead, but lamented that it was labor-intensive. Though harvesting the rice required a lot of work, when he ate it, Khadka said, he felt like he was "in heaven."
Some distance away from Khadka's plot is that of Theogène Mahoro. The Rwandan native is also one of two farmers who run the livestock collaborative. In addition, he works full time at Rhino Foods. "I like being busy all the time," the 38-year-old said. Mahoro said that he studied agriculture in high school in Rwanda.
Though he started out as a goat farmer in 2014, Mahoro now sells chickens. Last year, he said, he sold some 2,000 spent layer hens — those retired from free-range egg-laying farms — and roosters in six months. A hen can fetch $8, a rooster up to $15, Mahoro explained. Last summer, some Bhutanese families bought four chickens at a time, he added. And during Bhutanese religious festivals, the demand for meat increases.
Mahoro lives with his family on the Pine Island farm. His 5-year-old daughter, Solange, and 4-year-old son, Kevin, often play with Jevanna Dhaurali, 4, and her 9-year-old sister, Joshna. Their father, Chuda Dhaurali, was Pine Island's pilot goat farmer, and they have lived at the farm since 2013.
James Buck
Rohit Adhikari with baby goats
What started out as a part-time venture has turned into a full-time job for Dhaurali as his herd has nearly quadrupled — from 80 to about 300 — in three years. His wife, Gita, and a friend, Yam Tiwari, lend extra hands at the farm. Volunteers, many of whom are affiliated with the City Market/Onion River Co-op member-worker program, also help with cleaning the barn and feeding the baby goats.
Pine Island now has a state-sanctioned slaughter facility, which allows buyers to butcher their animals on-farm. Dhaurali sometimes helps his customers to ensure that humane practices are followed.
Each ethnic community prefers a specific type of goat meat, Dhaurali noted. The Burmese buy old female goats, while the Nepali prefer castrated male goats. Dhaurali explained that a 130-pound castrated male goat can fetch up to $500, while a 180-pound female goat is $300 or less. Freudenberger added that, in May, many parents bought goats to prepare feasts for their children's graduation parties.
The winter months are challenging for Dhaurali because the slaughter facility is not operational due to frozen pipes. This affects his profit margin, especially since he has to purchase hay and grains for the herd when they can't graze. Many customers would like to continue buying goat meat in winter, he said, noting, "It's very cold, and they [want to] make soup." To get around this issue, Dhaurali is exploring a possible collaboration with a U.S Department of Agriculture-approved slaughter facility.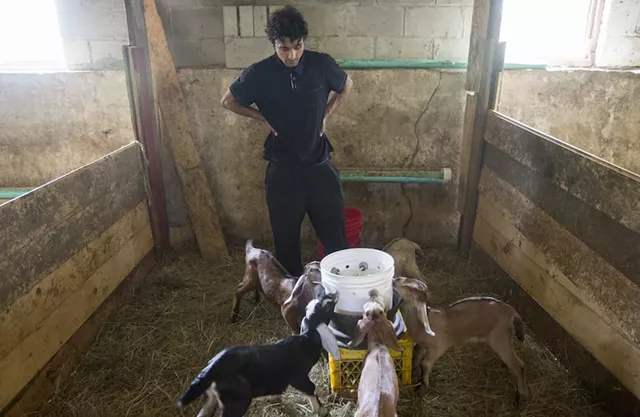 James Buck
Yam Tiwari feeds baby goats
Over the next two to three years, a board of directors — composed primarily of New Americans — will assume management of Pine Island, Freudenberger said. Since hiring a day-to-day manager is unsustainable, each component of the farm is as independent and simple to manage as possible, she added. And in the next couple of years, she hopes that Pine Island will become self-sufficient and no longer need to depend on grants and outside financing.
New Americans in their thirties and older — who still have memories of farming in their native countries — have a greater interest in the farm than do younger family members, Freudenberger said. But she doesn't seem worried. "It'll be interesting to see how it evolves in 20, 30 years," she said, pointing out that some non-recent immigrants have a desire "to go back to the farm" and are interested in local food production.
For now, Freudenberger is pleased that people are coming to Pine Island and that it makes them happy. "I just love this project," she said.
Kymelya Sari
Baby goats at Pine Island Farm
Correction, June 1, 2016: An earlier version of this story misstated the number of chickens the Pine Island Community Farm sold last year — it was about 2,000.