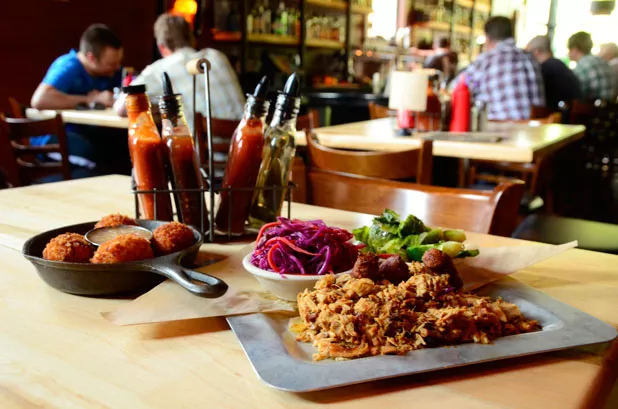 Few new Vermont restaurants have been more anticipated than Prohibition Pig. And no wonder, considering the recent history of its spot at 23 South Main Street in Waterbury.
For nearly a decade, that address was home to the Alchemist Pub & Brewery. First came minor flooding last May; then, on August 28, Tropical Storm Irene deluged the first floor with waist-high, silty rapids. Alchemist owners John and Jen Kimmich toiled to repair their establishment, but, on November 18, the pair elected not to reopen. They've shifted their focus to manufacturing cans and kegs of popular Heady Topper and other beers at their Waterbury cannery.
Enter Chad Rich, the former bar manager at Burlington's Farmhouse Tap & Grill. The longtime North Carolina resident was just waiting for a space like the empty Alchemist in which to open his own restaurant, which he envisioned as an ode to Southern food. Drinks from an era when cocktails were viewed as medicinal potions would fill the well-stocked bar.
After more than a month of construction delays, Prohibition Pig opened in March to much ballyhoo — and long waits that recalled those at the Alchemist. Nonetheless, one Seven Days staffer who visited for Vermont Restaurant Week called it the best restaurant in the state.
I wouldn't go that far — at least not yet. But what I found on two visits was an excellent selection of clean-tasting 'que and other specialties that made the most of Southern traditions — using seasonal Vermont ingredients.
Prohibition Pig isn't splashy about its use of local foods. Few farm names appear on its menu, but the resto is a member of the Vermont Fresh Network and, if you ask your server, you'll get the full story. In the dining room, giant chalkboard images of the farm animals that appear on the menu remind customers where dinner came from.
But not everything is meant to taste like Vermont. So relax, open up a bottle of Cheerwine — the bright-red cherry soda that suggests a Shirley Temple in a bottle — and order a skillet full of panko-fried pimento cheese.
The soft slurry of cheese, mayo and cherry peppers comes out of its fried coating in tangy, creamy strings so irresistible you won't remember it's not that good for you. A side of chile-pepper jam is fruity and sweet with just a hint of heat.
Another appetizer unlikely to make any list of "superfoods" consists of local pork rinds that snap, crackle and pop like meaty Rice Krispies. Unlike those one might find at the local Kwik-E-Mart, these crisp, homemade snacks are coated in chile powder for a spicy, aromatic kick. I recently developed a short-term devotion to bagged, fried Indian snack mixes, and the pork rinds reminded me of them, without the glut of food miles.
Another appetizer, macaroni and cheese made with house-smoked cheeses, was a creamy delight. Large squares of undercooked onion mitigated my enjoyment, but they were easy to avoid. A special salad, while full of beautifully roasted golden beets, fresh Romaine and chunks of goat cheese, tasted bare, with just a few meager drizzles of creamy ramp vinaigrette.
But, good or bad, the appetizers wouldn't matter if the barbecue weren't worth lining up for. And most of it is, especially the smoked quarter-chicken. I chose a dark-meat portion, which turned out to be more like a third of a chicken in size. Don't bother with the math; just believe me that the $15 dish will probably last you more than one meal.
With the leg-and-thigh-plus, the chef achieved the near impossible — an admirable internal juiciness coupled with crispy skin. Oh, the skin. It's rubbed with a spice mix that crackles and crumbles off in a lightly charred heap, leaving behind its earthy flavors.
Like all the barbecue entrées, the chicken comes piled with several sweet, crispy hush puppies. They're also available as an appetizer, and it's clear why. The cornmeal fritters are like fun-to-eat chicken fingers without the chicken. I found them a tad too dense and dry, but any of the several sauces placed at the center of each table could easily lubricate the dough.
Most entrées also come with a choice of two sides. I was especially fond of the pink, vinegary cabbage-and-carrot slaw. Sprigs of cilantro make it extra refreshing. The Brussels sprouts, another option, may convert diners who think they don't like the mini-cabbages. They're tender inside and caramelized to a delicate sweetness outside. As for the crisp, salty fries, they're even better than they were at the Alchemist.
The chopped pork has a long history: Rich got his sauce recipe from the father of a college roommate whose family had farmed hogs in eastern North Carolina since King George I of England granted them the land. Written on a yellowing sheet of paper, the recipe has been in Rich's possession since 1991, and now he's put it to effective use.
Note that Prohibition Pig serves chopped pork, which doesn't come off in big ribbons of pulled muscle. Instead, the meat is first cooked, then hacked into tiny pieces almost resembling a coarse grind. It's flavored with an unobtrusive gust of smoke and mildly spicy peppers.
The storied vinegar-based sauce was tangy but not quite enough so for my taste. I relied on a splash of the smoky, acidic, tomato-based bacon-barbecue sauce on the side to add more layers of flavor.
No such addition was necessary when I ordered the smoked seared fish — the fresh catch varies with the market, but on my visit it was Arctic char. Not usually one of my favorites, this pink-fleshed fish lacked the oily quality that I object to in its cousin, salmon. Still, the meat was fatty enough to stand up to smoking, with tender, moist flesh and slippery skin that reminded me of a well-prepared eel. Sweet-and-sour blueberry barbecue sauce struck a good balance with the fish, as did buttery collard greens. But the star of the dish was a pile of grits flavored with lemon zest and thyme, for a comforting taste that evoked summers of lying out in the southern sun.
In recent weeks at Prohibition Pig, fried-chicken sandwiches have been specials on many nights, with different toppings each time. The sammie was simple the evening I tried it. Just the thickest Misty Knoll Farms chicken breast I'd ever seen, fried in a flavorful breadcrumb mix, then piled on a sweet, egg-washed sweet-potato bun with rainbow microgreens and garlic mayo. It was a highbrow sandwich, but its flavors transported me back to post-kindergarten meals of KFC's Chicken Littles sliders, now long gone.
Though the restaurant's dessert selection is small, everything I tried was excellent. My favorite was the meltingly custardy bread pudding. The custard is maple flavored, a perfect fit for the sweet-potato-bread base. Blueberries serve as a fruity foil to the maple.
The apple-cider doughnut holes crumbled with each sweet, flaky bite. Sure, the maple-caramel sauce on top is luscious. But you can take the dish a creamy, smoky step forward by getting it à la mode — with housemade maple-bacon ice cream.
The flourless chocolate cake was dense and rich, but a barnyardy wave of goat-cheese frosting distinguished it. That and chewy, candied chunks of beet on top.
Though that cake sits on the menu alongside grits and brisket, it's a Vermont dessert through and through. Likewise, while its flavors may originate south of the Mason-Dixon line, Prohibition Pig is a thoroughly Vermont restaurant. With Green Mountain ingredients and flavors, it's slowly — but deliciously — helping to revitalize Waterbury.
Prohibition Pig, 23 South Main Street, Waterbury, 244-4120. prohibitionpig.com