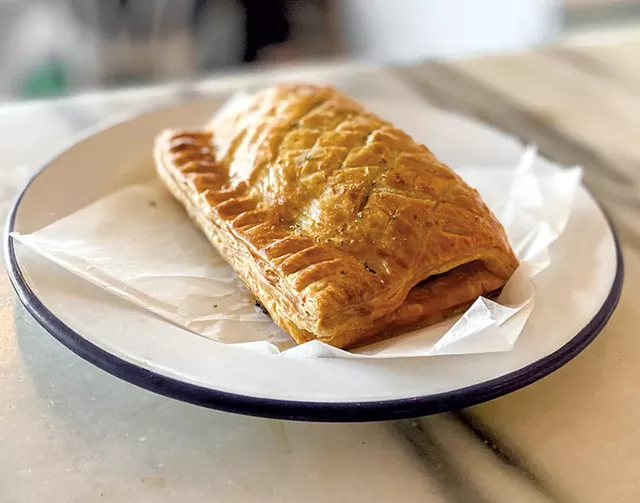 Pork and sage English sausage roll at Piecemeal Pies
Justin Barrett, an architect-turned-chef, said his favorite aspect of opening a restaurant is the "design phase." That's the phase the 36-year-old restaurateur is currently in at 112 Main Street in Stowe, where he's preparing to open a second location of Piecemeal Pies.
Barrett launched the first Piecemeal Pies, known for its savory pies, in White River Junction in October 2016. He expects the Stowe location to open in late spring above a barbershop at the site of the former I.C. Scoops ice cream shop.
A stairway bisects the roughly 1,700-square-foot space that Barrett is gutting and redesigning, he said. The design calls for a 25-seat eat-in restaurant on one side of the stairway and a takeout business on the other.
When the framing and electrical work is complete, Barrett expects to be "very hands-on" in the building project.
"The one in White River Junction, I was much more hands-on [because] the budget was nothing," he said. "I had three weeks and YouTube to figure out how to tile a floor."
When Barrett opens the Stowe restaurant with his partner, Joshua Brown, he intends to spend several "intensive" weeks in the kitchen acquiring inventory, developing the menu and "making sure everything's spot-on."
Piecemeal Pies in Stowe will provide counter service and table delivery. Open every day but Tuesday, it will serve brunch, lunch and dinner and have a full bar, Barrett said. He intends to have "more fun" with the menu, offering bar snacks such as rabbit liver pâté and deviled eggs, along with soups, salads and lots of vegetables. "I love vegetables," he said.
Brunch offerings will include fried rabbit and waffles; the meat will come from Vermont Rabbitry in Glover. Among the savory pies on the new location's menu will be the best-selling rabbit and bacon.
As for fun menu items, Barrett's team is working on a coconut-date-Earl Grey-sticky-toffee pudding for dessert.
Barrett got the idea of opening a restaurant in Stowe last September, when Piecemeal Pies sold its savory pies on the green during the British Invasion car show.
Barrett recalled looking up to see a "for rent" sign on the ice cream shop. When he called to inquire, "the landlord said, 'I've always wanted a pie shop in one of my buildings,'" he explained.
Barrett drew inspiration for Piecemeal Pies from a trip to the UK, where savory pies are common comfort food, and from his work at New York's the Spotted Pig, which served English gastropub fare.
"We are really particular with our food and the style of service," he said of Piecemeal Pies. "We want to make it feel effortless. We want to make it an amazing experience, but we don't want to make it look like too many people touched the food."