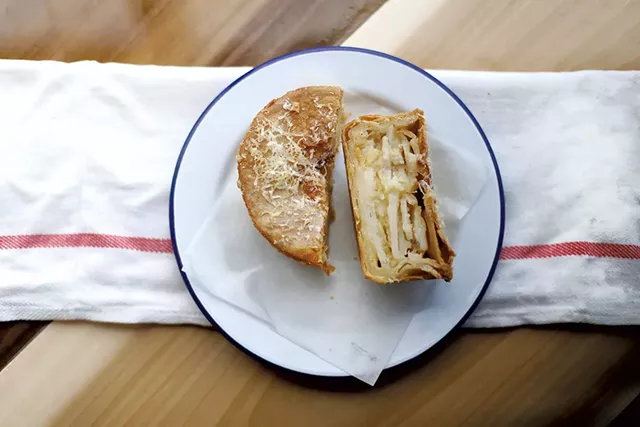 Sarah Priestap
Cheese, potato and artichoke pie
Few foods seem more disdainfully British than buttered shell peas. Maybe scattered with herbs, they appear in mounds beside ashen roast mutton or beef. In a flash of fork-evading green, they scuttle-roll to the edge of the plate, boiled to their mealy and pitted worst. Salt and a glossy slick of butter are their only redemption.
Still, I couldn't resist ordering a side of minted peas over lunch with my mom last week at Piecemeal Pies. The café and cider bar opened last October in the old J.J. Newberry department store in the heart of downtown White River Junction. Inside, chef-owner Justin Barrett's polished spins on classic English fare can compel a visitor to do funny things (such as order peas for lunch). That's because the food is so nuanced and well crafted, it reminds us that sustaining relevance over generations is, in fact, what defines a classic dish.
While the new spot offers hot plated food and draft pours of local cider and beer (and, lately, Mexican hot chocolate!), Piecemeal is at its heart a bakeshop. That's evident in the coffee-shop-style service: Friendly hosts take your orders at a central counter and act more as facilitators than servers. It's also built into the floor plan. Kitchen and dining areas are separated by open space — the only wall encloses the bathroom — and delineated by lines of decorum alone.
If you wanted to, you could walk straight up to head baker Anna Herbert, who joined Piecemeal last summer after stints at Hen of the Wood in Burlington and Klinger's Bread in South Burlington. You might find her whipping egg whites into meringues at a stainless steel table, swirling them pink with puréed currant, or dropping chocolate chip cookie dough on a baking sheet. You could visit with Barrett as he rolls dough and tucks pastry shells into spring-form pans, then stuffs them with stewed meats or curried veggies or potatoes and cheese.
Sarah Priestap
Rolling dough at Piecemeal Pies
Home cooks keen on learning could stand on the fringes and watch. "Cooking should be more approachable than it is," Barrett told Seven Days. "[Making pie is] just butter and flour. People tend to think that their food comes from this magic portal to this stainless-steel dimension. But there are real people back there making things. It's real."
Kitchen viewing aside, most visitors come to eat. And, of all the restaurants I've sampled in recent months, Piecemeal Pies most consistently offers smart and satisfying fare. The food is modern yet rustic, personal and comforting, and conspicuously free of the lowest-common-denominator cheekiness that defines so much of today's "upscale comfort food."
Take those peas. They're gently steamed in butter to popping plumpness with just a pinch of mint to cool things down. They were a lovely complement to my potato-cheese pie, in which cheddar-fontal fondue smoothed over toothsome sliced potatoes and artichokes from last summer's harvest. All came together to suggest a fine, gooey gratin encased in buttery pastry.
In my mom's trout-and-fennel pie, notes of licorice hinted at the fennel. A light wash of dairy mellowed the fish (sourced from Wheelock's Mountain Foot Farm and smoked in-house) to a waft of briny, freshwater smoke.
Midway through the meal, I set my pie and peas aside to give a wintry salad the undivided attention it deserved. Tucked into a heap of crunchy greenhouse mustards punctuated with cumin seeds and sunflower nuts, each of the salad's ingredients was fresh and beautiful, its individual flavor presented without cheffy fuss. You could really get to know the toasty, autumnal flavor of a perfectly roasted carrot as it mingled with a tart rush of grapefruit from peeled citrus. Both of these were cut and married by the creamy fat of an avocado splashed with lemon.
Sarah Priestap
Borscht, the soup du jour last week
Outside, spitting rain fell against a darkened January sky. But from a table in front of the picture window, those brisk midwinter greens — together with the avocados and citrus, nuts and roots, and peas with butter — took on the sheen of small, cold-weather luxuries.
Later that afternoon, the chewy-crackly puff of a pistachio meringue, ordered to go, was sure and steady. It helped brace me against the anger and division leaking in through every news report, Facebook post and Twitter feed.
In times like these, tiny pleasures offered in friendly spaces are welcome respite from the digital barrage. And, said Barrett, that was part of the plan when he decided to share his love of meat pies and fine pastries with the village of White River Junction. "We just sort of took a leap with this," he said, "and hoped it would resonate."