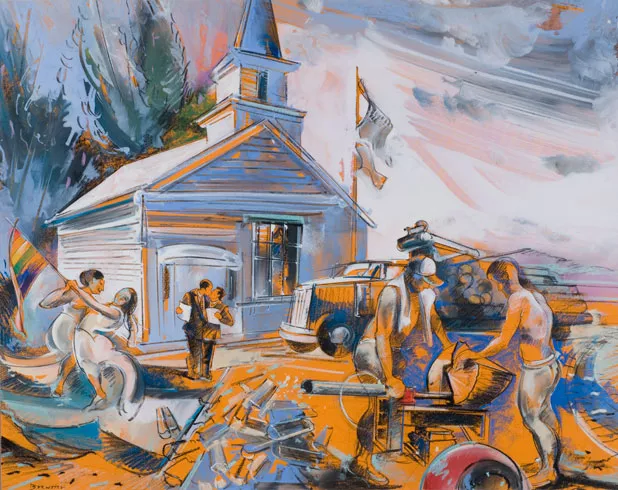 "Marriage: American Split," by David Brewster
If, as Shelley wrote, poets are the unacknowledged legislators of the world, then why not appoint artists as the planning commissioners of Vermont?
On the evidence of a future-focused show at the Burlington airport, they'd do a heckuva job. The state's beauty would be preserved (with allowance for some tasteful exploitation of its natural resources), multiracial harmony would prevail, windmills would whir and unsightly development most certainly would not be permitted. Yes, Vermont would become even more of a rural wonderland if the 10 artists represented in "The Art of Action" were put in charge.
The state might be no place for the unprogressive, however. This earnest exhibit, organized by the Vermont Arts Council and financed by philanthropist Lyman Orton, abounds in displays of political rectitude — laughably so, at times. In Valerie Hird's version of the Old North End, an Obama poster looks over the shoulders of African women taking a break from cultivating their backyard gardens. And in David Brewster's "Marriage: American Split," a male couple smooches.
Phillip Godenschwager's works conform just as strictly to the view of Vermont as a left-wing Arcadia. Indeed, his board-and-foam cutout compositions highlight an anti-urban attitude, with skyscrapers encircling and grasping greedily at a green Eden of farms and villages in the shape of Vermont. But Godenschwager's pieces, similar in style to Red Grooms' pop-art constructions, are also howlingly funny — especially his freestanding "The Disneyfication of Vermont." This relief map includes not mountain ranges and rivers but amusement-park attractions such as a tractor merry-go-round, a Champ roller coaster and a Shoot the Moose carny game.
Visitors will delight in this playful exuberance, but "Disneyfication" isn't positioned to best advantage. It's tucked behind a display panel and beside a settee, when it deserves to be front and center in the airport's second-floor lounge. The deficient layout leaves other works in danger of going entirely unseen — be sure to look on both sides of each of those display panels.
Its title notwithstanding, "The Art of Action" is quite sedate. Representationalism rules. In fact, Brewster is about the only painter here who can be said to have a freewheeling style. His swirling renderings of a McDonald's tubular playland (which he likens to a cancerous colon) and a cabin battered by an ice storm stand out because of the break they make from the portrait and landscape traditions.
Although these 10 artists were selected from an initial pool of 300, some are clearly more skillful than others. No one is better than Kathleen Kolb, for example, at capturing the slant of light and the fluff of snow. Kolb's contributions to "The Art of Action" are exceptional not only for their virtuosity but for their subject matter. Her Vermont is predictably majestic, but — look! — she shows loggers and their apprentices chainsawing trees and a tractor-trailer backing into the loading dock of a wood-chip power plant. Kolb's honest eye reveals the reality that postcard prettiness conceals: Vermonters need to pay mortgages and buy food.
Gail Boyajian and Susan Abbott are gifted artists, as well. In equally deft treatments of similar themes, both artists combine idealized and dystopian images in single works.
Using a palette like that of a 16th-century Flemish master, Boyajian paints a series of "capriccios" (imagined scenes) featuring ornithological portraits à la Audubon and glimpses of celebrated past Vermonters in seemingly idyllic settings. Wait, though … isn't that a sewage pipe dripping into the stream where Calvin Coolidge is fishing? And Robert Frost had better rise from the stone wall where he's seated, because a tornado is spinning his way: Something there is about climate change that doesn't love a wall.
Abbott has come up with a clever trope. She depicts aspects of Vermont — mountains, fields, towns and roads — in individual series of four joined panels showing the progression of the seasons. A fifth, separated panel then presents an admonitory alternative for each subject: ski trails leading to deluxe A-frames; a concrete barrier in front of a corporate farm; the cracked parking lot of a Wal-Mart; and hay bales as decorative accessories to a condo cluster.
Valerie Hird's "Vermont Book of Hours" suite also chronicles the cycle of the year. Each of the 12 months is represented through a central scene, either indoors or outdoors, that's sometimes accompanied by smaller related images. Watercolor, gouache and colored pencil are used in all of these identically sized (27-by-19-inch) pieces, with an arc containing constellation figures affixed to the top of every panel. Despite their pietistic portrayals — cosseted elders, happy shoppers at a farmers market, a Rockwell-esque town meeting, etc. — these paintings do have aesthetic appeal.
Janet McKenzie's portraits of black and Asian women will also reward viewers — as much through the artist's technique as through her vision of a Vermont that's no longer monochromatic. By applying oil paint thinly and surehandedly, McKenzie lets the weave of the canvas complement her purplish earth tones. It's a proficient performance.
Orton and the arts council are getting what they wanted from "The Art of Action." The show is certain to spark conversations about Vermont's future — and its visual arts — among all those who get to BTV to see it.