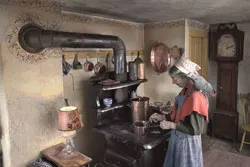 "At the 'Canopy Grand' Cook Stove"
Tasha Tudor (1915-2008) was an odd figure. The eminently popular children's book author and illustrator resided in southern Vermont with a menagerie of corgi dogs, cats, parrots, goats and doves. Tudor said her lifestyle was centered on existence in the 1830s; she dressed in 19th-century attire and lived anachronistically on a farm equipped with a spinning wheel, loom and wood cookstove. Gardening, canning and gathering wood were among her pursuits.
Tudor was about as picturesque a Vermonter as any photo-essayist could ask for, and the prominent rural-life photographer Richard W. Brown, based in the Northeast Kingdom, spent 10 years exploring her environment. But his series, "Tasha Tudor's World," now on view at Shelburne's Furchgott Sourdiffe Gallery, is not just fodder for picture books about Tudor's life. The 15 images have as much to do with formal photography as with documentation.
"Tasha Janice Foxgloves" has the look of an early figurative daguerreotype, with Tudor and a girl standing beside three tall foxglove stalks. Tudor is watering the flowers with a bucket; the girl, Janice, wears a frilly white dress. She could pass for Alice in Wonderland. It's an otherworldly image with the flowers' large leaves surrounding the figures. Tangled woods fill in the shallow background space.
Tudor was an excellent subject for Brown, as her way of life was in keeping with his interest in the archaic. In his artist's statement, Brown writes, "When I photograph Vermont, I am drawn to the last remnants of hill farm life, and the hidden, still wild corners of the state." Tudor's place was just such a remnant.
In "At the 'Canopy Grand' Cook Stove," Tudor stirs a small pot in her kitchen. Copper pots hang on the wall, and a large grandfather clock stands in the background. Tudor wears a bonnet; as if she were a backwoods pirate, a gray parrot rides on her shoulder. An electric light stands on a small table in the foreground, evidence that Tudor allowed at least a little modern practicality.
Most of Brown's images are in silvery black and white; others are minimally colored. He uses digital photography and isn't afraid to manipulate the technology. Passages that appear to be hand tinted were actually digitally altered. In "Lupines, Toggenburges," for instance, a big patch of purple lupines stands in the foreground. Tudor, who has rounded up four goats, is wearing a pale red apron, and the surrounding vegetation has a subtle green cast.
That minimal use of color is effective in highlighting elements of Brown's compositions. In "The Antique Sled," a battered red sled leans against a tree in the foreground of the winter scene, and the sky in the background also has a rosy tinge. In another winter scene, "Shaker Cape," Tudor wears a scarlet cape, and a vibrant sky hangs over the English barn and outbuilding, modulating from red near the horizon to icy blue at the top.
The show contains a few simple floral pieces without figures. Brown composed these as close-ups, focusing on textures such as wrinkles in the petals. The five blossoms in the vertical composition "Lilies" appear against a textile background designed with a subtle floral motif. It's also slightly tinted. "Parrot Tulips" is black and white, yet seems like a Georgia O'Keeffe view of the flowers, with stark, contrasting values.
Tudor died three years ago at the age of 92, but her illustrations and books about her fabled lifestyle remain popular. Brown's masterful photographs are sure to help sustain her legacy, and to enchant any Tudor fan.