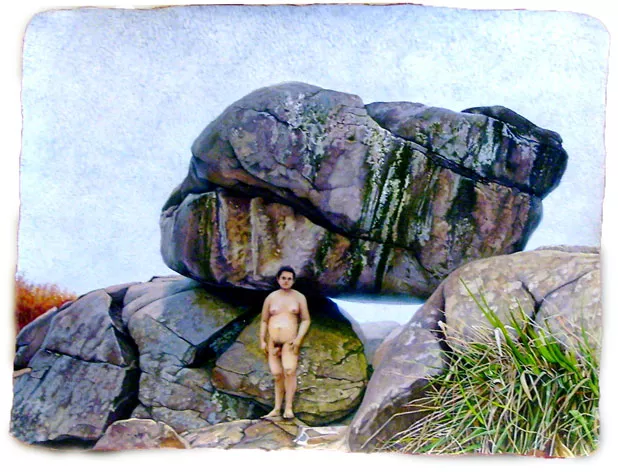 The old Beach Boys tune "In My Room" would be a good theme song for "Refuge" at Studio Place Arts in Barre. The lyric "There's a world where I can go / And tell my secrets to…" conveys the spirit in which SPA's exhibition ponders the meaning of sanctuary. Artists of all media answered the call with a range of approaches to the subject.
One of the most intriguing responses comes from Montpelier artist and Rhode Island School of Design MFA grad Phil Whitman. A frequent visitor to Civil War battlefields, Whitman has found sanctuary in the megaliths of Devil's Den at Gettysburg, Penn. Unfortunately, it's a special place for thousands of other visitors, too, and photographs of those rival tourists are rife on the Internet. Whitman lampoons the "interlopers" by portraying them naked in beautifully composed and executed mixed-media paintings on paper. The tourists posed at the stones are overweight, vulnerable and totally unaware of how absurd they look in this place that Whitman holds sacred.
"By painstakingly re-drawing and re-imagining these tourist photographs," he says in his artist's statement, "I am waging a measured campaign between the public and the private." That campaign is somewhat more successful than was Robert E. Lee's in the summer of 1863.
A sanctuary site that is deeply significant to one individual may not be recognizable as such to others. Ruth Hamilton's oil painting "Coven (Beeches)" is focused on the roots and twisted trunks of a stand of trees, obscuring the leafy landscape and starry night behind them, deeper in the picture plane. Rich shadows ascend over Hamilton's stockade of beech trunks.
The textile installation "The Wheel of Life: The Passing on of Knowledge" by Randolph artist Bhakti Ziek is an 80-inch-in-diameter octagonal enclosure composed of 44-by-34-inch, finely woven panels. Positioned in front of a wall, the opening to the piece's interior is not immediately noticeable when one enters the gallery. Ziek created pictorial elements for the installation, including animals and a sleeping Buddha. She says on her blog that the work "has references to the Buddhist Wheel of Life … Buddhists often 'take refuge in the Buddha, the Dharma and the Sangha.'"
John F. Parker's 2011 assemblage, called simply "Sanctuary," is a depiction of peacefulness. The 15-by-31-inch wooden work shows a red-roofed cabin nestled in mountains at left, some distance from the skyline of a big city in the panel at right. Parker's effective use of found wood reflects his playfulness. The artist's 10-by-38-inch horizontal "A Tale of Two Cities" is a more abstract portrayal of modern cityscapes. Parker's weathered colors include red oxide, olive and light blue.
The 12-by-18-inch photograph titled "Asylum" by Norma Wasko captures a lush garden enlivened by emerald leaves and yellow flowers. There's a bench on a verdant lawn surrounded by corn and dense foliage. Wasko's scene literally contains an asylum: the one in Waterbury originally called the Vermont State Asylum for the Insane when it was built in 1890. The grounds are beautiful and beckoning, but it's not the sort of place most people would like to go for a stay.
Jericho painter Robert Waldo Brunelle is known for his Hopper-esque acrylics of luminous, small-town vistas and houses, but his "Red Chair Façade" is the portrait of a shadowy indoor sanctum sanctorum. Oak bookcases holding old busts and nicely bound volumes stand behind a plush wing chair and ottoman next to a window with frilly curtains.
This isn't exactly the kind of room Beach Boy Brian Wilson was singing about when he was 21, but now that the troubled genius is nearer 70, it might be a welcome refuge from the vicissitudes of life.