Trying to capture in words the fabulous and flamboyant history of Burlington's Drag Ball is like trying to describe an orgasm on the slip of paper inside a fortune cookie: There's just too much fun to cram into one tight space.
Suffice it to say that, for the past 20 years, Vermont's LGBT community and its many allies have annually crammed themselves into panty hose, pumps, wigs, spandex pants and leather corsets to bump, grind and groove the night away.
Formally known as the Winter Is a Drag Ball, the February event is one of Vermont's largest and most outrageous parties, and over the years has raised $140,279 for the Vermont People With AIDS Coalition. Regardless of which way one's gender bends, it's become a must-attend gala for local revelers as well as out-of-towners, some of whom travel from as far away as Boston, Poughkeepsie and Provincetown.
Matthew Thorsen
Margaurite, Lucy Belle and Amber: The House of LeMay performing at Drag Ball 2011
Longtime Drag Ball organizer and performer Bob Bolyard is known among Vermont glitterati as Amber LeMay of the House of LeMay. He says he's been stopped on the street in other cities by people who tell him that Drag Ball is the only reason they'd drag their asses to Vermont in the dead of winter.
Bolyard says there must have been "something funky" in Burlington's water in late 1995, when Drag Ball was conceived. (Technically, the first ball was held a few months later, in February 1996.) As he points out, 1995 also marked the advent of several other current Burlington fixtures, including the Penguin Plunge, the Magic Hat Mardi Gras parade and Seven Days.
Though the LeMays performed at the very first Drag Ball — they'd established their "sisterhood" a little more than a year earlier — Bolyard wasn't the event's first organizer. Chris Moes put together the debut ball in the Memorial Auditorium Annex, where everything had to be brought in from elsewhere — lights, staging, sound system and bars.
As Moes explains in a recent email, the initial goal of Drag Ball was to tap into Burlington's local pool of talent, especially in February, when no one wants to be out and about.
"Drag was such an edgy thing then," he says, "but people really embraced it."
Indeed, Drag Ball was embraced not only by the LGBT community but by the community at large. Moes and Bolyard both emphasize that Drag Ball has always been less about sexuality than about drag in a broad sense — that is, dressing up in a different identity for a night that's not Halloween. From the beginning, Bolyard estimates, about half the attendees have been heterosexual.
At the first Drag Ball, Moes recalls, he worked with fellow organizers Beth Garfinkel and drag queen/performance artist Roger "Yolanda" Mapes to ensure that women got equal representation on stage. That event drew more than 500 partiers and raised thousands of dollars for Drag Ball's first beneficiary, Vermont CARES.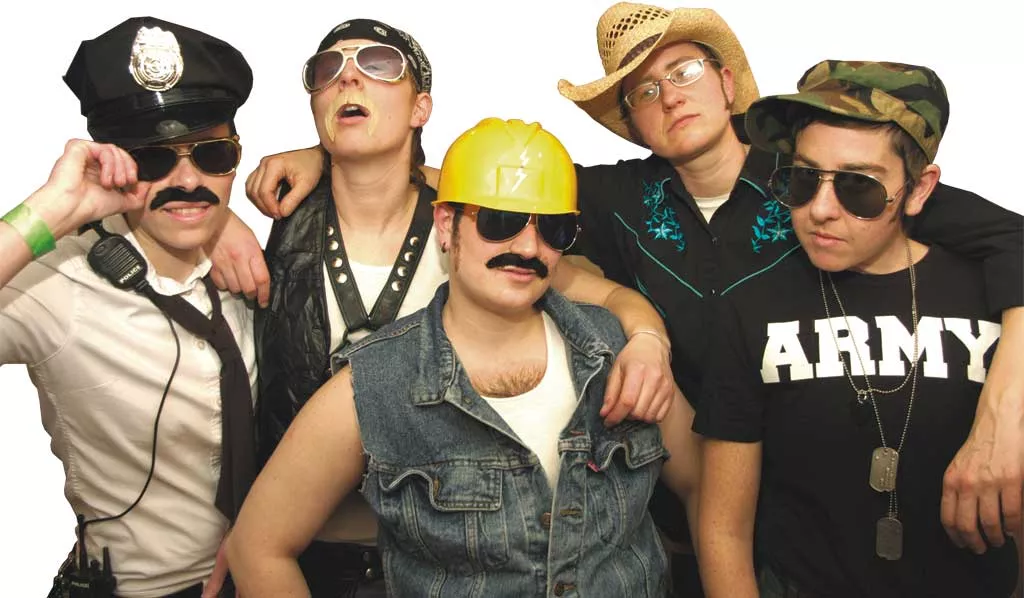 Matthew Thorsen
Kings Local 802, 2011
Over the years, Drag Ball has consistently presented female talent. Vermont lesbian comedian Janice Perry hosted the event one year, soul singer Tammy Fletcher another. Vermont-based cartoonist Alison Bechdel created the ball's promotional posters for the first few years and depicted some of the characters in her popular "Dykes to Watch Out For" comic strip dressing up for the event. And in 2004, DJ Llu, aka "Dand E. Lyon," created the drag-king group Kings Local 802.
"We were frustrated at the limited representation of queer masculinity on the stage and in the crowd," Llu explains. "Founded on union principals — hence the KL802 name — we continue to commit ourselves to performing each year, incorporating just and timely issues into our performances, while maintaining the essence of drag, which is about gender play, boldness and camp."
In February 1999, the fourth Drag Ball was held at the old Higher Ground in Winooski and, according to Higher Ground co-owner Kevin Statesir, drew 269 people. In 2003, the House of LeMay began producing and hosting Drag Ball at the club, and has done so ever since. The event consistently sells out — if not in advance, then the night of the show.
Higher Ground's original location was a dramatic improvement over Memorial Auditorium's basement in terms of staging, lights and bars, but capacity was still limited to 400 people. That all changed in 2005, when the nightclub moved to its current Williston Road location in South Burlington — and Drag Ball moved with it. Today, with access to Higher Ground's Ballroom and Showcase Lounge, the event accommodates more than 1,000 attendees and over 100 performers, who provide more than six hours of entertainment. Little wonder that Drag Ball still holds the record for the venue's all-time highest attendance, both in box office sales and bar revenues. That's possible, Statesir explains, because unlike most other events, Drag Ball allows new people to come and go all night long.
"We just love it," Statesir adds, noting that he never sees a greater diversity of people in his ballroom or license plates in the parking lot. "What started as a gay event has become this huge winter dance party."
Indeed, Drag Ball is as much about the audience as it is about the entertainment onstage. At the annual costume parade, held at 11:30 p.m., anyone in the crowd can get up on stage, strut their stuff and show off their costume — which occasionally means wearing almost nothing at all.
Courtesy of Lucy Belle LeMay
Miss Cherie Tartt, 1997
This year's 20th annual event will bring back some blasts from the past. They include inaugural Drag Ball performers Miss Cherie Tartt (coming out of drag retirement in Texas) and Rev. Yolanda — the latter of whom will be inducted into the New York Blues Hall of Fame on February 11. DJ Rob Douglas, who DJed the first Drag Ball in 1996, will return to spin discs. Veteran acts Rue Mevlana and Kings Local 802 will be back for their 16th and 10th years respectively.
Bolyard has advice for any Drag Ball virgins planning to attend this year: Get into the spirit of things and dress up in that outfit you can't find any other excuse to wear.
"You don't have to mess with your gender identification. It's whatever drag means to you," he says. "As RuPaul once said, 'We're born naked, and the rest is drag.'"
The Themes
1996: Winter Is a Drag
1997: The Duets
1998: Freedom to "Mary"
1999: A Midwinter's Night
2000: The Search for Intelligent Drag
2001: Saturday Night Drag Fever
2002: Carnival
2003: A Salute to the Troops
2004: Valentine's Day Mascara Ball
2005: Seeing Stars
2006: Mardi Gras
2007: Beware the Ides of Drag
2008: Rocky Horror Valentine
2009: Queen of Hearts
2010: Good and Evil
2011: Saturday Night Drag Fever
2012: Cowgirls and Gayliens
2013: Fairy Tales and Fantasies
2014: Sailors and Mermaids
2015: 20th Anniversary — Choose your favorite from above!
Drag Ball Videos
Stuck in Vermont at Drag Ball XVl
Highlights from 15 years of Rue Mevlana performances at Drag Ball
Kings Local 802 performs at Drag Ball 2012
2003 Drag Ball Performances (filmed by Randy Violette)
The Cherie & Yolanda Show on channel 15, recorded April 4, 2000
2015 Events