Courtesy Of Shelburne Museum
Carousel at Shelburne Museum
Vermont has a rich history of innovative creative expression. It's home to the country's first state craft center, Frog Hollow, in Burlington; the world-renowned radical puppet circus Bread and Puppet Theater; and the largest public collection of work by folk icon Grandma Moses, at Bennington Museum.
A haven for makers and artisans who prefer a rural backdrop and way of life, Vermont is also known for its independent spirit and community values. So in these hills reside contemporary artists in a broad range of disciplines, from sculpture to comic arts. (The state even selects the country's only cartoonist laureate.)
For a glimpse into the vibrant scene, head to these acclaimed art institutions in and around Burlington.
Shelburne Museum
Courtesy Of Shelburne Museum
Shelburne Museum's sprawling 45-acre grounds contain something for everyone. More than two dozen 19th- and 20th-century buildings were transported to this picturesque location at the behest of heiress and collector Electra Havemeyer Webb. When the full grounds open for the season in May, visitors can wander through a lighthouse, an 1890s jail and the restored Lake Champlain steamboat Ticonderoga — before or after a spin on the vintage carousel.
Folk-art aficionados will be awed by the museum's bounty, which includes quilts, weather vanes and a barn filled to the brim with circus memorabilia. "Birds of a Feather," on view in the year-round Pizzagalli Center for Art and Education through May 1, includes rare and historically significant wooden decoys from masters of the craft.
"Painting a Nation" highlights the museum's vast collection, featuring works by notable American painters Winslow Homer, Grandma Moses and Andrew Wyeth, among others. And "32 Degrees: The Art of Winter" explores the artistic dimensions of snow and ice through works by Claude Monet and Vermont's legendary "Snowflake" Bentley. It offers a unique take on a season that, in many ways, defines this state.
Yet springtime may be the best season to visit Shelburne Museum. The extensive gardens, planted with hundreds of lilacs, are beginning to bud and blossom.
BCA Center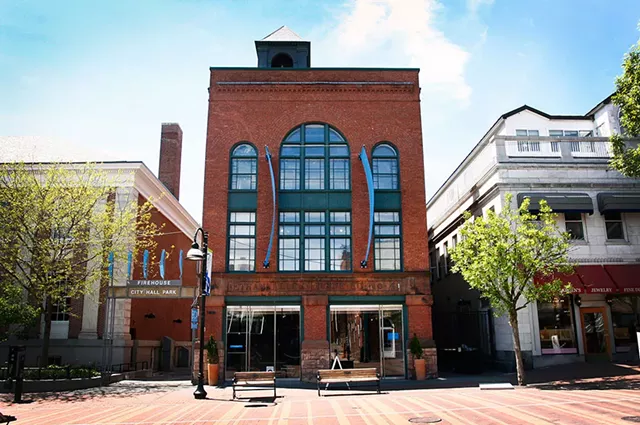 Rachel Severance
BCA Center
In the heart of downtown, Burlington City Arts has been a vital Vermont arts organization for more than 30 years. Its BCA Center, a charming brick building that was once the city's firehouse, operates three gallery spaces that celebrate diverse artistic expression in ever-changing exhibits, creating intersections between local and national artists and sparking an arts dialogue.
Through April 9, "Dysfunction" brings together 10 working ceramic artists to challenge the assumption that work in clay is primarily practical. The playful show aims to shake things up with bold lines, bright colors and political content. Also on view is the three-artist exhibit "Navigating Memory: Exploring Place" and a solo show, "Carrie Dickason: Industry Practice," which comments on consumer culture.
Beginning April 15, visitors can see the industrial work of Cal Lane, who cuts intricate lacework patterns into steel and iron, transforming wheelbarrows, shovels and fuel tanks into something between sculpture and textile. While you're there, don't miss the two-artist show "Under the Influence" and a solo show from Burlington artist Clark Derbes.
Fleming Museum of Art
Courtesy of Fleming Museum
Opened in 1931 in an impressive Colonial Revival building on the University of Vermont campus, the Fleming Museum is Vermont's premier institution for art and artifacts from around the world. Visitors are invited to immerse themselves in the permanent collection, with 25,000 objects from Africa, Asia, Europe and the Americas. Rotating exhibitions run the gamut, featuring historical masters such as Francisco Goya and Pablo Picasso as well as contemporary heavyweights Kara Walker and Christo.
Through May 22, see "Samuel Bak: Survival and Memory," dark surrealist landscapes arising from the artist's experience as a Holocaust survivor. Bak and his mother escaped a German labor camp and hid in a Benedictine convent until liberation. An artist since childhood in Poland's Vilna Ghetto, Bak uses his own symbolic language to incorporate Jewish history and culture.
Also on view is "Pop Art Prints," a collection of 30-plus prints announcing the triumphant arrival of pop in the early 1960s. In contrast to abstract expressionism, the style celebrated consumerism and employed highly reproducible methods of production, such as printmaking. With works from artists including Jasper Johns, Roy Lichtenstein, Robert Rauschenberg and Andy Warhol, the show offers an accessible crash course in an influential movement.
Curatorial Curiosities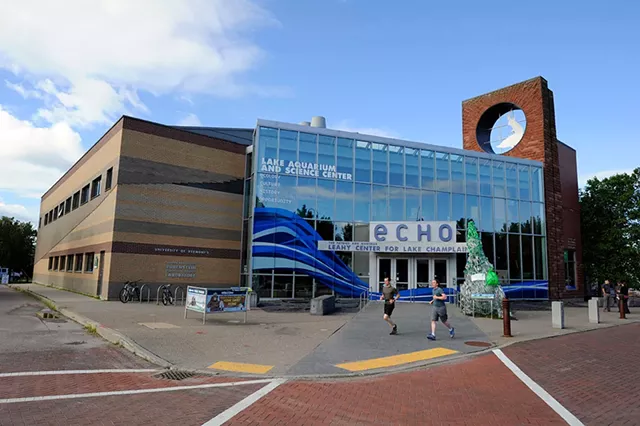 Jeb Wallace-Brodeur
ECHO Leahy Center for Lake Champlain
The following destinations, in Burlington and beyond, offer more obscure museum treasures well worth the drive.
Bread and Puppet Museum, Glover
In an 1800s milking barn, this museum features decades of the radical Bread and Puppet Theater's handmade puppets, all witnesses to the politics and pageantry of their day.
Dog Mountain, St. Johnsbury
The late woodcarver and printmaker Stephen Huneck painstakingly constructed Dog Chapel, a hilltop space where people and their pups can celebrate their bond. His canine-centric sculptures, prints and books are on display, and for sale, in the gallery.
ECHO Leahy Center for Lake Champlain, Burlington
Turtles and sturgeon and frogs — oh, my! This lake aquarium and science center immerses visitors in the ecology and excitement of one of Vermont's most precious natural resources.
Madsonian Museum of Industrial Design, Waitsfield
From cars to toasters and Legos to shoes, architect David Sellers invites visitors to walk through a design history of the things we use — or used. The museum has limited hours, so call ahead.
---
Musées et œuvres d'art à voir dans la région de Burlington
Le Vermont a une riche histoire d'expression créative et d'innovation. On y trouve le premier centre d'artisanat d'État au pays, Frog Hollow, à Burlington, le cirque de marionnettes Bread and Puppet Theater, réputé dans le monde entier, ainsi que la plus grande collection publique d'œuvres d'art de Grandma Moses, icône du folk, au Bennington Museum.
Paradis des fabricants et des artisans qui choisissent la vie à la campagne, le Vermont est également reconnu pour son esprit indépendant et ses valeurs ancrées dans la communauté. Pas étonnant qu'autant d'artistes contemporains œuvrant dans une foule de disciplines, de la sculpture à la comédie, aient élu domicile dans ses collines. (L'État offre même le seul programme d'études du pays pour devenir bédéiste!)
Pour découvrir l'étonnante scène artistique du Vermont, ne manquez pas de visiter les institutions culturelles suivantes, situées à Burlington ou dans les environs.
Shelburne Museum
Courtesy Of Shelburne Museum
Le Shelburne Museum, qui s'étend sur 18 hectares, en offre pour tous les goûts. Une vingtaine de bâtiments du 19e et du 20e siècle ont été transportés sur ce site pittoresque à l'initiative d'Electra Havemeyer Webb, célèbre héritière et collectionneuse. À l'ouverture des portes, en mai, les visiteurs peuvent ainsi se promener à loisir dans un phare, dans une prison des années 1890 et dans un bateau à vapeur restauré, le Ticonderoga — avant ou après avoir fait un tour dans le manège d'époque.
Les amateurs d'art folk seront émerveillés par la collection du musée, qui comprend des courtepointes, des girouettes et une grange pleine à craquer de souvenirs de cirque. L'exposition « Birds of a Feather », qui se tient jusqu'au 1er mai au Pizzagalli Center for Art and Education, ouvert à l'année, présente des canards de bois d'une importance historique, fabriqués dans des essences rares par de véritables maîtres.
Ne manquez pas non plus l'exposition « Painting a Nation », qui met en valeur la vaste collection de tableaux du musée, comprenant des œuvres des artistes américains de renom Winslow Homer, Grandma Moses et Andrew Wyeth, entre autres. Enfin, l'exposition « 32°: The Art of Winter » explore les dimensions artistiques de la neige et de la glace à travers l'œuvre de Claude Monet et de Wilson « Snowflake » Bentley, photographe légendaire du Vermont. Un regard unique sur une saison qui, de bien des façons, définit notre État.
Le printemps est peut-être la meilleure période pour visiter le Shelburne Museum, dont les vastes jardins aux centaines de lilas sont alors en pleine floraison.
BCA Center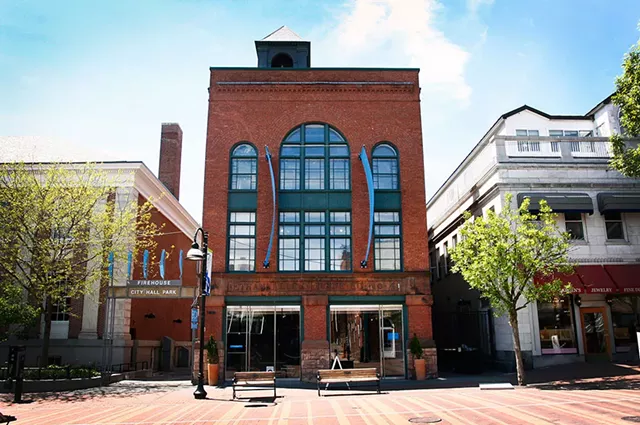 Rachel Severance
BCA Center
Situé au centre-ville, Burlington City Arts est un organisme culturel vital du Vermont depuis plus de 30 ans. Le BCA Center, un charmant bâtiment de briques rouges qui était autrefois une caserne de pompiers, abrite trois galeries d'art qui célèbrent l'expression artistique sous toutes ses formes au gré d'expositions toujours changeantes. Un carrefour pour les artistes locaux et nationaux et un lieu de dialogue sur l'art.
Jusqu'au 9 avril, l'exposition « Dysfunction » réunit 10 céramistes d'art qui réfutent l'hypothèse selon laquelle le travail de l'argile est surtout pratique. Cette manifestation ludique, à connotation politique, vise à bousculer les choses avec ses œuvres aux lignes audacieuses et aux couleurs franches. Mentionnons aussi l'exposition « Navigating Memory: Exploring Place », fruit de la collaboration de trois artistes, et l'exposition en solo « Carrie Dickason: Industry Practice », sur la société de consommation.
Dès le 15 avril, les visiteurs pourront admirer les œuvres industrielles de Cal Lane, qui découpe de délicats motifs d'entrelacs dans le fer et l'acier, transformant brouettes, pelles et réservoirs à carburant en objets à mi-chemin entre sculpture et textile. Pendant que vous y êtes, ne manquez pas l'exposition en duo « Under the Influence » et l'exposition en solo de Clark Derbes, artiste de Burlington.
Fleming Museum of Art
Courtesy of Fleming Museum
Ouvert en 1931 dans un impressionnant bâtiment de style néocolonial sur le campus de l'Université du Vermont, le Fleming Museum est l'institution de référence dans l'État en matière d'œuvres et objets d'art du monde. Les visiteurs sont invités à se plonger dans la collection permanente, composée de quelque 25 000 objets d'Afrique, d'Asie, d'Europe et des Amériques. Les expositions temporaires, consacrées autant à de grands maîtres, comme Francisco Goya et Pablo Picasso, qu'à des pointures de l'art contemporain, comme Kara Walker et Christo, couvrent toute la gamme artistique.
Jusqu'au 22 mai, admirez les paysages sombres et surréalistes de « Samuel Bak: Survival and Memory », inspirés de l'expérience vécue par l'artiste durant l'Holocauste. Durant la guerre, Samuel Bak et sa mère s'échappèrent d'un camp de concentration allemand et trouvèrent refuge dans un couvent bénédictin jusqu'à la Libération. Artiste depuis son enfance dans le ghetto de Vilnius, en Pologne, Bak utilise son propre langage symbolique afin de traduire l'histoire et la culture du peuple juif.
Par ailleurs, l'exposition « Pop Art Prints » présente une trentaine de gravures annonçant l'arrivée triomphante du pop art au début des années 1960. Contrastant avec l'expressionnisme abstrait de l'époque, le pop art trouve son inspiration dans la société de consommation et fait appel à des méthodes de production hautement reproductibles, comme la gravure. Cette exposition, qui propose des œuvres d'artistes comme Jasper Johns, Roy Lichtenstein, Robert Rauschenberg et Andy Warhol, est un véritable cours accéléré sur ce mouvement artistique important.
Curiosités Curatorial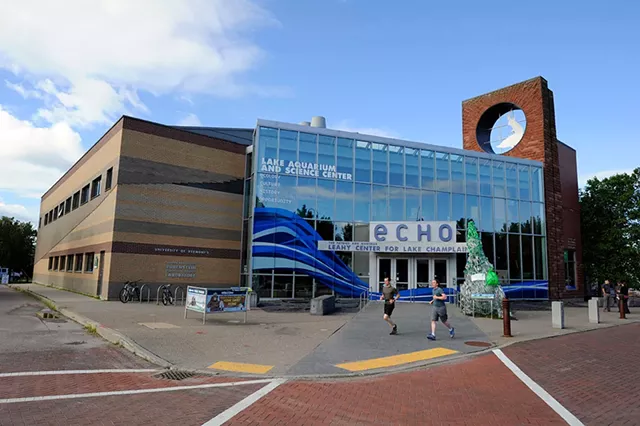 Jeb Wallace-Brodeur
ECHO Leahy Center for Lake Champlain
Les destinations suivantes, à Burlington ou dans les environs, comptent des musées moins connus, mais tout aussi riches en trésors, qui valent le détour.
Bread and Puppet Museum, Glover
Situé dans une ancienne ferme laitière des années 1800, ce musée présente les marionnettes fabriquées à la main du cirque radical Bread and Puppet Theater, témoin important de l'évolution du paysage politique et social de l'État pendant de nombreuses décennies.
Dog Mountain, St. Johnsbury
Stephen Huneck, sculpteur sur bois et graveur aujourd'hui disparu, a minutieusement construit la Dog Chapel, un havre au sommet d'une colline où chiens et humains peuvent célébrer leur lien unique. Ses sculptures, gravures et livres axés sur la gent canine sont présentés (et en vente) dans la galerie.
ECHO Leahy Center for Lake Champlain, Burlington
Des tortues, des esturgeons et des grenouilles! Cet aquarium et centre des sciences sur l'écologie du lac fait découvrir aux visiteurs les ressources naturelles les plus précieuses du Vermont.
Madsonian Museum of Industrial Design, Waitsfield
Des voitures aux grille-pain en passant par les blocs Lego et les chaussures, l'architecte David Sellers invite les visiteurs à se renseigner sur l'histoire des objets d'hier et d'aujourd'hui. Comme les heures d'ouverture sont limitées, il est conseillé d'appeler le musée avant de s'y rendre.