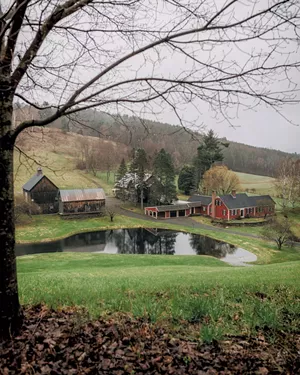 Courtesy Of Corey Rondeau
Sleepy Hollow Farm on May 3
Vernal Vermont has been slow to spring forth. But you wouldn't know it from Kiel Patrick James' Instagram page.
On April 28, James, who runs a preppy Rhode Island-based clothing line, posted an image of Sleepy Hollow Farm in Woodstock that showed the place in full bloom, complete with cherry blossoms. Red, yellow and pink tulips lined the country road leading up to one of Vermont's most-photographed farms. A second photo showed the same scene in autumn, above the caption, "Let's put this to a vote. Which season has better colors? Spring or Fall." Veteran journalist Katie Couric was among nearly 63,000 people who liked the viral post.
Corey Rondeau, by contrast, was not a fan. The Burlington-based designer and photographer took offense at the "atrociously manipulated image of" the photogenic property once owned by Aerosmith guitarist Joe Perry. Rondeau was headed to Woodstock himself the day he saw it and decided to snap a pic at the same spot.
He posted his image on Instagram on May 3, and it paints a drastically different picture. While the grass is green, the trees are bare, and no flowers are in sight below a gray, overcast sky; last year's dead leaves are visible in the foreground.
"Sorry to be the bearer of bad news, but as gorgeous as it is here, the landscape doesn't have to look like a real life Candy Land," Rondeau wrote in the caption.
Rondeau had previously avoided photographing the famous farm because so many people do, he told Seven Days, but in this case, he felt compelled to set the record straight.
"I find it funny that people find the need to take creative liberties to make a place that's already beautiful look grotesquely beautiful," he said.