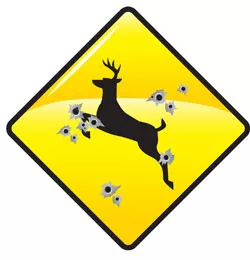 These days, kid lit doesn't shy away from a lot of potentially controversial topics — adoption, gay parents, disability. But when it comes to young 'uns carrying guns, publishers can get jumpy. That's what Calais author Susan Bartlett found when she pitched Opening Day, a picture book about hunting for the 8-to-11-year-old set, to "about a dozen" houses in New York, she says. Though Bartlett has published five previous children's books, including two from Viking, this time she found that publishers "took a censorious position about the subject matter," she says. "They said it was wrong; they felt it was not an appropriate subject for a children's book."
That's surprising, considering that Opening Day isn't exactly a pro-hunting tract. Its protagonist is Sam, a sixth-grader who lives in a rural area with his non-hunting family: "Mom was a total vegetarian — Dad, almost." His first deer hunt is primarily a way to bond with his friend Eric, whose folks are more traditional. Bartlett is careful to note that Sam has passed the required hunter education course. By the end, he's discovered that hunting is "not for him. At least not now."
Given Sam's reluctance to hurt a deer — and the portrayal of Eric's family as responsible sportsmen who eat what they kill and share with the neighbors — why did publishers object? "I think it's simply a result of their being totally cut off from rural life," Bartlett says. "They can't get beyond the fact that they feel it's not good to kill an animal."
Bartlett says the idea for the book came from state librarians, who "say kids come in and want books on hunting, and there aren't any." A small Maine publisher called Tilbury House also "sensed the need," she says. It put out the book with oil-painted illustrations by Maine artist Luanne Wrenn, which evoke both the grandeur of the deer in their habitat and the camaraderie of a small-town diner on opening day.
Though Bartlett's son started hunting at age 12, she's never been out herself. "But I am sympathetic toward those who do love hunting," she says. "Through writing the book, I have come to better understand their point of view." That process involved research into "deer habitat, deer habits, what guns children might use." Bartlett also consulted Fish and Wildlife officials in Vermont, Ohio and Wyoming, looking for a "national perspective," she says.
Bartlett gave her first reading at Montpelier's Bear Pond Books last Saturday — which happened to be the first day of Youth Deer Hunting W eekend, designed to encourage young hunters. Some of her listeners "came right from the woods," she says. "They were so excited to find a book on hunting for children."
The author will read again this Saturday, November 10 — rifle-season opening day — at the Flying Pig Bookstore Loft in Shelburne, at 11 a.m. For info, call 985-3999.