Pamela Polston
Unadilla Theatre founder Bill Blachly with a theatergoer
I admit it: Theater is my all-time favorite art form. No, I don't mind driving more than an hour to see a show. Why yes, I would like to see a 1920s English farce tonight. The performance space is barebones? Fine. Bring it on. Professional theater is thrilling, but when actors, directors and technicians volunteer their time and energy to create other worlds onstage, and for often-modest audiences, the result can be an utterly charming and memorable experience.
That's why I followed a recommendation and traveled an hour and a half from Burlington to a lost-in-the-woods venue in rural Marshfield: Unadilla Theatre. The show? Noël Coward's Hay Fever. And, like many a Vermont newbie before me, I found that a trip to Unadilla involves more than just seeing a play.
It's yet another way to take in the state's natural beauty — longhaired cattle graze placidly in a bucolic pasture behind the theater — as well as its residents' sense of community and commitment to weaving the arts into everyday life. Tables scattered outside the theater invite a romantic date night, a picnic with friends or, in my case, a unique outing with visiting in-laws. All this at a community theater just a half hour or so from the state capital.
But about that half hour: Finding Unadilla requires good directions, an element of trust and a sense of adventure. After we turned off Route 14 onto Max L. Gray Road, the journey began to feel like a wild goose chase. Is Google doing that thing where it takes me to some unknown location in the opposite direction from my destination? I thought more than once. Pavement turned to dirt long before we spotted a sign assuring us that Unadilla Theatre did indeed lie ahead. Five miles down a road that winds through woods and former farms and sometimes opens up to spectacular vistas, there it was.
Instantly we understood what all the Unadilla fuss was about. My party unpacked its picnic, ignoring the threat of showers, and settled in to dine.
Unadilla actually consists of two venues. Though we opted to see Hay Fever, David Mamet's Boston Marriage was playing, as well — seven shows have been presented in repertory over the summer. Before the 7:30 show, I got a chance to sit down with owner-artistic director Bill Blachly and hear his story. He arrived at this little homestead in the 1960s, I learned, and launched the theater in 1979. In 2012, he added the second building and named it Festival Theatre.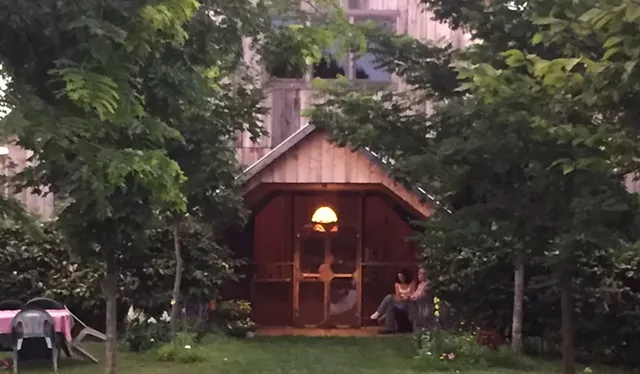 Courtesy of Kyle Ross
Festival Theatre at Unadilla Theatre
Now 92, Blachly was born in New Jersey and recounted a rich and varied life. He reminisced about the era when you could see a New York show for 55 cents, and he saw many — including Hay Fever. During World War II, Blachly spent most of his Navy deployment in the Pacific. After the war, he attended Oberlin College and worked as an administrator at Brandeis University. Eventually, though, he decided to "chuck it all and live in Vermont like a hippie."
"I was milking cows at the time, but there was no future in that for me," Blachly said. "We were looking for an alternative way to make more money, and I had always been interested in theater, so my wife and I thought we would open our own."
When I noted that his farmstead was a bit out of the way for a theater, Blachly retorted, "We think we're at the center of the universe! It's only you folks in Burlington who think this is out of the way!"
Blachly and his longtime partner, Ann O'Brien, host two shows a night Thursday through Sunday, and generally six or seven different plays each summer. They offer silent and classic films on Monday nights.
As for our show, Coward's farce Hay Fever — which he reportedly wrote in three days in 1924 — was good fun. Each actor in the nine-person ensemble had inspired moments: Jenny Gundy's rendition of the mother, Judith Bliss, contained the perfect degree of melodrama, while Aaron Aubrey, as her would-be lover, showed ideal comic timing. Another delight was Sally Gundy, who played the housemaid, Clara. She stole the show simply by delivering a tray of tea and answering the doorbell.
The production might not have won universal critical acclaim, but that didn't matter. The cast seemed to have a great time together, looked lovely in their period costumes, and moved about the set with ease and comfort. About 40 patrons in the 100-seat house laughed generously at Coward's zany characters.
During intermission, we browsed the used-book sale, apparently a staple of Unadilla, and bought cookies that O'Brien had made earlier.
After the show, we made our way to the car in darkness. While the sky was not ideal for the anticipated meteor shower, a strong white moon illuminated the gray clouds — the only light in those remote hills. I had that satisfied feeling that comes from laughing a lot and having made a good choice about how to spend an evening. I even relished the drive home, which gave my family and me a chance to talk about our shared experience.
Unadilla reminded me why theater is my favorite art form: Because the experience is so ephemeral. No two live performances will be exactly the same. Never mind the actors; expect different audiences, different moods, different reactions. Witnessing live theater compels you to live in the moment, and to cherish each moment as significant. On that level, Unadilla offers an inimitable arts experience that I enthusiastically recommend.
Only one weekend remains in the 2016 season, presenting Boston Marriage. Go if you can.
Unadilla Theatre Pro Tips
Get good directions, and be prepared to lose cell service.
Bring cash for admission, cookies and possible used-book purchases.
Pack a picnic! Bring a blanket to sit on in case all the tables are occupied. Standard outdoor precautions may apply: Bring bug spray, sunglasses, sweaters (late summer evenings can turn cool).
Nice bathrooms are available.
A small flashlight — or the flashlight app on your smartphone — will help you find your car after the show.