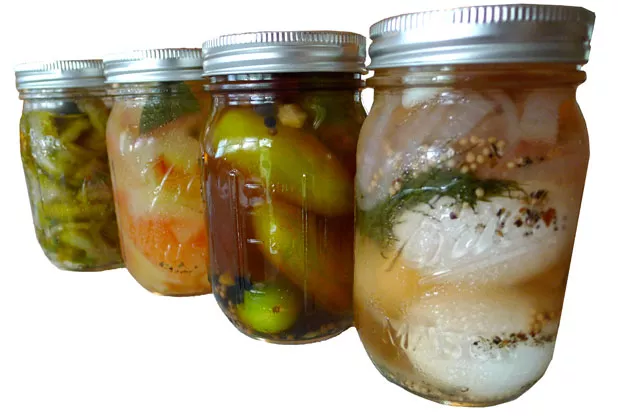 Whenever my grandmother saw my 7-year-old nose stuck in a book, she assumed I was bored and roped me into kitchen projects involving Ball jars, fruit, vinegar and sugar. We canned tomatoes, we made Concord grape jelly (the avalanche of sugar that went into this was horrifying) and we made pickles from my grandfather's dimpled cucumbers.
Those were unpleasant afternoons. Except for making occasional quick-pickled onions, I've avoided canning or preserving since. Yet every August, witnessing the brief, explosive appearance of bounty at the market, I wonder: Shouldn't I really be preserving?
What is old is hot again, especially when it comes to pickling. Pickled ramps were a fixture on many local menus this past spring; a jar of them adorned the counter (as well as some of the dishes) of the Southern Smoke food truck. Piquant pickled eggs — a fixture of 1950s bars — are cropping up everywhere, from Juniper at Hotel Vermont to Lost Nation Brewing in Morrisville.
Motivated to replicate those pickled eggs, which I've become sweet on, I recently carted home a case of Ball jars, pickling salt and gallons of vinegar. I bought a carton of eggs from the farm down my road and a wedge of watermelon from the supermarket, picked tomatoes and eggplant from my garden, and plunged in. I boiled vinegar and spices, sloppily cut the rind from the watermelon, boiled and peeled eggs and shoved them into jars. Long enamored of the punchy marinated eggplant my Italian neighbors used to make, I tried that, too, using some of my surplus oregano.
I knew I might fumble by not following a tried-and-true recipe specific to each ingredient, but I figured that, having looked at a few recipes, I'd be OK. What was the worst that could happen? Soon, I had a raft of what looked like food aquariums in jars: pickled eggs, tomatoes, onions, watermelon rind and that marinated eggplant, which resembled fingers suspended in amber.
As I waited for my pickling experiments to "mature," I phoned an expert pickler for hindsight advice: Michele Carson of Vermont Pickle.
"My first advice to anybody starting out would be to read the Ball Blue Book," she said. Oops. "That's the industry bible, and that's where I started," she added. "They've been doing this for 100 years or so."
The Ball Blue Book Guide to Preserving put Carson on the road to canning 20 years ago. "I was unemployed, and we had a lot of stuff in the garden, so I did the farmers market for extra money," she said. "I made jellies and pickles and found some really funky recipes. I did [pickles] for Christmas presents and kept doing the farmers market."
Carson eventually found a job, but she also kept pickling, and now her line — which she sells at the Shelburne Farmers Market and in area stores — ranges from dill pickles and dilly beans to pickled garlic and fiddleheads. A seasoned pro, she now uses a pH meter and heat-processes the jars to give them a stable shelf life. Some of Carson's recipes — such as pickled garlic and hot maple beets — have picked up awards at pickling festivals. "The most fun things that we do are the hot maple beets, the sweet beets with heat," she said, adding that she plans to weave more hot peppers into her oeuvre next year.
Beyond the Blue Book, Carson suggested hitting the online USDA Complete Guide to Home Canning, which proffers advice on everything from making berry syrup to canning rabbit. Also, she advised, home picklers should know that certain vinegars work better with certain items. "White vinegar gives [a pickle] a bit more of an acidic taste, which you might want to use with sugars" such as fruit, Carson noted. "Cider vinegar gives your pickles a lighter flavor. But play with your food. Experiment!"
To a certain point, that is. Carson, who has tried pickling just about everything, can steer a beginning pickler away from one food with certainty: "Grapes. Don't do it," she said. "They're horrible!"
I twisted open my experiments a few days later and found mixed results. As Carson predicted, the things I'd pickled with cider vinegar had a softer edge than those on which I'd used white vinegar. The eggs — pickled with white vinegar — were powerfully sharp and spicy ("Put them in potato salad," suggested Carson). The watermelon rind was an intense, almost tropical mash-up of salty, sweet and tart. As a garnish for some grilled shrimp, though, it was amazing.
I did kick myself for not following tips on keeping the pickling process safe: Any type of canning or preserving comes with a risk for bacteria, including the organism responsible for botulism, which can grow in the absence of air. I sanitized my jars in the dishwasher, but it's also key to keep your jars hot before you put fruits, vegetables or eggs in them. (Because I didn't seal my jars in boiling water, I kept them in the refrigerator afterward.)
Lessons learned for next time — when the spring will bring a bumper crop of wild ramps.
The original print version of this article was headlined "Adventures in Pickling."