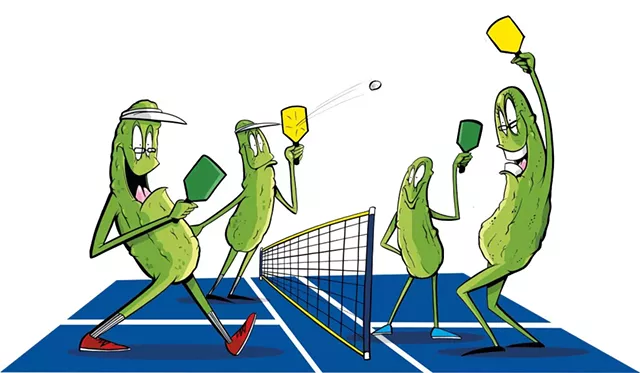 On most winter weekday afternoons, the Robert Miller Community and Recreation Center in Burlington kind of sounds like a popcorn popper. Or, maybe more appropriately, like a bunch of people continuously opening fresh jars of vacuum-sealed pickles.
The New North End municipal gym is cold-season home to devotees of pickleball, a once-obscure racquet sport that has grown increasingly popular nationwide in recent years. In Vermont, as elsewhere, this oddly named hybrid of tennis, badminton and paddleball is especially popular among retirees.
Indeed, the 20 or so players rotating through doubles matches on three courts at the rec center on a recent Friday are predominantly golden-agers. And they're working up quite a brine — er, sweat — playing pickleball.
So, what draws the pension set to this niche sport? And, for the love of gherkin, what's with that name?
To answer the first question, you need only watch the game played. A few tweaks aside, pickleball works much like the sports from which it is derived. The court is laid out like a tennis court, but with dimensions identical to those of badminton — save for the net, which sits a few inches lower than a standard tennis net.
In the summer months, pickleballers primarily play on outdoor tennis courts all over Chittenden County. Using graphite racquets that evoke oversize Ping-Pong paddles, they hit a ball back and forth over the net. Yellow and plastic, it resembles a Wiffle ball, but with circular holes all over instead of narrow slats at the top — hence the distinctive "pop" when graphite meets molded plastic. Blast the ball past your opponents, or drop in a well-placed shot they can't return, and you score a point.
"It's a pretty easy game to learn," says Corey Gottfried. "But you can really get into it and play it at a higher level, too."
Gottfried, 62, has been playing pickleball for about two years and is regarded as one of the better players in this advanced group, which meets three times per week. A beginner group, also largely made up of seniors, plays later in the afternoon. Pickleball has been part of the annual Vermont Senior Games for several years now. Last year, South Burlington's Bonnie Rivers competed in the National Senior Games, placing eighth in the 60-to-64-year-old women's singles division.
Gottfried played volleyball avidly for 40-plus years. But as he got older, he says, it became harder to bounce back after games.
"My recovery time was taking days instead of hours," he says. One day after a particularly grueling match, Gottfried's volleyball captain, Joanne Winter, suggested he come play pickleball with her. "I thought it was a joke," he recalls. "So I told her, 'I don't think your husband or my wife would agree with that.'"
Joking aside, Gottfried soon attended a pickleball clinic at the Miller center. "I was hooked," he says.
Because of its familiar sports DNA, pickleball is an intuitive game, particularly for those with racquet-sports backgrounds. Combine that with the smaller court and certain rules designed to minimize physical impact, and playing pickleball is an easy transition from tennis, badminton or even volleyball — especially for players who might not cover as much ground as they used to.
"It's good exercise, but it's not as hard on your body as other sports," says Winter, one of the most veteran players in the advanced group. Winter still coaches volleyball at South Burlington High School in her retirement. Pickleball is "also great for hand-eye coordination," she continues. "And it keeps your brain engaged."
Among the rules unique to pickleball is prohibition of the overhand serve, which places a premium on the serve's accuracy and ball spin rather than its power.
Pickleball is largely a game of finesse. That tendency is best exemplified by the role of the non-volley zone, colloquially referred to as the "kitchen," a seven-foot rectangle on either side of the net. Players are not allowed into this area unless the ball bounces there. The idea is to prevent players from crowding the net and spiking the ball, thereby extending rallies. The resulting game is more open and flowing, with lower physical intensity, than its more famous cousins.
Pickleball rallies can appear almost comically slow, calling to mind grainy historical footage of genteel tennis matches played on stately lawns in skirts and sweaters. But more is going on than meets the eye. What appears to be a lazy return toward a shallow part of the court is, in fact, a setup to draw an opponent out of position so that the next shot might score deep. A slow, high, arcing shot could be an opportunity for the player to regain court position.
The same rules that make pickleball appealing to players of diminishing athletic abilities also add an element of strategy that satisfies those looking to keep their competitive fires burning. One of the most important strategies is called the "soft game."
"Most people start by trying to kill the ball," says Gottfried. "Power can be useful. But more often than not, those shots will lose you points. It's all about accuracy, playing the angles and positioning."
"If you can drop a soft shot into the kitchen, it's going to bounce lower, which means there is less [your opponent] can do with it," adds Jon Quackenbush. "But if you return a shot ... high, they're going to get a full swing at it. There is a skill and strategy to keeping it low."
"Plus, some of us have a harder time bending over to hit the lower shots," jokes Gottfried.
Quackenbush, who owns a pest-control company with his wife in South Hero, is unusual among this group in that he wasn't introduced to pickleball as a game for older folks. He discovered it through his kids, who learned it in school. He notes that several area middle and high schools have begun to include the game as part of physical education curricula.
"It's a good game for younger folks, too," he says.
John Nappi agrees. The 28-year-old travels here twice a week from Plattsburgh to play with his dad, 65-year-old Dave.
"I had never really played sports much," says the younger Nappi. "But I picked it up really quickly, and now I just love it."
Chris Kirkpatrick, 36, is another relative whippersnapper on the court today. He's a Vermont native but is visiting from Arizona, where he currently lives and plays pickleball regularly. He's also a world-class athlete. Kirkpatrick was an Olympic qualifier in the javelin and plays flag football competitively. But, after four reconstructive surgeries, he says he needed to find a lower-impact athletic outlet.
"It's addicting," he says of pickleball. "You don't have to be amazing to be competitive. And it's kind of like golf: You can play it forever."
As for the name, that's a subject of fierce debate in the pickleball community. The sport was invented on Bainbridge Island in Washington in the 1960s by several parents trying to cobble together a game for their kids from mismatched parts: a broken badminton net, paddleball racquets and a Wiffle ball. A legend holds that one of those families had a dog called Pickles, who would chase the ball during play. Another theory traces the name to a rowing term, "pickle boat." In rowing, the pickle boat can be either the slowest boat in a race or, more fittingly, a boat whose team is cobbled together from other boats' spare rowers.
Whatever the origin of the name, the simplest thing to call pickleball is fun.