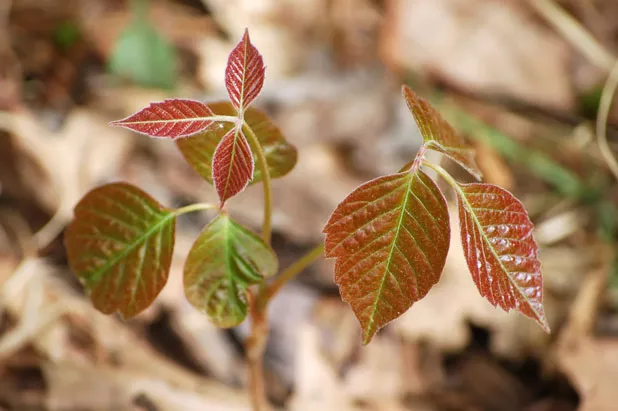 It begins innocently enough as a zig under my chin. Not even a zigzag — just a single line of red, raised bumps that I find myself absently scratching on a recent Sunday evening.
Then it hits me: I know these bumps. "Shit!" I say to my husband. "I've got poison ivy."
"Hmm," he says, not even looking up from the New York Times Week in Review. "I wouldn't worry about it."
Well, actually, I would. And I do. Though I never had a problem with poison ivy as a little kid, I unknowingly whittled a poison oak branch into a marshmallow-roasting stick when I was 14, in Rhode Island. The next day, I had an itchy spot on my cheek, and soon I was in the ER with a rash not only everywhere on my skin, but also in my stomach and digestive tract. My eyes were slits; my brothers called me the Cabbage Patch Kid. After a week of missed school, during which I smeared on tube after tube of anti-itch gel (I can still smell it), I determined never to go near poison anything again.
Unfortunately, as many a Vermonter knows firsthand, that's not always possible. Though the Green Mountain State has far less poison ivy than other parts of the country, according to Kathy Decker of the Vermont Department of Forests, Parks & Recreation, "It's a very fast-growing, adaptable plant." We also have our fair share of other backyard irritants — strawberry stalks, juniper bushes, rhubarb plants — that can send even the most avid gardener and outdoor athlete into hiding just as the weather turns nice again.
I've spent years carefully avoiding poison ivy and its ilk. The day after discovering my zig, I am left perplexed when it takes a zag, and a plum-sized irritation appears on my right leg. I mentally review the previous weekend's activities: gardening (in long pants), paddleboarding (in a wetsuit), heeding the call of nature in a shrubby area near the lake (uh, no pants).
Aha.
It's not entirely my fault, I soon learn. "People don't know how to recognize poison ivy at all times of the year," Charlie Browne, the executive director of the Fairbanks Museum, tells me over the phone. Having grown up on Cape Cod, where poison ivy covers "every square inch of the ground," Browne is a de facto expert on the stuff. He confirms my suspicion that a plant must have brushed against my bare skin, and its poisonous urushiol oil caused my rash, or allergic-contact dermatitis. "It can't penetrate through clothing," says Browne. "But the oil is on virtually every surface of the plant and penetrates your skin in about three seconds."
By Tuesday, I've spotted a splotch of dermatitis above my eyelid, and I decide to stop messing around with over-the-counter creams that have mostly proved sticky, unsightly and useless. My doctor examines me, listens to my story about urushiol sensitivity and prescribes a six-day course of prednisone. I'm hesitant — I tend to avoid medications, and I know that corticosteroids such as prednisone can have some nasty long-term side effects, including osteoporosis and glaucoma. But the side effects of short-term use, my doctor tells me, are usually just an increased appetite and insomnia.
With a freshly baked cake on the counter at home, I prepare to be up all night with a fork in my hand. But instead I sleep soundly and eat normally both that day and the next. In fact, the prednisone seems to have little effect at all: New patches of dermatitis appear on my inner thigh and abdomen. "The urushiol is distributed by your sweat; it can get under the band of your belt or under your socks," explains Browne in our phone conversation. "People get it in some very awkward places — real outdoorsy naturists and such."
Browne also informs me that a large percentage of the population has some sort of reaction to urushiol, and that my unfortunate experience as a teenager didn't necessarily doom me to a life of misery with poison ivy. "Your body chemistry changes over time," he says.
Determined not to dig in my yard until I'm sure there's no poison ivy there, I spend the next few days (in between scratches) digging for more information on problem plants in Vermont. Decker warns me about poison parsnip, a yellow flower that looks like Queen Anne's lace and has become prevalent along the state's highways. "If you get the plant's sap on you, and then the sun hits it, the combination will burn your skin," she says. "It's horrific."
Garden expert Charlie Nardozzi, the former senior horticulturalist and spokesperson for the National Gardening Association, tells me about the dangers of "any kind of prickly leaf" — rhubarb, strawberry, juniper. He reminds me to wear gloves and long-sleeved shirts when I'm near potentially irritating plants, and to wash everything when I'm done. If I suspect poison ivy in my yard, the best thing to do is hire someone else to remove it. "Poison ivy is an opportunistic kind of plant," warns Nardozzi. "And you [can] get poison ivy from dead plants or stems; the oil stays around in the environment, even in the fall and early spring. Know what you're dealing with."
Duly noted. I try to console myself by reading online about cases of poison ivy far worse than mine: the dumb-ass who tried to desensitize himself to poison ivy by chewing the leaves (OK, not that much dumber than my teenage marshmallow stick); the collapsed lung that resulted from burning poison ivy; the ivy-covered sleeping bag that caused rashes year after year.
With welts and hives still covering parts of me two weeks after my own exposure, I'm not yet out of the woods. But when I am, I know just where to go for a safe outdoor fix: the Northeast Kingdom. There, thanks to the cold and higher elevations, Browne assures, there's no poison ivy.