Step 1: Take our personality test to find out what type of summer person you are, and what we have planned for you. Click the flowchart below to view it at full size.
All character illustrations by Sean Metcalf.
Step 2: Who did you get matched up with? Click on his or her name below to find your ultimate summer guide.
Click here to follow Budget Barb...
Click here to follow Fitness Fabio...
Click here to follow Foodie Fiona...
Click here to follow Culture Cathy...
Click here to follow Road-tripping Randall...
Click here to follow Indoor Igor...
Budget Barb's Freebie Favorites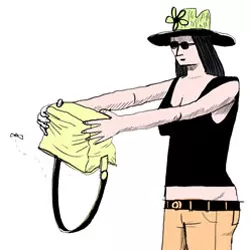 It usually only costs a couple dollars to get into Vermont's state parks — but you're pretty cheap, so you'll want to take advantage of Vermont Days, a Saturday and Sunday in June when the folks in the little wooden booth at the entrance to any state park, or state-owned historic site, wave you in for free. Fish without a license! Go wild at Senator Justin Smith Morrill's pale-pink Gothic Revival mansion! If you've ever wanted to see a full-size Abenaki wigwam, plus a re-creation of Ethan Allen's Green Mountain Boys at the Catamount Tavern, this is your chance; admission to Montpelier's Vermont History Museum is also free those days.
You'd probably never cough up the cash for a real Jimmy Buffett concert, but you can't fight the urge to sing along to "Cheeseburger in Paradise" every time it comes on the radio. So why not head up to the Kingdom Aquafest in Newport for a free street dance with Changes in Latitudes, billed as "America's premier Jimmy Buffett tribute show"? Come earlier in the weeklong festival to catch logrolling competitions and an antique-boat parade. People go a little crazy on and around the shores of Lake Memphremagog that week: They race beds. They race down the Clyde River in tubes. They outfit their animals in costumes for the Pet and Swimmers Parade. They compete for bragging rights to the best chowder in the Kingdom. Spectate for free, or join in for $5.
Vermont's free summer music series offer the best bang for your buck. Every Thursday night for a month, the BCA Center hosts free Battery Park Concerts. Pack up a picnic and head to the park to catch acts such as English band Scars on 45 and Austin, Texas-based Saints of Valory. Or set up your blanket on the Middlebury town green for a week of free shows courtesy of Festival-on-the-Green.
If all else fails, just go swimming. It's always free somewhere, and there's really no better way to spend summertime in Vermont.
Vermont Days, Saturday and Sunday, June 11 and 12, at Vermont state parks, historic sites and the Vermont History Museum at 109 State Street, Montpelier. Free.
Kingdom Aquafest, Monday through Saturday, July 4 through 9, on Lake Memphremagog in Newport. Various times. Most events free. Info, 323-8424.
BCA Center Battery Park Concerts, Thursday, July 7, 14, 21 and 28, 6:30-8:30 p.m., at Battery Park in Burlington. Free. Info, 865-7166.
Middlebury Festival-on-the-Green, Sunday through Saturday, July 10 through 16, various times, at the Middlebury town green. Free. Info, 462-3555.
Foodie Fiona's Edible Outings
You're so passionate about food, you probably think you could fly solo to the annual Vermont Cheesemakers Festival. But, trust us, you'll need a friend to roll you back to your car when the five-hour tasting extravaganza is over. The event's name is somewhat misleading. Yes, the 100-plus varieties of cheese from all-star makers such as Consider Bardwell Farm, Blue Ledge Farm and the Cellars at Jasper Hill take center stage. But you'll also find cured meats, chocolate, peanut butter, ice cream and caramel sauce, plus wine, beer and other local spirits. Pace yourself.
Still, you must have interests besides food. Music, maybe? Pack up a loaf of crusty bread and some Bayley Hazen Blue for a picnic at Snow Farm Vineyard's Concert Series. Every Thursday evening all summer, the South Hero vineyard hosts a different musical act, from jazz and classical to bluegrass to classic rock. Just imagine: your toes tapping in the grass, a glass of wine in one hand, a hunk of cheese in the other, as the lake laps gently at the island's shores.
Let's face it, though: You won't rest until you've traced that cheese back to the farm from whence it came. So you'd better sign up for a Vermont Farm Tour. Wander cheese caves, learn to make yogurt, and meet the cows and pigs you usually encounter only on a plate.
Still hungry? Head back to Shelburne Farms for the annual Vermont Fresh Network Forum in August. Here's your chance to schmooze with Vermont chefs and the partner farmers who supply their restaurants. Last year, Hen of the Wood at the Grist Mill offered crispy pork cheek with stewed blueberries and pickled vegetables. The Perfect Wife Restaurant and Tavern served barbecued quail legs. Ariel's Restaurant prepared larb, a Thai salad made with chilled ground pork and a fragrant mint dressing. Food writer Alice Levitt dropped a delicate slice of elk on the floor — then ate it anyway. That's the foodie spirit!
Vermont Cheesemakers Festival, Sunday, July 24, 11 a.m. to 4 p.m., at Shelburne Farms Coach Barn. $35. Info, 884-6287.
Snow Farm Vineyard Concert Series, Thursdays from June to September, 6:30 to 8:30 p.m. at 190 West Shore Road, South Hero. Free. Info, 372-9463.
Vermont Farm Tours. Info, 922-7346.
Vermont Fresh Network Forum, Sunday, August 7, 5 to 9 p.m., at Shelburne Farms Coach Barn. $50 for VFN partners and supporting members; $75 for nonmembers. Info, 434-2000.
Culture Cathy's Estival Escapades
So, maybe you won't get to see Shakespeare in the Park. And the Vermont Shakespeare Company, which presented the Bard in Grand Isle's Knight Point State Park last year, is taking this one off to fundraise for a big 2012 season. But Marshfield's Unadilla Theatre will fix you up with brilliant verbiage in a bucolic setting — a barn. This year The Tempest is on the docket, along with The Mikado and Turgenev's A Month in the Country. Let the breeze blow through your hair and think of summer on a Russian dacha. Or, if you love to quote Antoine de Saint-Exupéry (of The Little Prince fame), drive down to the Weston Playhouse to see the premiere of Saint-Ex, a musical based on the author-aviator's life.
If you have Francophile tendencies, we don't need to tell you to get thee to Montréal this summer. But don't forget about Vergennes' very own French Heritage Day, when Québécois song, dance and food are the order of the day. France's traditional ally, Scotland, represents itself proudly at the Quechee Scottish Festival, with bagpiping, sheepdog championship trials and — last year, anyway — unusual athletic contests such as a ladies' rolling-pin toss.
A little roughhousing is all in good fun, but let's get back to high culture. Tickets are going fast for Carmen (pictured, Julie Nesrallah, in the lead role), presented in June as part of the Green Mountain Opera Festival; Met-seasoned Daniel Beckwith wields the conductor's baton. And, just next week, the Opera Company of Middlebury offers Puccini's La Rondine (The Swallow), the tale of a courtesan who finds love too late.
Things never seem to go well for sexy ladies in opera, but they are going well for the venerable Summer Music From Greensboro series, which is getting a new artistic director and a visit from the world-renowned Borromeo String Quartet. Don't forget to check the schedules of the Craftsbury Chamber Players and the Green Mountain Chamber Music Festival, too. Vermont may not boast a metropolis, but when it comes to arts and culture, we can strike the right notes.
Julie Nesrallah, title role in Carmen. Photo courtesy of Green Mountain Opera Festival.
Unadilla Theatre presents The Tempest, Thursday through Sunday, July 21 through 24 and 28 through 31, 7:30 p.m., at 501 Blachly Road, Marshfield. $20 for adults; $10 for children. Info, 456-8968.
The Weston Playhouse presents Saint-Ex, August 25 through September 10 at 9 Park Street, Weston. See website for times and ticket pricing. Info, 824-5288.
French Heritage Day, Saturday, July 16, 10 a.m. to 4 p.m., at various locations in Vergennes. Free. Info, 388-7951 or 733-8376.
Quechee Scottish Festival, Saturday, August 27, 8 a.m. to 4:30 p.m., at the Quechee Polo Field. $12 for adults; $8 for children. Info, 295-5351.
The Green Mountain Opera Festival presents Carmen, Friday, June 17, 7:30 p.m., and Sunday, June 19, 3 p.m., at the Barre Opera House, 6 North Main Street, Barre. $25-60. For tickets, 476-8188.
The Opera Company of Middlebury presents La Rondine (The Swallow). Friday, July 3, 8 p.m.; Sunday, June 5, 2 p.m.; Wednesday, June 8, 8 p.m.; and Friday, June 10, 8 p.m., at Town Hall Theater, 68 South Pleasant Street, Middlebury. $40-45. Info, 388-7432.
Summer Music From Greensboro presents the Borromeo Quartet, Tuesday, August 9, 8 p.m., at United Church of Christ in Greensboro. $18 for adults; $17 for seniors; $10 for students; free for children; five concerts for $75. Info, 525-3291.
Green Mountain Chamber Music Festival.
Fitness Fabio's Sweat-Stained Summer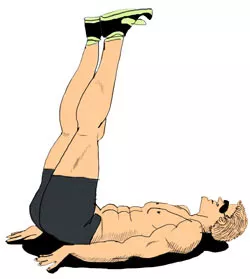 You love the taste of sweat. You live for the agony of a long run on a scorching day. The more your body screams, God, no! the more you say, Yes, please. Which is why you're signing up for the Spartan Death Race. Of the 500 lunatics who have entered the competition since 2008, fewer than 50 have completed it. The 72-hour endurance challenge — which uses the don't-say-we-didn't-warn-you domain name youmaydie.com — is a juggernaut of physical and mental horrors, the specifics of which are kept top secret until the big day. Accordingly, race director Andy Weinberg can't say much about this year's, but he promises "barbed wire, mud boggin', crying, screaming, sweating and possibly religion." You're gonna love it.
OK, no. You're not really that crazy. You prefer reasonable challenges, such as the Onion River Century Ride, which offers cyclists of all ages three different loop lengths — 111, 68 or 24 miles — each starting and ending in civilized downtown Montpelier. You might even finish with enough strength left to lift a celebratory beer to your lips.
If racing in the open water is more your thing, dive into Lake Memphremagog for the Kingdom Swim. The five courses range in length from 10 miles down to 100 yards, and swimmers of all skills and ages are welcome. Celebrate your victory, or noble effort, at the Kingdom Aquafest street-dance party that night.
You don't always need to win. Sometimes you just want speed without having to flex too many muscles. Grab your sunglasses and head to Smugglers' Notch Resort for a Zip Line Canopy Tour. You can spend up to three hours suspended above the mountain, whizzing down more than 4500 feet of zip lines, crossing sky bridges and rappelling from trees. You're so sporty, you won't even be embarrassed by the harness and helmet.
And the best news is, you probably won't die.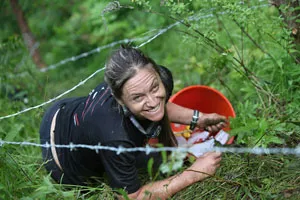 The Spartan Death Race.
The Spartan Death Race, Saturday, June 25, 4 a.m., at Amee Farm in Pittsfield. $400 entry fee. Info, 989-3982.
Onion River Century Ride, Saturday, July 30, 8 a.m. to 5 p.m., starting at the Kellogg-Hubbard Library in Montpelier. $50 through July 17; $65 after July 20; or $30, with $50 in pledges. Info, 229-9409.
Kingdom Swim, Saturday, July 9, 8 a.m., at Prouty Beach in Newport. $15-150. Info, 334-8511.
Zip Line Canopy Tour at Smugglers' Notch Resort in Jeffersonville. Open daily. $100. Info, 644-9300.
Road-tripping Randall's Summer Rambles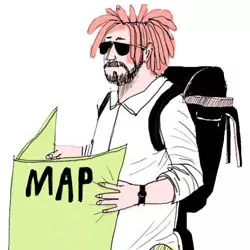 You are a collector of experiences, not objects. You'd head to something called the Vermont State Zucchini Festival just so you could say you did (and post the zucchini-toss pics on Facebook).
That's why we inform you with regret that there is no Vermont State Zucchini Festival this year. Would you accept the tinier blueberry or strawberry as a substitute? Kids will frolic in 100 gallons of blueberry Jell-O to celebrate the opening of the fourth annual 10-day Deerfield Valley Blueberry Festival, which sprawls over three towns in the Mount Snow area. The organizers promise blue cars, blue food, blue art, blue beer and "blue adventures" (no word on blue movies). Come and do your best Violet Beauregard.
The ninth annual Strawberry Festival at Cedar Circle Farmstand and Education Center in East Thetford is a more modest event — a one-day deal. But the strawberries are organic, and so's the ice cream, so you can feel virtuous while stuffing yourself with shortcake. If you prefer savory events to sweet ones, there's always the Southern Vermont Garlic and Herb Festival, which "claims the glory and distinction of raising the biggest stink in Vermont," according to a press release. Expect garlic ice cream and ... garlic golf.
If you're down south in June, you can't miss the annual Strolling of the Heifers, Vermont's kinder and gentler take on the Running of the Bulls. This year, besides the usual parade of flower-bedecked bovines down Brattleboro's Main Street, there's a film festival, a farm-themed Tour de Heifer for cyclists and, best of all, the creation of what organizers hope will be the world's largest maple-yogurt smoothie. They're aiming for 335 gallons and a Guinness World Record, and, yes, the monster treat will be locally sourced.
If you hail from urban parts, you really should take in a corn maze, a creemee stand or five (see our snack-bar survey on page 38, and Lauren Ober's creemee chronicle on page 34), and a drive-in movie before you leave Vermont. Happy trails ... we'll see you at the next Zucchini Fest.
Strolling of the Heifers. Photo courtesy of Jason Henske.
Deerfield Valley Blueberry Festival, Friday, July 29, through Sunday, August 7, in various locations in Wilmington, Whitingham and Dover. Info, 464-8092.
Strawberry Festival, Sunday, June 26, 10 a.m. to 4 p.m., at Cedar Circle Farmstand and Education Center at 225 Pavillion Road, East Thetford. $5 per car. Info, 785-4737.
Southern Vermont Garlic and Herb Festival, Saturday and Sunday, September 3 and 4, 10 a.m. to 5 p.m., in Bennington. $5 per day; $1 for children under 12. Info, 447-3311.
Strolling of the Heifers, Friday through Sunday, June 3 through 5, at various locations in Brattleboro. Parade is Saturday, 10 a.m., on Main Street. Taste the giant smoothie at the concurrent Live Green Expo on the Brattleboro Common and Retreat Grounds. Info, 258-9177.
Indoor Igor's Fun Sans Sun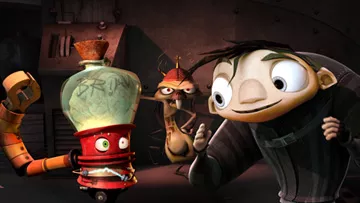 Sitting in a dark room on a summer day doesn't have to feel totally lame. For instance, you could be watching a movie about teenage paparazzi or Iran's underground music scene. Or checking out "Thief," a short film by an Upper Valley native that just won a Student Academy Award. (It's based on the early life of Saddam Hussein.) Those are just three offerings at next week's White River Indie Films festival, also featuring workshops on acting and film production, a circus-themed gala, and a benefit party at the Main Street Museum.
While you're at the museum, be sure to check out this modern-day cabinet of curiosities, which is currently exhibiting cheeky portraits of political figures and their pets by Daisy Rockwell — yes, Norman's granddaughter. Ask about the Tuesday night cult-film series.
The Northeast Kingdom has its own cabinet of curiosities — the very Victorian Fairbanks Museum, which comes equipped with a planetarium for extra geek points. Walk a few blocks to the air-conditioned theater at Catamount Arts to finish the day with a movie that doesn't involve robots or explosions.
Sitting on wet grass at outdoor music festivals isn't for you, but Bookstock, the third annual literary festival in Woodstock, promises a tidier experience. Celebrated poet Sharon Olds is a guest. If you just want a quirky selection of books to browse — a whole skating rink of 'em — don't miss the Vermont Antiquarian Booksellers Vermont Summer Book & Ephemera Fair in Brattleboro.
Most interiors induce cabin fever in the summer. Wilson Castle (pictured), in Proctor, isn't one of them: The elaborate wall stencils and oddball artifacts of this Victorian mansion could keep you mesmerized for hours. Maybe they keep dead souls fixated, too — the place is reportedly haunted. Take a tour, dress up for a murder-mystery dinner or follow real paranormal investigators at work. This summer, don't let anybody tell you you need to get out more.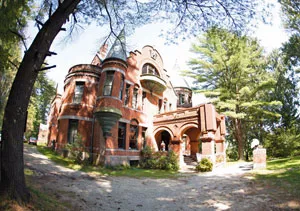 Wilson Castle. Photo by Justin Cash.
White River Indie Films Festival, Friday through Sunday, June 3 throught 5, various locations in White River Junction. $9; $5 for students; $50 for all-film pass. Find schedule and ticketing info at wrif.org, or call 478-0191.
Main Street Museum, 58 Bridge Street, White River Junction. $5; $45 yearly membership. Summer hours: Thursday through Sunday, 1 to 6 p.m. Info, 356-2776, mainstreetmuseum.org. Rockwell exhibit through July 1.
Fairbanks Museum & Planetarium, 1302 Main Street, St. Johnsbury. Summer hours: Monday through Saturday, 9 a.m. to 5 p.m.; Sunday, 1 to 5 p.m. $8; $6 for seniors and children under 17; free for children under 5. $5 for planetarium. Info, 748-2372.
Catamount Arts, 115 Eastern Avenue, St. Johnsbury. Films $4-7; for showtimes, check website or the Seven Days Calendar of Events. Info, 748-2600.
Bookstock, a Green Mountain Festival of Words, Friday through Sunday, July 29 through 31, at various locations in Woodstock. Info, 457-9149.
2011 Vermont Summer Book & Ephemera Fair, Sunday, August 7, 10 a.m. to 4 p.m., at Living Memorial Park Skating Rink, 61 Guilford Street, Brattleboro. $5. 464-8438.
Wilson Castle, 2970 West Proctor Road, Proctor. Open house on Friday, May 27, 5 to 7 p.m. Free. Guided tours daily starting May 27, 9 a.m. to 5 p.m. $10.