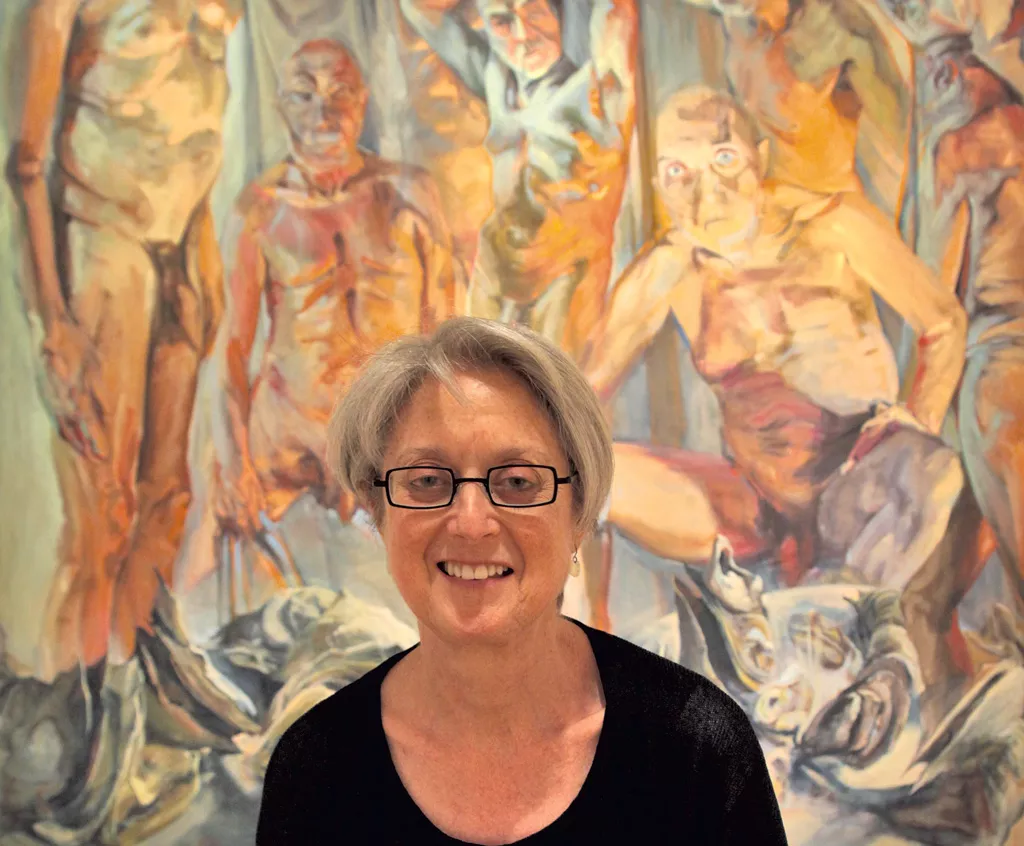 Matthew Thorsen
Janie Cohen sits in front of "Bordel" by Gerri Davis.
Pablo Picasso's 1907 painting "Les Demoiselles d'Avignon" is considered one of the most revolutionary artworks of the 20th century. So radical was it that some critics accused the Spanish artist of having gone crazy or staged "an audacious hoax." For Picasso himself, the work that ushered in cubism was also a fierce rebuke to the past: He described it as his "first exorcism painting."
Now the University of Vermont's Fleming Museum of Art is showing an original exhibit about that piece called "Staring Back: The Creation and Legacy of Picasso's Demoiselles d'Avignon." And it could be called Janie Cohen's first exorcism exhibit. With "Staring Back," the Fleming's longtime director and internationally acclaimed Picasso scholar appears to have worked out a few demons of her own.
The show, which Cohen curated, explores some of the more exploitative and racist influences on Picasso's proto-cubist masterpiece. Though "Demoiselles" may be Picasso's most analyzed and documented work, Cohen still manages to break new scholarly ground.
Notably, she reveals how the highly stylized configuration of the five prostitutes portrayed in the painting has its roots in late 19th- and early 20th-century colonial photography from Africa. Such "anthropometric" photographs, Cohen explains, were ostensibly created for "scientific purposes" to compare the physiological characteristics of native Africans, but they eventually became a form of "ethnopornography." Cohen contends that Picasso couldn't help but have seen such images, which were widely circulated throughout Europe at the time, and that he incorporated them into "Demoiselles."
She explores this and other aspects of Picasso's painting in a fittingly groundbreaking manner. Using innovative technologies — soundscapes, video projections, augmented reality and other interactive components — Cohen brings gallery visitors right into the artist's world in a way never previously attempted at the Fleming.
"I really saw this as an opportunity to just go for it," she says of the show's high-tech elements. "It was a little bit of a risk, but the response has been really good."
Those in the art and museum world who know the Fleming, and its director, are not at all surprised by the exhibit's approach or its academic rigor. "Staring Back" is based in part on a scholarly article that Cohen has been writing on and off for five years, after having ruminated on the topic for nearly two decades. The result was finally published in March in the academic journal Photography and Culture.
"I don't know if everybody could sit down and study one painting for five years. That's a little obsessive," Cohen admits with a laugh.
But her obsessions are paying off. The veteran museum director and art historian has earned a reputation for bringing UVM creative and exciting exhibits that are at once popular, scholarly and relevant to diverse audiences. Their topics have ranged widely — from eugenics in Vermont to Andy Warhol to contemporary Tibetan art.
Cohen, 58, is thin and birdlike, with dark, deep-set eyes like an owl's. Unlike that nocturnal creature, she is warm and gregarious, and seems to relish educating museum visitors about art history without coming across as pedantic or bookish.
By now, Cohen's reputation could have landed her jobs at much higher-level art institutions. She has chosen to stay at the Fleming far longer than university-based museum leaders typically do, and the UVM and Burlington community has reaped the benefits. Cohen's 23-year tenure — first as chief curator beginning in 1991, then as director since 2002 — has brought the Fleming national acclaim, not just among its academic peers but among larger and better-known institutions.
One marker of that reputation is the number of artists, curators and art historians who've worked and studied at the Fleming and then moved on to more prestigious positions. In fact, Cohen has struggled to keep curators, not because they don't like working for her but because they get hired away by major museums that can pay them more.
Among those Fleming veterans is Aimee Marcereau DeGalan, now curator of collections and exhibitions at Ohio's Dayton Art Institute, who worked at the museum from 2008 until 2012. She describes Cohen as "a supportive supervisor and charismatic director."
"Her mind is constantly working to connect things and form ideas around art in all its guises," DeGalan writes via email. "It really served as a driver for me to expand my thinking, and I am forever grateful for that experience."
Fleming board president J. Brooks Buxton, an avid art collector who lives in Jericho, says he continues to be impressed by Cohen's choice of exhibits, especially those of world-renowned masters.
"Under Janie's leadership, she has returned the focus of the museum to its role as a teaching museum as well as a fine-art museum," Buxton says. "Whether I'm in major galleries or museums, the Fleming is now known. Janie has definitely raised its profile with her very intellectual and demanding 'New York' standards."
Cohen has chosen diverse and eclectic exhibits over the years, ranging from shows on Rembrandt, Picasso and Goya to more au courant installations — such as last year's "Anonymous: Contemporary Tibetan Art." But the exhibits are never designed to appeal exclusively to art students, academics or art-world elites.
"Very easily the Fleming could be a fairly conservative university museum. Janie makes it anything but that," suggests Burlington designer Michael Jager, formerly of Jager Di Paola Kemp Design and now a principal of Solidarity of Unbridled Labour. In 2003, Jager worked closely with Cohen on an exhibit of works by pop artist Andy Warhol titled "Andy Warhol Work & Play." In conjunction with the show, renowned rock musician Lou Reed performed at UVM's Ira Allen Chapel.
"Janie can take her depth of knowledge and put it in a modern context like few people can," says Jager. "She brings art down to earth."
Some of Cohen's biggest efforts are unknown to the public. She has long held leadership roles in regional and national museum associations and will soon take over as president of the New England Museum Association.
"She's one of those people who, when she says something at a board meeting, people pay really close attention," says Susan Funk, current president of NEMA and executive vice president of Connecticut's Mystic Seaport Museum. "It's always thoughtful and insightful and thinking much more broadly than any single genre of museum. She's really committed to the field as a whole."
The Fleming, like any university-based art museum, must serve dual and at times contradictory roles. On the one hand, it must be encyclopedic in its scope to provide the necessary teaching tools for the academic departments that access its collection. The museum's holdings number about 25,000 objects — ranging from a sixth-century BC Egyptian mummy to paintings, sculptures and photographs created in the past few years — only 3 to 5 percent of which are on display at any given time.
At the same time, the Fleming must also have a broader community appeal — in part, Cohen acknowledges, to keep attracting the 20,000 visitors who walk through its doors each year and who contribute to the museum's $1.5 million budget. Though the university supplies part of that sum, Cohen spends about a third of her time fundraising, she says. The Fleming stands out in that, unlike many other university museums, it charges a modest admission.
The Fleming's small staff of 10 accomplishes a lot in a relatively compact space.
"Les Demoiselles d'Avignon" by Pablo Picasso
"I've always admired what the Fleming has been able to do with its collection," says Richard Saunders, director of the Middlebury College Museum of Art. "Janie has a richer quiver of arrows from which to draw, and I think she's been very nimble at that."
Phelan Fretz agrees. As executive director of Burlington's ECHO Lake Aquarium and Science Center/Leahy Center for Lake Champlain, Fretz appreciates the challenges that Cohen faces running an academic institution that's also a community art museum.
"Janie has been very successful at walking that fine line between public fanfare for an exhibit and the scholarship," Fretz says. "She always seems to be able to find that rich space where the press goes, 'Hmm, this is interesting!' For me, that's a real skill in a director."
Cohen's "Staring Back" exhibition deftly navigates that fine line. Its visitors are "introduced" to Picasso by an audio soundscape created by Jenn Karson, a local sound artist and lecturer in UVM's College of Engineering and Mathematical Sciences. A 1907 phonograph horn reproduces ambient street sounds of Paris' Montmartre neighborhood, where Picasso had a studio at that time.
Another soundscape recreates Picasso's studio-residence at Le Bateau-Lavoir, where he first unveiled the controversial "Demoiselles" — and then kept it under wraps for years. Visitors can gaze at Picasso's painting — or, more accurately, at a to-scale projection of it created by Champlain College assistant professor Coberlin Brownell, alongside a time-lapse video of the room where it was painted. Gallerygoers can also hear the reactions of Picasso's friends and contemporaries, conveyed via recorded readings by local performers.
Those reactions indicate just how much "Les Demoiselles" rocked the art world. Various critics called the painting "frightful," "grotesque," "hideous," "an outrage" and "like drinking kerosene in order to spit fire."
"Staring Back" also incorporates augmented reality in the form of iPads displaying all 800 studies, or preparatory sketches, that Picasso created over a six-month period before he finally painted "Demoiselles." Because those studies are all in storage at Musée Picasso in Paris and otherwise unavailable for public viewing, the show offers a rare opportunity for art students and others to better understand and appreciate Picasso's creative process.
These features help compensate for the glaring absence at the center of the show: that of the painting itself. The original "Demoiselles" is on view at the Museum of Modern Art in New York City and has left that institution only once since 1939.
In the Fleming exhibit, Cohen also "stares forward" by featuring a variety of more recent works inspired by Picasso's masterpiece. They include "De-Moiselles," a painting in which American artist Sophie Matisse — great-granddaughter of Henri — recreates Picasso's piece without the women. Her work is part of a larger series called "Missing Person," which reinterprets classic paintings with the human figures removed.
"Bordel," a 2010 painting by Gerri Davis, resembles "Demoiselles" in both its size and composition but replaces the five prostitutes with images of an elderly Picasso. In it, the artist assumes similar poses to those of the prostitutes, with all his "wares" — that is, his genitals — on display. In place of the original's phallic still life, Davis inserts what the artist calls in the exhibition catalog a "labia-like shellfish garden."
Cohen's own contributions to that catalog provide fascinating insights into not only the painting "Demoiselles" but also the curator and writer herself, who has spent years studying her subjects' powerful stares.
Cohen's long gaze into "Demoiselles" began at least 18 years ago when she saw a historical photograph of six half-naked Eritrean prostitutes, taken in 1885 by an Italian photographer. While the photo had no apparent connection to Picasso, its artificial and seemingly forced poses instantly tripped Cohen's radar as something she recognized from his art. The sepia-toned image would haunt her thoughts for years.
"I see patterns in things. It's both a blessing and a curse," she explains. "Picasso himself worked that way. It was such an important part of his creative process."
And Cohen's. She grew up in Madison, the daughter of Jewish academics at the University of Wisconsin. There, her mother worked as an academic adviser; her father taught political science and later became the school's acting chancellor. Many of the family's friends were artists.
Cohen recalls an activity from her youth that foreshadowed her career as a curator and museum director. As a child, she would find items on the ground, gather them and store them in a drawer in her bedroom. Later, she would arrange them in displays according to their size, color and theme.
"It was the heart of curating," she says, "which has been with me for a long time."
Cohen's family home was filled with artworks, some of which her parents acquired through a club that sent them new prints each year. "I still remember them. They're seared into my brain," she says. Years later, after she'd studied art history in depth, Cohen remembers walking through her parents' house with her acquired professional perspective on the art. "I just remember thinking, This is really fabulous work."
The first artwork that moved Cohen to study it closely was Henri Rousseau's "The Sleeping Gypsy" (1897), which she wrote about for a high school French class. Coincidentally, Rousseau's painting hangs in MoMA near Picasso's "Demoiselles."
Cohen attended the University of Michigan in Ann Arbor, then earned her master's degree at the Institute of Fine Arts at New York University, not far from the Metropolitan Museum of Art.
Her passion for museums had already been born in Chicago — not, as one might assume, at the city's Art Institute but at the Museum of Science and Industry, where her parents brought her as a child. Cohen's interest only intensified after she landed internships at the Brooklyn Museum in New York and the Rijksmuseum in Amsterdam. She directed the traveling exhibitions program of the New England Foundation for the Arts — then, in the late 1980s, became a freelance curator.
Though Cohen looks back on her freelance work as an exciting phase — "You fly in, do a show, then fly out," she says — she found herself yearning for a community and a permanent collection from which to draw. Not surprisingly, she was drawn to a university setting and the "brain trust" it provided.
Though Cohen had never previously considered living in Vermont, when the curator's job opened up at the Fleming in 1991, she jumped at the opportunity. She moved to Vermont with her then-husband and immediately fell in love with the landscape.
"I had no idea that the physical beauty of a place would become so important to me," Cohen says. "Obviously, I'm visually oriented. Vermont is exquisite on a very human scale and in a very comforting way."
One of Cohen's earliest shows at the Fleming is seared into the minds of many Vermonters — and, for her, eerily linked to the "Staring Back" exhibit. In 1994, Cohen saw a show in the gallery of UVM's Living/Learning Center titled "Robert MacKintosh: The Responsibilities of Disappearance." As its creator, Michael Oatman, explains in a recent email, the exhibit presented itself as a retrospective of the career of a former professor at the Rhode Island School of Design, an artist who had predicted every major movement of the 20th century.
"What most viewers didn't know was that MacKintosh was a fictional figure and that producing his artwork was an excuse for me to paint like many artists I admired," reveals Oatman, now an assistant professor at Rensselaer Polytechnic Institute in Troy, N.Y. Cohen saw his Living/Learning show and got the gag. She invited Oatman, who was then newly out of graduate school and teaching in UVM's art department, to curate a show about Henry Perkins at the Fleming Museum.
Perkins had been a UVM professor of zoology, curator of the Fleming from 1931 to 1945, and director of the Eugenics Survey of Vermont. In the mid-1990s, Vermont's role in the national eugenics movement of the early 20th century was still largely forgotten, unexplored by state historians aside from an article by Kevin Dann in the journal Vermont History.
Oatman remembers Cohen giving him free rein. Day and night, he pored over the museum's permanent collection looking for artifacts to re-create Perkins' sitting room, study and laboratory. He discovered test tubes, slides from anthropology classes and materials created by the eugenics survey, which Perkins had presented at a national eugenics conference in 1934.
The exhibit, titled "Long Shadows: Henry Perkins and the Eugenics Survey of Vermont," opened in the fall of 1995 to considerable press coverage. It had a profound impact on many who saw it. The exhibit proved especially poignant and powerful to members of the Abenaki community, many of whom had waited decades for someone to shine a light on this dark and disturbing chapter of Vermont's history.
Jeff Benay, current director of Indian Education Program for Franklin County and the former longtime chair of the Vermont Commission on Native American Affairs, vividly recalls walking through the exhibit for the first time. In particular, he remembers seeing the blackboard in Perkins' laboratory that listed the criteria the professor used to select candidates for sexual sterilization. Perkins had determined they'd come from "degenerate families" with "bad heredity."
Benay also recalls seeing letters that Perkins had received and saved, including one from Vermont's poet laureate at the time, Dorothy Canfield Fisher, and another from Margaret Sanger, founder of Planned Parenthood.
"The last, of course, was from Adolf Hitler," Benay says. "The Fleming Museum took a real chance doing this [exhibit]. It was certainly controversial and risky, but brilliantly done."
"The comments in the guest book were incredibly gratifying," Cohen remembers. "One I will never forget was by a member of the Abenaki community that essentially said, 'We changed our names, we went underground and waited for this day, for this history to be put in the record.'"
"Long Shadows" did much to spark a resurgence of historical study of Vermont's eugenics movement. Nancy L. Gallagher's definitive work on the subject, Breeding Better Vermonters: The Eugenics Project in the Green Mountain State, came out four years later.
Oatman has gone on to have a successful art career. He remembers the Perkins exhibit as his "most important early show," and calls Cohen "one of my art-world heroes."
"As an artist, one wants to find a broad audience for the work, but if you're really lucky, you find a few colleagues that you return to over and over again," Oatman says. "I can't wait for the next opportunity to work with my friend Janie Cohen, because she totally rocks."
Though two decades separate the "Long Shadows" and "Staring Back" exhibits, Cohen sees parallels between the two. Both take long, hard looks at racist and exploitative practices against indigenous peoples, and both those practices were perpetrated under the guise of science.
In a sense, Cohen has come full circle with the current exhibit. She's finally put to rest the troubling image that stuck with her for so many years — one that, as she points out, helped change the course of modern art forever. How did Cohen exorcise those demons? By giving them a voice.
Three years ago, Cohen returned to the 19th-century photo of the Eritrean prostitutes and other anthropometric nude images, most of which are believed to have been taken by European men under coercive or exploitative circumstances. She spent hours at the Met examining them. The historical record, Cohen discovered, offers virtually no information about the subjects — nearly all of them women — or how they were chosen or directed by the photographers.
While Cohen acknowledges the risk involved in trying to read emotions into historical photographs, after viewing dozens of these, she noticed the same expressions over and over again: embarrassment, discomfort, defiance and anger.
"Looking at them was very disturbing," she says. "I felt, in a way, that writing about them from an academic perspective couldn't help but perpetuate the objectification of those very photographs ... [that] I'm not doing anything but reusing them in ways that they've always been used."
In 2012, Cohen spent the annual Artists Week at the Vermont Studio Center in Johnson. By then, she says, she needed to stop looking at the images and begin engaging with her feelings about them. She checked into her room and started writing almost immediately.
During that stay, Cohen produced two works of fiction, which she included in the "Staring Back" catalog. One piece imagines what Picasso might have experienced the first time he saw the anthropometric photos. The second, and arguably more powerful, story is written from the perspective of one of the Eritrean prostitutes.
"I'm aware that as a white, Jewish Vermonter, it's a somewhat presumptuous thing to write from the first-person perspective of a 19th-century Eritrean woman," Cohen admits. "But I'm willing to take that risk.
She adds, "I will never look at a historical photograph the same way again."
Nor, it's fair to say, will anyone who sees "Staring Back" ever look at Picasso's "Les Demoiselles d'Avignon" the same way again.