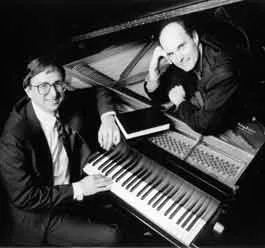 IN TUNE Larry Hamberlin and Ethan Bowen made beautiful stories together.
If it's comedy you want, Boston humorist Dan Zevin once remarked, don't go to comedy clubs — go to readings. While the advice may have been sarcastic, anyone who attended the recent run of Vermont Stage Company's Piano Stories knows the recommendation could also be taken seriously. A reading of two classic short stories — one by F. Scott Fitzgerald, the other by Anton Chekov — Piano Stories showcased the oratory and acting talents of Ethan Bowen and the piano prowess of Larry Hamberlin in a show that was equal parts comedy and drama.
Setting a period-specific mood, the melodies of Gershwin and Tchaikovsky mixed with mellifluous language in the cabaret setting of Burlington's FlynnSpace. The show marked the second VSC production in the new venue — and a bold step toward more diverse performance offerings in the region.
Hamberlin called Bowen to his place with the Gershwin chestnut "I Got Rhythm," striking a light tone for one of Fitzgerald's lighter tales, "Bernice Bobs Her Hair." Published in 1920, the satirical story chronicles a young woman's clash with a rival reveler as their party set navigates the turbulent social currents of the Jazz Age.
In Bowen's hands, the story was humorous in direct proportion to the characters' vapidity. Affecting a slightly patrician bearing, the tuxedoed actor captured the precise, introspective voice of a master stylist: enough subtlety to allow Fitzgerald's words to dazzle on their own, and enough theatricality to underscore the ironic juxtaposition of complex language and ludicrously shallow situations.
Bowen's portrayal of the rival flappers-in-training, the dull Bernice and the conniving Marjorie, was impressive. His facial gestures, alternately widening and narrowing eyes and occasional grand sweeps of a page-turning hand, conveyed the intense, unforgivable effronteries being committed at every turn.
Hamberlin's Gershwin selections helped buoy the story, scoring Bowen's reading or creating a musical bridge between scenes. The mood was decidedly heavier at the start of the second act, as Hamberlin played an extended section of Tchaikovsky's "The Seasons (June)." The haunting melody — the musical highlight of the show — took the audience to the Black Sea resort city of Yalta, where two vacationers meet and fall in love in Chekov's "Lady With Lapdog."
This very serious, very Russian text is more resistant to levitation than the confectionery "Bernice." Accordingly, Bowen aimed less often for comic irony, instead letting his spirit bend to the more tragic turns in this tale. Like Fitzgerald's story, though, "Lady With Lapdog" is inward-looking, offering the actor ample opportunity to interpret the emotional transformation of Dmitry Dmitrich Gurov, the married but somewhat caddish protagonist.
Bowen played the part well, using decidedly masculine body language to suggest Dmitry's initial cockiness, then more retiring poses to convey the peeling away of this confident veneer as Dmitry falls in love with Anna Sergeyevna, who is also married.
Again, Hamberlin used Tchaikovsky's "The Seasons" effectively, emphasizing Dmitry's surrender to something beyond his control. By this point in the evening, however, some audience members had also begun to surrender to something beyond their control. Blame it on a sugar crash following an intermission full of rich desserts — or perhaps Tchaikovsky shouldn't be mixed with mood lighting — but some eyelids and heads were nodding by the time Dmitry and Anna had their fateful meeting. Warning: The coziness of the FlynnSpace can have its side-effects.
Nevertheless, the Piano Stories cabaret arrangement succeeded in achieving the more "intimate" theater experience that VSC and the Flynn have been wanting to offer. Mark Evancho's lighting and music design, which included candles on every table, truly created a cabaret, not a theater space made to look like one.
As a somewhat unconventional offering under the heading of "theater," Piano Stories also calls attention to the types of work that have graced the FlynnSpace stage in its first few months. As VSC Artistic Director Mark Nash notes in the program, "This space allows for subtle, finely drawn work that doesn't have to try too hard to reach the back row."
This has not meant staging "quieter" work. Rather, Midwives, Piano Stories and the recent Center Stage Theatre performance of W;t all seemed to leverage close proximity of audience and stage to initiate a deeper engagement with these very forthright works. We have been allowed to peer more closely into hospital rooms, courtrooms, people's homes, offices and, in Piano Stories, something akin to a parlor. Such will be the desired effect, no doubt, in VSC's upcoming run of A Streetcar Named Desire (March 14-25), which Nash says will be performed in the round.
Beyond its production possibilities, FlynnSpace has turned out to be a very comfortable place to attend a performance. Though the venue lacks a proper lobby off Main Street, there's plenty of room for milling about in the concessions area. Having the bar, stage and seats all in one room makes for a quick and easy transition from pre-show and intermission schmoozing to curtain time. This may seem like a trivial point, but in an arts venue designed to foster a sense of community, even small details can matter.